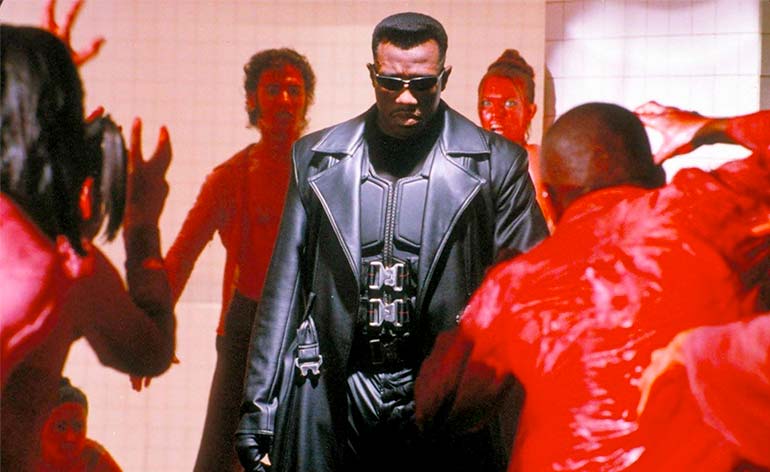 Halloween is nearly upon us so it's time to get spooky as we look at how the horror genre has repeatedly infiltrated our favourite kung fu movies! The connection between the supernatural and the apparently superhuman skills of martial artists has often been made in the past. Some movies are based upon old myths, some are played for laughs, and many are just downright creepy!
Although ghouls, ghosts, the undead and evil priests had appeared in martial arts films from the earliest days of kung fu cinema, it was Sammo Hung's "Encounters of a Spooky Kind" that really kickstarted a whole martial arts horror genre. Its successful mix of acrobatic martial arts, scary hopping vampires and wicked humour were frequently replicated in several films and sequels.
In 1998, the comic book story of the day-walking half human/half vampire "Blade" was brought vividly to life by avid martial artist Wesley Snipes. The action scenes saw the vampire-slaying hero use his impressive fighting and sword skills to lay waste any bloodsuckers that were unfortunate enough to get in his way!
Throughout the new millennium, many martial arts films became more sophisticated in their plotting. Some referenced serial killer thrillers like David Fincher's "Seven", or popular "J-Horror" movies such as "The Ring".
Whatever your preference, there's something for everyone to keep you on the edge of the sofa (or behind it!) this Halloween! So, let's get into the "spirit" of things with a peek at these ghoulish Top 10 Martial Arts Horror Movies…let us know in the comments which ones you think are a Trick and which are a Treat! So, fight or flight or just plain fright…it's time to begin (in descending order)
Rigor Mortis (2013)



Produced by Takashi Shimizu, creator of the "Ju-On/The Grudge" series of films, this is an eerie and atmospheric horror movie that makes several references to the "Mr Vampire" films of old. It features Hong Kong stars Chin Siu-Ho and Chung Fat, who appeared in some of the most popular of the eighties horror films. There is none of the humour of the movies that "Rigor Mortis" references though – This is a full-on, nightmarish, brooding, creepy, tense and disturbing horror film!




Although the Universal Soldier movies are effectively about resurrecting the dead and turning them into super soldiers, they definitely tick the "action" rather than the "horror" boxes. "Universal Soldier: Day of Reckoning" bucks that trend with a nightmarish and brutal mind-warp of a movie! It features some gruesome action scenes, not least when star Scott Adkins rampages through a military compound en route to his inevitable showdowns with the original UniSols, Dolph Lundgren and Jean-Claude Van Damme!

The Legend of the 7 Golden Vampires (1974)



Hoping to cash in on the 1970's kung fu craze, the legendary British horror movie studio Hammer Films decided to co-produce a Dracula movie with legendary Hong Kong martial arts studio, Shaw Brothers. Both Roy Ward Baker, a British director who had helmed several previous Hammer films, and Chang Cheh, famous for directing such classics as "One Armed Swordsman" and "Five Venoms", worked on the movie, though only Baker is credited. Veteran British actor Peter Cushing reprised his popular role as the vampire-hunting Van Helsing, Norwegian actress and model Julie Ege provided the glamour, and Shaw Brothers star David Chiang headed up the kung fu element. The film ties western elements of the Dracula story with eastern vampire traditions. The novelty and sheer craziness of mixing a Hammer horror with a Shaw Brothers kung fu movie is as ridiculous as you would expect, but it somehow manages to be a hugely entertaining piece of 1970's cinematic nostalgia!

A Chinese Ghost Story (1987)




Based loosely on a short story from Qing dynasty writer Pu Songling's "Strange Stories from a Chinese Studio", and also inspired by the 1960 Shaw Brothers film "The Enchanting Shadow", "A Chinese Ghost Story" is actually a tender love story. The supernatural elements allow for comedy, horror and some of the most dazzling martial arts wirework ever put on screen. Director Tony Ching Siu-tung's visual and swordplay style would prove to be hugely influential, setting the template for his later works, such as "The Swordsman" series, "New Dragon Gate Inn", "Hero" and "House of Flying Daggers", and many other similar films.

Beyond Skyline (2017)



"Beyond Skyline" initially lulls the audience into thinking they are watching a by-the-numbers alien invasion sci fi movie. However, once the main characters and their desperate situation are established, the location and tone shift. Silat experts Iko Uwais and Yayan Ruhian are introduced resulting in a pulse-pounding martial arts blend of "Independence Day" and "Aliens"!

And it while it may not be a 'chiller' it's definitely a thriller, check out this fight scene below!


The Dead and the Deadly (1982)




Sammo Hung, the man who kickstarted the Hopping Vampire (Jiangshi) film craze, returns to the genre with this hilarious mix of slapstick humour and horror. Co-starring with his good friend Lam Ching-Ying, they play a nephew and uncle who run a funeral parlour. However spooky things start to happen when they investigate the death of a friend! Sammo continuously gets into supernatural scrapes and has to rely on his considerable martial arts and acrobatic abilities to escape them. This film was the first time we got to see Lam Ching-Ying playing a ghost-busting Taoist priest, a role he would later become synonymous with in the "Mr Vampire" and "Magic Cop" movies.

Kung Fu Killer (2014)




Although not an out-and-out horror movie, Teddy Chen's stylish thriller plays like a martial arts version of the psychological thriller "Seven". Donnie Yen delivers a performance that keeps the audience guessing about his loyalties, but it is Wang Baoqiang as the unhinged, psychopathic serial killer that keeps the tension palpable until the final reel!

Blade II (2002)




With hindsight, the original "Blade" movie was groundbreaking with its Matrix-like visuals and R-rated comic book martial arts action. However, employing acclaimed filmmaker Guillermo del Toro to direct the sequel, was a masterstroke. His visual style and story-telling flair result in "Blade II" feeling much more like a horror movie. The new super-vampires are suitably terrifying, so much so that "normal" vampires are as much fodder to them as ordinary humans. The cranking up of the horror is not to the detriment of the action however, with Donnie Yen onboard both in front of and behind the camera in the fight department.

Mr Vampire (1985)




If you're looking for laugh-out-loud spooks 'n' scares on Halloween, "Mr Vampire" is a hilarious kung fu, horror-comedy film starring Lam Ching-ying, Ricky Hui, Chin Siu-ho and Moon Lee, directed by Ricky Lau and produced by Sammo Hung. The secret of this film's success is its universal appeal. You don't need to understand traditional Chinese superstitions to appreciate the slapstick humour, the one-liners, the "comedy-of-errors" set-pieces, and of course, the epic martial arts action.

…and in at #1 is…

Encounters of the Spooky Kind (1980)

This was the groundbreaking, genre-making, supernatural, kung fu horror comedy, starring, written and directed by Sammo Hung, that led to a decade of similar Hong Kong movies. It set the bar high from the outset with its exotic paranormal rituals, bizarre hopping vampires, crazy low budget effects, and sublime martial arts choreography. Despite its ghostly plot, this film actually features some of Sammo Hung's finest traditional kung fu choreography, particularly in the final fights that showcase different kung fu styles and weapons. Even though it was one of the first of the genre, it still remains until this day, one of the best!

So there we have it folks, KFK's spine-tingling Halloween spook-fest Top 10 Martial Arts Horror Movies! Which films do you like to turn on with the lights down; which ones creep you out the most? Would you include films like "The Raid", "Big Trouble in Little China", "Zombie Fight Club", "Magic Cop", "Ninja III: The Domination", "Brotherhood of the Wolf", "Twins Effect", "Re:Born", or "Riki Oh: The Story of Ricky" in your Top 10?

Let us know your favourites in the comments below, Like, share and join in the conversation on Facebook and follow us on Twitter & Instagram. (Beat up the ghouls, ghosts n' goblins of life, grab some pumpkin soup and FUflix n' CHILL with more KFK TOP 10's!)