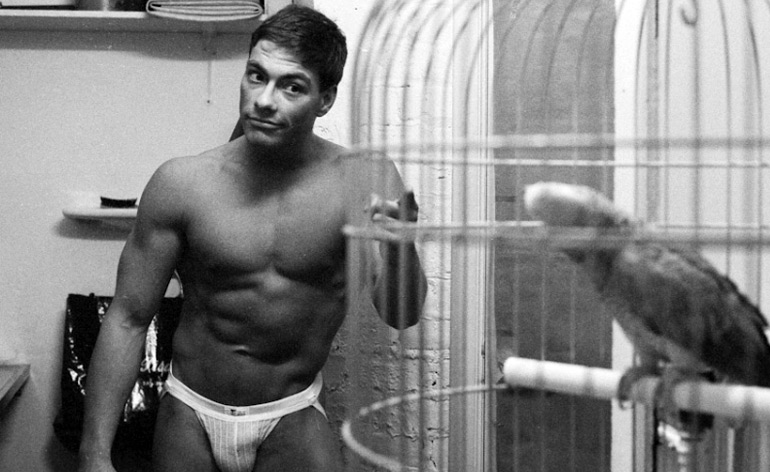 Name: Jean-Claude Camille François Van Varenberg.
Professional name: Jean-Claude Van Damme and sometimes abbreviated to JCVD, also briefly known as Frank Cujo. Has the nickname 'Muscles from Brussels'.
Date of Birth: 18th October 1960
Birth Sign: Libra/Chinese Year of the Rat
Country: Brussels, Belgium
Tribute
Training Background
Jean-Claude Van Damme first started training in martial arts at the age of 10, studying Shotokan Karate at a local school after his father took him to a class and enrolled him. He quickly showed skill and learned fast. After a couple of years he joined the Belgium National Centre of Karate and trained more intensively, incorporating full contact karate and kickboxing.
In his mid-teens, Jean-Claude also started bodybuilding, lifting weights thereby complementing his martial arts training. When he turned 16 he added further training to help his flexibility, and took up ballet which he studied for 5-years.
Competition and testing himself was important to Jean-Claude and he has a successful record in both semi-contact karate and full contact kickboxing, as well as winning a Mr. Belgium bodybuilding title.
Van Damme has also spent time training in Muay-Thai and taekwondo earning his karate black belt at 18; he often likes to refer to ballet when he discusses his training: "Ballet is an art, but it's also one of the most difficult sports. If you can survive a ballet workout, you can survive a workout in any other sport."
Biography
Jean-Claude Camille François Van Varenberg was born in Berchem-Sainte Agathe, which is a suburb in the east of Brussels, the capital city of Belgium. He is the second child in his family, with an older sister.
Being a skinny, glasses-wearer, his father thought it would be a good idea to toughen Jean-Claude up and took him to his first martial arts lesson. He progressed with his training for many years, adding ballet and bodybuilding as he began to mold himself into the all round action figure that we know today.
Van Damme opened a gym which he ran a while and also undertook some modelling work, but the burning desire to be a movie star took over and he did his best to break into the martial-arts film industry in Hong Kong. This proved difficult and Jean-Claude moved to Los Angeles to get the break into film he passionately sought.
Again, this break into films did not prove easy, but Van Damme persisted, taking jobs as a waiter, cab driver, aerobics instructor and nightclub bouncer to earn money while taking on whatever small acting roles he could. He got his bouncer job thanks to Chuck Norris, who also managed to get the then unknown actor a role as a hitchhiker in his movie "Missing In Action".
Finally, Jean-Claude got two much needed big breaks. The first was a role in "No Retreat, No Surrender" and the second was a meeting with film producer Menahem Golan. Van Damme demonstrated a few of his more acrobatic moves and landed the lead role in "Bloodsport".
Film Career
Jean- Claude began his film career trying to break into films in Hong Kong. With limited success there he moved to Los Angeles and started to build a network of contacts.
"Bloodsport" proved to be his big break, as it took in over $35 million dollars at the box office. This thrust Van-Damme into the limelight and started his most successful decade where he would reach the height of his fame. Many successful films followed including "Kickboxer", "Death Warrant", "Lionheart" (renamed "A.W.O.L" for European audiences) "Double Impact", "Universal Soldier", "Sudden Death" and "Maximum Risk".
Read our review of Bloodsport here.
Read our review of Kickboxer here.
After starring in many action films, including the video game spin off film "Street Fighter" with Kylie Minogue, and "Timecop", which grossed over $100 million dollars worldwide, Van Damme wanted to take the next step and direct his own films. He made the leap in 1996 when he directed his first film entitled "The Quest" (Starring himself and Roger Moore). "The Quest" was commercially a success, doubling the studio's investment; however it was not as well received critically as some of his previous films.
Van Damme made further films in the late 90's including such titles as "Double Team", "Knock Off" and "Universal Soldier: The Return". This was Jean-Claude's second Universal Soldier film and was the last of these films theatrically released until 2008 when he returned with "JCVD", although he did continue to make films during those 9-years.
The movie "JCVD" was well received critically and helped lead to a further Universal Soldier film in 2010. Van Damme's comeback star rose again and he was cast in "The Expendables 2" , as well as voicing a character (Master Croc) in the hit animated film "Kung Fu Panda 2". A fourth Universal Solider film and a number of further roles were offered and agreed; "Welcome to the Jungle" and "Pound of Flesh". In 2016 Van Damme will star in the hotly anticipated star-studded "Kickboxer: Vengeance" film which is eagerly awaited by audiences across the globe.
Trailer: Bloodsport
Trailer: Kickboxer
Did you know?
Reportedly, Jean-Claude does not like his nick name "Muscles from Brussels". He is on record as once saying "It's like I'm known as a shellfish".
He wanted a more powerful name for when he became a film star, so he borrowed 'Van Damme' from a friend when he moved to America.
He has three children and two have become actors, following in their father's footsteps.
In his home city of Brussels, there is a bronze statue of him in an action pose, ready to launch into one of his famous flying kicks.
He is famous for appearing in adverts, particularly as his recurring character in the Coors Light adverts, and performing his famous splits between two reversing Volvo trucks.
Selected Filmography
| YEAR | TITLE | ROLE |
| --- | --- | --- |
| 1979 | Woman Between Wolf and Dog | Uncredited |
| 1984 | Monaco Forever | Karate Man |
| 1984 | Breakin' | Spectator in first dance sequence |
| 1986 | No Retreat, No Surrender | Ivan Krushensky |
| 1988 | Bloodsport | Frank Dux |
| 1988 | Black Eagle | Andrei |
| 1989 | Cyborg | Gibson Rickenbacker |
| 1989 | Kickboxer | Kurt Sloane |
| 1990 | Death Warrant | Louis Burke |
| 1990 | Lionheart (aka A.W.O.L) | Lyon Gaultier |
| 1991 | Double Impact | Alex Wagner/Chad Wagner |
| 1992 | Universal Soldier | Luc Deveraux/GR44 |
| 1993 | Last Action Hero | Himself |
| 1993 | Nowhere to Run | Sam Gillen |
| 1993 | Hard Target | Chance Boudreaux |
| 1994 | Timecop | Max Walker |
| 1994 | Street Fighter | Colonel William F. Guile |
| 1995 | Sudden Death | Darren McCord |
| 1996 | Maximum Risk | Alain Moreau/Mikhail Suverov |
| 1996 | The Quest | Christopher Dubois |
| 1997 | Double Team | Jack Quinn |
| 1998 | Knock Off | Marcus Ray |
| 1998 | Legionnaire | Alain Lefevre |
| 1999 | Universal Soldier: The Return | Luc Deveraux |
| 1999 | Inferno | Eddie Lomax |
| 2001 | The Order | Rudy Cafmeyer/Charles Le Vaillant |
| 2001 | Replicant | Edward "The Torch" Garrotte/Replicant |
| 2002 | Derailed | Jacques Kristoff |
| 2003 | In Hell | Kyle LeBlanc |
| 2004 | Wake of Death | Ben Archer |
| 2006 | The Hard Corps | Phillip Sauvage |
| 2006 | Second in Command | Sam Keenan |
| 2006 | The Exam | Charles |
| 2007 | Until Death | Anthony Stowe |
| 2008 | The Shepherd: Border Patrol | Jack Robideaux |
| 2008 | JCVD | JCVD |
| 2010 | Universal Soldier: Regeneration | Luc Deveraux |
| 2011 | Kung Fu Panda 2 | Master Croc |
| 2011 | Assassination Games | Vincent Brazil |
| 2012 | Dragon Eyes | Jean-Luis Tiano |
| 2012 | The Expendables 2 | Jean Vilain |
| 2012 | Universal Soldier: Day of Reckoning | Luc Deveraux |
| 2012 | Six Bullets | Samson Gaul |
| 2012 | U.F.O. | George |
| 2013 | Enemies Closer | Xander |
| 2014 | Welcome to the Jungle | Storm Rotchild |
| 2014 | Swelter | Stillman |
| 2015 | Pound of Flesh | Deacon |
| 2016 | Kickboxer: Vengeance | Master Durand |
Image Gallery