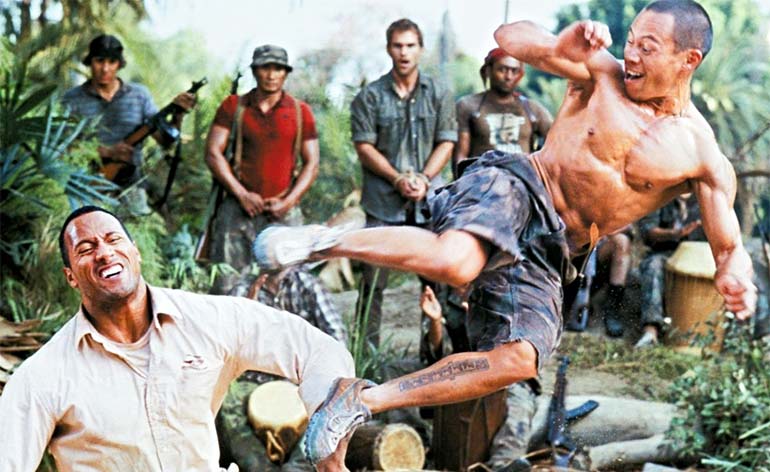 Have you ever wondered what a WWE version of a Hong Kong action movie would look like? If that question still lingers in your mind, you've likely never seen "The Rundown", which fills that void in a gloriously fun, and action-packed way.
The second leading-man role of Dwayne Johnson in his leap from the pro-wrestling ring to the big-screen, "The Rundown" has it all – buddy comedy, daring stunt work, exhilarating martial arts action, and a scenery-chewing evildoer.
In a nutshell, "The Rundown" is everything pro-wrestling fans and Hong Kong action fans love in one package!
Trailer
Cast
Dwayne Johnson, still credited at the time as The Rock, plays the film's determined protagonist Beck, with Seann William Scott as his wayward buddy movie sidekick Travis Walker. Rosario Dawson portrays their ally Mariana, with Christopher Walken playing the villainous Hatcher and Ewan Bremner playing the fast-talking pilot Declan.
William Lucking plays Travis' father and Beck's employer Billy Walker, with Jon Gries playing Hatcher's equally nefarious brother Harvey, and Ernie Reyes Jr. playing the swift martial arts expert and local rebel, Manito.
Additionally, Arnold Schwarzenegger also drops in for a quick cameo while passing The Rock by in the film's opening.
Plot
Beck works as a "retrieval expert" for loan shark Billy Walker, and is eager to leave his line of work behind to open a southern Italian restaurant.
Walker offers to pay Beck the money needed for his endeavor for one last job involving bringing his son Travis home from a Brazilian mining town.
Beck encounters an unexpected obstacle when the mining town's owner, Hatcher, targets Travis too after learning that he has discovered the location of an ancient golden artifact known as "O Gato do Diabo".
With Beck on the run with Travis in his captivity, the two also cross paths with the local rebels, whose leader Mariana wants the Gato to buy the freedom of the townspeople, with the whole situation putting Beck, Travis, Mariana, and the rebels on course for a showdown with Hatcher's forces.
Action
Nearly two decades after its debut, "The Rundown" continues to stand out as one of the best movies on The Rock's resume – and, for that matter, of his co-lead, Seann William Scott.
Known primarily for his comedic roles in the "American Pie" movies and "Dude Where's My Car?", Scott's early 2000's career in action movies feels lamentably far too brief in hindsight, essentially consisting of this film and "Bulletproof Monk" released the same year.
Johnson and Scott's buddy movie riffing is a hilarious romp of bounty hunter meets ne'er do well, with Scott re-inventing his comedic slacker persona at the time into a far more ambitious thriller-seeker fleeing the mundane world Beck has been hired to take him back to.
Meanwhile, Rosario Dawson's Mariana drops humor of the more deadpan variety into "The Rundown", such as her warning to Beck about not peeing inside the lake.
Just coming off "The Scorpion King" the previous year, The Rock also plays against the stereotype extremely early into his career with Beck as a tough guy whose preference is always the path of least resistance. Needless to say, the plot mandates of "The Rundown" almost always force him to resort to Option B, in true WWE meets Hong Kong fashion.
"The Rundown" is full of some of the best smackdowns of The Rock's career, and the spin put on them by the movie is where it really hits.
Jackie Chan Stunt Team veteran Andy Cheng handled the fight scenes of "The Rundown", with a mix of pro-wrestling moves, high-kicking martial arts, and just a dash of wire-work that was virtually never seen before then, or since…
The movie's many "Rock-Fu" fight scenes are as plentiful as they are exhilarating, with Ernie Reyes Jr. stealing the show in his relatively brief-but-unforgettable appearance as Manito, a rebel who goes toe-to-toe with Beck with such blinding speed that a rewind option is all but necessary to catch everything Manito throws Beck's way.
Like the best Hong Kong action movies, the action scenes in "The Rundown" also know how to put the surrounding environment to their best possible use, which the opening nightclub brawl and final showdown on Hatcher's base of operations handle admirably.
That's also to say nothing of the finale delivering the best whip fight this side of an "Indiana Jones" flick, which "The Rundown" pulls off with a splendid Travis assist to Beck at just the right moment.
Summary
As big of a star that Dwayne Johnson has become, a look back at the early days of his career exemplifies that he was well ahead of the curve.
"The Rundown" remains one of the highlights of The Rock's career and that of director Peter Berg, but even that undersells it.
Seann William Scott's underutilized talents of his own as an action movie leading man deserve as much recognition as he's gotten for his comedic work, while Ernie Reyes Jr. was re-introduced to an entire new generation as an unbelievable martial arts speed demon.
Most importantly of all, "The Rundown" is a one-of-a-kind WWE-Hong Kong action combo – a specialty item that demands to be put back on the menu, and needs you to revisit it pronto!
Favorite Quotes
"Have fun." – Arnold Schwarzenegger (as Beck enters the night club in the opening.)
"Hey, remember your friend, Mr. Thunder? How about his buddy, Mr. Lightning?" – Travis (taunting Beck with the kicks he is about to throw.)
"Knappmiller, you have two choices. Option A, you give me the ring. Option B, I make you give me the ring." – Beck (trying to collect on one of Billy's defaulters.)
"You should have taken Option A." – Beck (after Knappmiller chose Option B.)
"I'd offer you a beer, but I think you blew up my bar." – Marina (to Beck.)
Trivia
Arnold Schwarzenegger's cameo came about when he visited the set of "The Rundown" and it was not initially planned, but came about at the suggestion of Peter Berg.
The Rock's cousin Tanoi Reed, was his stunt man on the film.
Marko Zaror was also a stuntman for The Rock on "The Rundown".
The original title of the movie was "Helldorado", and then became "Welcome to the Jungle" before settling to "The Rundown".
Garrett Warren plays one of Hatcher's henchmen Henshaw in "The Rundown", and is one of Beck's opponents in the whip fight in the finale of the movie. Garrett has competed in Taekwondo, Karate, Muay Thai, and Jiu Jitsu, and has worked as a stuntman, stunt coordinator, fight choreographer, and second unit director on movies like "Double Team", "Starship Troopers", "Chill Factor", "The One", "Immortals", "Logan", "Ready Player One", and "Alita: Battle Angel".
Garret was also stunt coordinator on the biggest movie of all time, James Cameron's "Avatar", and second unit director on the upcoming "Avatar: The Way of Water" and "Avatar 3". Check out KFK's exclusive interview with Garret Warren on his long career in martial arts and the film industry!
In an interview with Scott Adkins on "The Art of Action", Ernie Reyes Jr. stated that his appearance in "The Rundown" came after a long stretch of him doing little bits of film work after 1993's "Surf Ninjas".
After that film's box office failure, Reyes took up Muay Thai, which Reyes described as "My prime years of training, twice a day, always". As Reyes put, by the time he appeared in "The Rundown", "My style had changed…There's something a little different from 'Surf Ninjas'!" You can see Ernie's interview with Scott on "The Art of Action" below!
Film Rating: 8.5/10