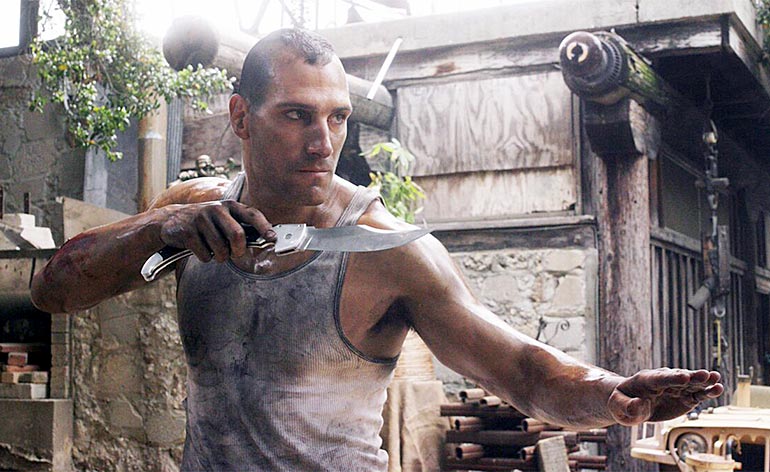 "Savage Dog" which is out today is firmly on the radar of martial arts fans across the globe, with the appearance of Chilean action star Marko Zaror as the villainous 'Rastignac' being one of the film's main draws. Marko made a significant impact in 2010 as the treacherous "Dolor" in Isaac Florentine's "Undisputed 3: Redemption", which pitted him against his fellow martial arts virtuoso Scott Adkins (in one hell of a fight) and "Savage Dog" will reunite them for a pulse-pounding re-match in the jungles of 1950's Indochina.
Today, Marko sits down with KFK to share a look behind the scenes of "Savage Dog", the process of bringing the film to life with Scott, director Jesse Johnson, and MMA legend Cung Le as well as some tidbits on his appearance in the upcoming Marvel-Netflix mini-series, "The Defenders"!
Hi there Marko, excellent to speak with you today, we hope you're doing well!
Hello Brad, I'm doing great, thank you for having me!
Awesome. Well, let's start out with how you first became involved with the making of "Savage Dog"?
Well, I've been friends with the director, Jesse Johnson, since after we met on the set of "Pit Fighter", and we met up in L.A. as he was preparing "Savage Dog". He said to me, "Marko, there's this character in the film that I think you'd be great for", so I read the script, and I thought it looked really interesting, and I knew that Scott Adkins would be playing the hero, so it was a no-brainer.
Makes sense. So, what interesting stories can you share about making "Savage Dog" with Jesse Johnson, Scott Adkins, and Cung Le?
It was a great experience. Jesse actually asked for my input on the fight between Scott and Cung Le, even though I wasn't in that scene. Jesse's always very open to receive feedback from everybody, and certainly from all of us being martial artists to make that scene the best it could possibly be. It was the same thing with my fight with Scott, as well. He really likes collaborating with everybody, and I think that's what makes him such a good director.
Agreed. So, this is your second on-screen fight with Scott Adkins, after your incredible end fight in "Undisputed 3: Redemption". How would you compare that to the experience of crafting the end fight of "Savage Dog", any injuries or mishaps?
It was very different because the film takes place in 1959 in Indochina, so the martial arts in the film had to fit in with that. It was challenging but very fun to redesign the kind of techniques Scott and I usually use on-screen, and I think audiences will really love it because it's totally different from "Undisputed 3". As far injuries, nothing major, you feel sore after filming the action all day, but that's to be expected. When you fight another martial artist for a movie, you'll be jumping and kicking around for ten hours, so it's physically very demanding. I look at it like competing in the Olympics. So, we really trained ourselves to the be in the best possible condition for that fight, and when we were finished with the end fight, Scott and I went for a coffee and just talked about life – we were really proud of ourselves but we were wiped out! (Both laugh)
Well, you guys were definitely firing on all cylinders in your final fight of the film. Going off of that, you'll also soon be seen in the role of 'Shaft' in the Marvel-Netflix series "The Defenders". What interesting stories can you share about appearing on the show?
Well, obviously there's a lot I can't say until the series is released on Netflix, but we shot it in New York and it was freezing cold and we were all soaking wet! Of course, we had wet-suits under our wardrobes, but it was still really cold. I had to really work on my breathing for that scene! It's a fairly small appearance that I have on "The Defenders", but I'll be really excited to see the series when it's released.
For sure, Marvel's produced a lot of great material for their Netflix shows, and "The Defenders" looks top notch! Thank you so much for your time today Marko, it's been a pleasure. We look forward to the reactions from fight fans around the world now they've got the chance to see "Savage Dog"!
Thanks Brad, and it's my pleasure to speak with Kung Fu Kingdom!
"Savage Dog" releases today, so if you're into fights and action, go see it!