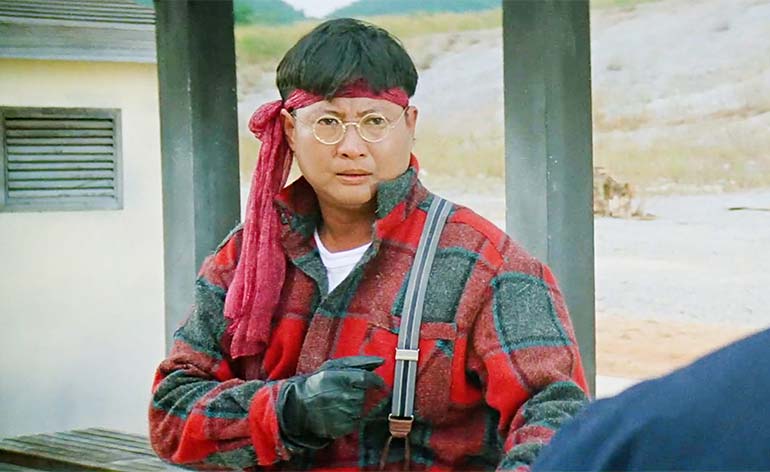 "The Millionaires' Express" sees the Far East meets the Old West in this iconic action-packed, star-studded adventure from the inimitable Sammo Hung!
"The Millionaires' Express" releases on Blu-ray: 26th July 2021, pre-order your copy of this definitive edition now from Eureka Entertainment and Amazon and STAY TUNED to ENTER our COMPETITION so you can WIN YOUR COPY in a few days too!
Trailer
Cast
This film must have one of the largest cast lists of Hong Kong martial arts stars, if not the largest!
Leading man is Sammo Hung as "Ching Fong-tin". Sammo is the "Big Brother" of Jackie Chan, having trained at the same Chinese Opera School as children, and is also considered the "Big Brother" of the Hong Kong martial arts action industry.
In the 1970's, Sammo's fluid choreography in films such as "Warriors Two", "The Prodigal Son" and "Knockabout", led to an evolution in Hong Kong movie fighting styles. By the 80's, Sammo's fame and reputation had grown, and he showed he could adapt to any genre be it fantasy, contemporary, comedy or drama. He even invented a new one, Kung Fu Horror Comedy, with "Encounters of the Spooky Kind".
Often casting his fellow students from Yu Jim Yuen's Opera School, the respect for Sammo's work allowed him to also cast some of the most popular stars in Hong Kong for "Millionaire's Express".
Supporting Sammo is his long-time collaborator Yuen Biao as "Tsao Cheuk Kin", the Town Fire Chief. In the trinity of Sammo Hung, Jackie Chan and Yuen Biao, Biao is probably considered the most acrobatic, often combining those talents with some incredible kicking skills. Renowned stuntman and a regular in Sammo's productions, Chin Ka-lok plays one of Yuen Biao's firefighters.
Western stars Cynthia Rothrock and Richard Norton, who made it big in Hong Kong action films, play a pair from the gang of bandits. Regular bad guy in films such as "Yes Madam" and "The Prodigal Son", Chung Fat also plays a bandit. Chung Fat rose to prominence in Sammo's horror films "Dead and the Deadly" and "Encounters of the Spooky Kind".
They are joined by frequent Sammo Hung supporting players and stars in their own right, Lam Ching-Ying (Mr Vampire), Yuen Wah (Eastern Condors), Wu Ma (Encounters of the Spooky Kind), Eric Tsang (My Lucky Stars), Lau Kar-wing (Odd Couple), Dick Wei (Project A), James Tien (Fist of Fury) and Hsiao Ho (My Young Auntie).
Playing a gang of wandering Samurai are super-kicking legend Hwang Jang-lee (Drunken Master), Yasuaki Kurata (Legend of a Fighter) and Yukari Oshima (Angel).
In addition to the prominent action cast, several popular actors, actresses, singers and filmmakers also appear, including Richard Ng, Rosamund Kwan, Lydia Shum, Kenny Bee, Anthony Chan, Olivia Cheng, Billy Lau, Mang Hoi, Corey Yuen and Philip Ko.
If that wasn't enough for Hong Kong movie fans, there are also cameo appearances from Bolo Yeung and his old boss from "Enter the Dragon", Shih Kien, and the "One-Armed Swordsman" himself, Jimmy Wang Yu!
Plot
Ching Fong-tin tries to make amends for his past by attempting to return prosperity to his home town. After refurbishing the town hotel, Ching plans to sabotage the maiden voyage of a luxury express train full of wealthy passengers on their way to Shanghai.
Stuck in his town they will have nowhere else to spend their money but on the local amenities!
Camped just outside the town are a large group of ruthless bandits hoping to profit from the train full of wealthy passengers. They also aim to steal a priceless scroll in the possession of three Japanese samurai who are on board the express. Meanwhile, a gang of thieves try to rob the local bank, but are thwarted by the local fire chief.
As the various factions converge on the town, the scene is set for one of the most action-packed showdowns to feature in a Hong Kong feature film!
The Millionaires Express: "Chasing the Train" Clip
Action 
Hong Kong's Cream of the Action Crop
For this film, Sammo went for a Western-genre feel, but instead of cowboys quick-drawing their pistols at high noon, we have some of the cream of the Hong Kong stunt industry crop high-kicking and flipping like only they know how!
In a rather odd opening scene, we find Sammo in snowy Russia stealing valuables from apparently deceased Russian soldiers. The soldiers were just pretending, and they take Sammo back to their lodge, where they dress him in a bra and a mop-head for a wig!
Sammo Demonstrates his Acrobatics
It gives Sammo a brief chance to demonstrate that despite his burly size, he can still make an acrobatic escape. Cantopop singer Kenny Bee catches Sammo, leading to a Looney Tunes cartoon-like struggle in the snow, with Sammo in just his boxer shorts!
Yuen Biao's Incredible High Fall off a Burning Building
After a brief introduction to the bandits and gangsters, Yuen Biao and his team of firefighters, played by some of Hong Kong's best-known stuntmen, rescue the occupants of a burning building.
In this scene, Yuen Biao makes one of the most remarkable high-falls you will ever see, as he performs a gymnastic Barani from the roof of a burning two-storey building, landing on the ground below, and running straight into his next piece of dialogue, all in one take.
"Wong Fei-Hung" Classic Fighting Style
For a film packed with adult talent, it is a pair of children that deliver the next action scene. Playing the children of Shih Kien and Jimmy Wang Yu, they fight very impressively in the style of the old "Wong Fei-hung" movies, the joke being that Shih Kien starred in those films as the opponent to Kwan Tak-hing's "Wong Fei-hung".
The Shanghai Express (aka The Millionaires' Express) Original English Language Trailer
Sammo Hung vs Yuen Biao is a Genuine Treat
A highlight of this movie is seeing Yuen Biao and Sammo Hung fight each other at a deserted railway station. They have some of the best timing in the business and work all the ranges with powerful punches, kicks, grapples and throws. The scene is a genuine treat for fans.
Entertaining Stunt & Comic Sequences abound in The Millionaires' Express!
En route to the big showdown, the film is littered with some short but entertaining stunt and comic sequences, reminiscent of the silent movies of Buster Keaton and Charlie Chaplin, and early Yakima Canutt Westerns. There are even nods to "Fistful of Dollars" and "The Wild Bunch", as Sammo and Kenny Bee ride through the town firing a Gatling gun.
One of the Most Action-Packed Finales…EVER!
As each gang congregates in the town, the gloves come off for one of the most action-packed finales you will ever see. Each star has their own fight sequence to shine in.
Yuen Biao vs Dick Wei
Yuen Biao is lithe and acrobatic, flipping and leaping off balconies and staircases, whilst throwing lightening-quick spinning kicks, in his fight with Taekwondo specialist Dick Wei.
Sammo rampages through multiple foes using two sticks, with every blow looking like it could break bones.
Richard Norton, Yasuaki Kurata, Cynthia Rothrock, & Hwang Jang Lee go all out…!
Richard Norton has a great fight with Yasuaki Kurata, as Yukari Oshima takes on a sword-wielding mob. Sammo makes his way into the hotel lobby to face Cynthia Rothrock, who is as tough as any of her male counterparts. The editing and use of wide-framing make Cynthia look as good as ever, as she gives Sammo a good kicking!
Hwang Jang-lee, renowned for his incredible kicking skills, has a couple of all-too-brief segments to display them, but what he does deliver is top-notch, especially against Sammo and Yuen Biao.
Summary
This new Blu-ray version from Eureka features four versions of the film across two Blu-ray discs, all presented from brand new 2K restorations.
These include the original Hong Kong version, the Extended, also known as the International, Cut, and the English Language version that was released in some territories as "Shanghai Express".
The most interesting edition though is the "Hybrid Cut", newly created exclusively for this release. It combines footage from the original theatrical and extended cuts of the film to present a hypothetical "complete" version of the movie for the first time.
The restoration work is as crisp as ever, with a clean picture and bold, vibrant colours. There are several audio options including different commentaries from Frank Djeng, and the double act of Hong Kong film experts Mike Leeder and Arne Venema.
There is a first-rate new interview with the female star of the film, action icon Cynthia Rothrock, in which she discusses her fascinating time working in Hong Kong cinema during it's "Golden Age". Cynthia also gives us an insight into the filming of "The Millionaires' Express" with some scene-specific commentary.
Also included is an excellent unrelated featurette, a 1985 Japanese behind-the-scenes on the making of "My Lucky Stars". For technical reasons it couldn't be included in The Lucky Stars 3 Film Collection, but Eureka have thankfully included it here.
Additionally, there are archival interviews from the Hong Kong Legends DVD with Sammo Hung, Cynthia Rothrock, Yuen Biao, and Yukari Oshima discussing their roles.
"The Millionaires Express" is one of the most unique and diverse Hong Kong films you will ever see. Primarily a comedy, it is similar in format to the ensemble films of the sixties, such as "Monte Carlo or Bust" or "A Funny Thing Happened on the Way to the Forum". Remarkably, it still manages to successfully include action, adventure and even a little drama and romance.
The comic scenes with Richard Ng and Lydia Shum always make me laugh, and their performances are spot on. The silent movie type gags, mostly involving Eric Tsang, are also very well done.
There are a few misfires with the broad Chinese humour, which can be a little sexist, although the women in the film do occasionally get the upper hand over the men, and a couple of scenes are just very silly and goofy.
Where the film really scores is in the action. There is so much talent in this film, and Sammo Hung and his team really know how to make each individual shine in their own light.
Every fight sequence is well-filmed, fast and athletic. The fight between Dick Wei and Yuen Biao is one of the best they have ever been involved in. Cynthia Rothrock and Richard Norton also acquit themselves admirably in their roles. One sentiment from Cynthia Rothrock's commentary sums up Hong Kong movies like this perfectly; these films don't age because the action is so awesome.
The only disappointment with the action scenes is that with so many stars, you wish you could see more of them. Hwang Jang-lee fighting Sammo Hung and Yuen Biao is over in seconds, and I felt Yasuaki Kurata was also a little short-changed. Stars such as Yuen Wah, Lam Ching-ying etc. have even less to do.
But, perhaps I am being too greedy, because on the whole, this is a fun film with some of the most breathless fights Sammo has ever packed into a single movie. And in terms of value for the amount of martial arts stars in one film, you won't find better than this one!
Trivia
Kwan Tak-hing turned down the chance to play Wong Fei-hung's father, Wong Kei-ying in The Millionares' Express.
Chin Ka-lok almost died when he landed on his neck after doubling Yuen Biao for a fall.
The film was shot in Canada, Thailand and Hong Kong.
The two children fighting in the Wong Fei-hung sequence were actually the sons of one of the stuntmen and a real kung-fu master.
This film marked the first time Cynthia Rothrock and Richard Norton teamed up together. They went on to make "The Magic Crystal" in the same year. 
Film Rating: 8/10 
"THE MILLIONAIRES' EXPRESS" is out on Blu-ray from 26th July 2021, pre-order your copy now from Eureka Entertainment or Amazon! STAY TUNED to KFK and ENTER OUR COMPETITION to WIN YOUR COPY in the next few days!
Is this among your favourites from Sammo Hung's impressive filmography? With so many incredible fight scenes to choose from, which one impressed you the most? Which other old-school kung-fu flicks would you love to see receive the same Blu-ray, TLC treatment?
Let us know in the comments below, join in the conversation, share this on Facebook, and follow us on Twitter & Instagram!