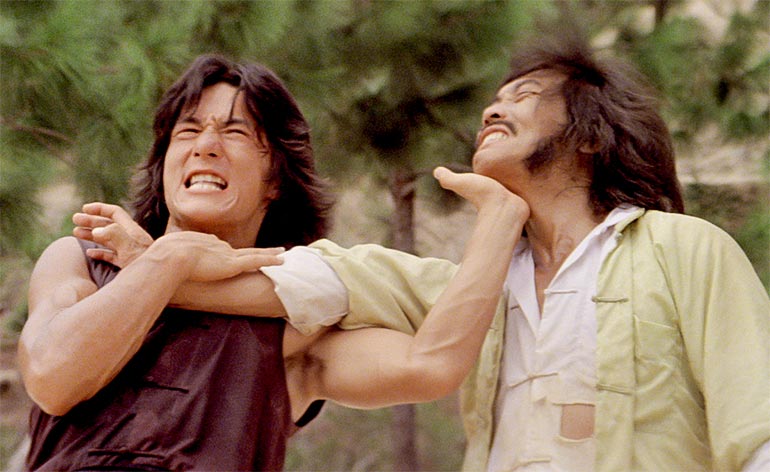 Eureka Entertainment present for the first time on Blu-ray in the UK a new 4K restored version of one of the greatest martial arts movies of all time, "Drunken Master"!
Trailer
Cast
Jackie Chan plays the popular Chinese hero "Wong Fei-hung", as a mischievous and comedic character who will come to master the art of Drunken Boxing. Yuen Siu-tien, father of one of the all time great martial arts choreographers, Yuen Woo-ping, stars as the legendary Drunken Master himself, "Beggar So-Can".
Following on immediately from the success of "Snake in the Eagle's Shadow", the winning formula of having superkicker Hwang Jang-lee as the villain is repeated. Never has a martial arts movie character been so appropriately named than Hwang's "Thunderleg", also known as "Yim Tit-sam".
Cantonese Opera actor and Northern kung fu specialist Lam Kau plays Fei-hung's father, "Wong Kei-ying". In a career spanning fifty years, he also appeared in many of Kwan Tak-hing's Wong Fei-hung films. Hong Kong actor and producer Dean Shek plays the hapless instructor "Kai-hsien". Shek appeared in many period kung fu films including "Warriors Two", "Snake in the Eagle's Shadow", "Odd Couple" and "Dance of the Drunk Mantis". He later appeared in the John Woo classic "A Better Tomorrow 2".
A familiar face to fans of classics such as "One Armed Swordsman", "Golden Swallow", "Last Hurrah for Chivalry" and many more, Hsu Hsia appears as "The King of Sticks/ Hsu Ching-tien", a master pole fighter.
Chinese opera trained actress Linda Lin Ying gets to demonstrate her considerable fighting skills as "Auntie". She would later appear in "Dance of the Drunk Mantis", which was also directed by Yuen Woo-ping with Yuen Siu-tien reprising his role of Beggar So and Hwang Jang-lee appearing as the villain.
Another familiar face from many kung fu classics is Tino Wong Cheung as "Jerry Lee", an arrogant bully who runs into Wong Fei-hung. He has appeared in over 75 kung fu movies including "Snake in the Eagle's Shadow", "Secret Rivals 2", "Invincible Armour" and "Hitman in the Hand of Buddha".
Plot
The respected Wong Kei-ying despairs of his unruly son, Wong Fei-hung, who is constantly getting into trouble. Wong Kei-ying arranges for Fei-hung to train with martial arts master Beggar So, hoping some tough training will instil some discipline into his wayward son.
Fei-hung flees the crippling training, running into the notorious killer 'Thunderleg' in the process. Given a sound beating by Thunderleg, Fei-hung realises the value of Beggar So's teachings and returns to complete his training. Eventually Fei-hung learns Beggar So's secret style of martial arts, a form of Drunken Boxing called "The Eight Drunken Immortals". Will it be enough to take on Thunderleg's "Devil's Kick", a swift and deadly kicking style that has never been defeated?
Action
With its mix of acrobatic martial arts choreography and slapstick humour, "Snake in the Eagle's Shadow" had quickly established Jackie Chan as the new star of Hong Kong action cinema. "Drunken Master" takes everything that worked in that classic and amplifies it. Jackie Chan is youthful and energetic in every scene, somersaulting around the screen like a ping pong ball. As Wong Fei-hung, he takes plenty of hidings on his journey from cocky youth to becoming the Drunken Master. Hwang Jang-lee is superb as the deadly villain and again demonstrates why he was one of the absolute best kickers of kung cinema. Despite his advanced years, Yuen Siu-tien, although occasionally doubled, shows he can still perform solid, traditional style kung fu.
Yuen Woo-ping's intricate choreography brings out the best in Jackie Chan and the supporting cast of martial artists and stuntmen. Everything is filmed in luxuriously long and wide takes. The fighting action allows Jackie to move more rhythmically than in many of his previous films and plays to his fun, cheeky and comic persona. No one before or since has performed drunken style on screen quite as fluidly as Jackie Chan. The classic fight with the 'King of the Sticks', the training sequences, and of course the finale, are among the greatest-ever martial arts scenes to emerge from the kung fu craze era of the 1970's. They became a template and benchmark that was rarely equalled by similar films.
Extra features on this release include an amiable Audio Commentary from Ric Meyers and Jeff Yang recorded in 2002. Jeff Yang co-wrote the biography "I Am Jackie Chan", and Ric Meyers has been "Inside Kung Fu" magazine's resident film expert for many years.
There is a candid Chinese language interview with Jackie on how the success of "Snake in the Eagle's Shadow" and "Drunken Master" affected him. He is very open and honest about the good and the bad effects of success.
Director of The Raid movies Gareth Evans gives a filmmakers insight into what makes "Drunken Master" special and how it influenced his own films, especially his first feature film, "Merantau".
British writer, commentator, film festival programmer and screenwriter, Tony Rayns discusses the careers of Bruce Lee and director Lo Wei and how their relationship had an influence on Jackie Chan becoming a leading man in his own right. He also covers the history behind and legacy of Jackie Chan's first successful films as well as the career of Yuen Woo-ping.
Some of the extra features are from the old Hong Kong Legends DVD. These include a rare interview filmed in 1996 by Eastern Heroes' Toby Russell with producer Ng See-yuen. They discuss how Ng See-yuen came to work with stars such as Jackie Chan, Hwang Jang-lee and Cynthia Rothrock on various projects. There is a deleted scene with Jackie performing an impressive drunken form. The original English language trailer complete with phonetic spelling of Wong Cheng Lee and Jacky Chan is included. There is a UK music promo featuring a dramatic score accompanying highlights of some the best action from the film. Finally, there is a Kicking Showcase with a clip of Hwang Jang-lee demonstrating why he is one of the best super kickers in the business.
Summary
Eureka Entertainment's new high definition presentation of this classic film is the best it has ever looked. Hong Kong Legends were the masters of this sort of thing with their painstaking restorations and extras packed DVDs. Eureka have thankfully not only emulated this recipe, but have improved on the previous editions of "Drunken Master".
The picture quality is superb and is presented in its original aspect ratio. It has a spotlessly clean print with rich, vibrant colours. It makes the HKL DVD print look grainy and tired by comparison. Audio options include the rare, full original Cantonese soundtrack, the Mandarin soundtrack and the later English language dub that was recorded for the American market. There is an option to have the Hong Kong Theatrical Subtitles, intentionally reproduced with the original grammatical errors, adding to the fun and humour of the film. Because the film is presented uncut the audio switches to English to fill in gaps that were not covered by the Mandarin soundtracks.
The accompanying booklet features a fascinating insight from Michael Brooke of the British Film Institute into the production of "Drunken Master" and its legacy, along with some great photos of the original promotional materials.
Aside from the excellent technical aspects of the Blu-ray edition, "Drunken Master" is simply a hugely entertaining martial arts movie and quite-rightly rated as one of Jackie Chan's finest works. It is a film with great replay value that can be watched and enjoyed again and again.
I hope this Blu-ray proves to be popular and inspires the restoration and release of further kung fu classics in the future.
If you don't already own this movie, Eureka's Blu-ray is a must buy. If you do already own this movie, the exceptional quality of the Blu-ray make this version a worthwhile purchase too. You need Eureka's "Drunken Master" in your life!
Trivia
Dean Shek also appeared in "Master with Cracked Fingers", the first film to feature Jackie Chan in a starring role.
For the more acrobatic sequences, the 66-year-old Yuen Siu-tien was doubled by his sons, Yuen Cheung-yan and director Yuen Woo-ping.
"Drunken Master" earned three times the amount of Chan's previous film, "Snake in the Eagle's Shadow", breaking the all-time domestic record at the Hong Kong box office.
The fighting moves for the character "Shun Di" in Sega's arcade game "Virtua Fighter 2", were based on the "Drunken Master" movies.
The film was also known as "Drunk Monkey in the Tiger's Eyes".
Film Rating: 10/10