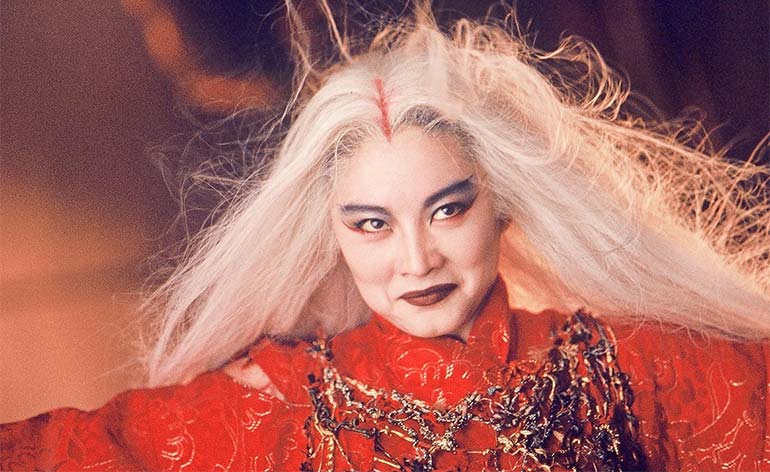 Director and producer Ronny Yu's action-fantasy Wuxia classic is now being presented from a stunning 4K restoration, and newly colour-graded exclusively by Eureka Entertainment and officially approved by director Ronny Yu, making its UK debut on Blu-ray! Starring Leslie Cheung and Brigitte Lin.

Available from 9th November 2020, so order your copy NOW from Eureka Video or via Amazon!
Trailer
Cast
Taiwanese actress Brigitte Lin Ching-hsia stars as the titular Bride, "Lian Nichang". Lin has had a glittering Asian film career appearing in films such as "Police Story", "New Dragon Gate Inn", "Swordsman II", "Peking Opera Blues", "Zu Warriors of the Magic Mountain" and "Ashes of Time", to name but a few.
Hong Kong singer, actor and film producer, Leslie Cheung stars as "Zhuo Yihang", a chivalrous swordsman. He is considered as "one of the founding fathers of Cantopop", who had his breakthrough role in John Woo's "A Better Tomorrow". He achieved great acclaim for his performances in "Rouge", "A Chinese Ghost Story", and Wong Kar-Wai's "Days of Being Wild". He sadly took his own life in 2003 aged just 46 years-old. He left a suicide note saying that he had been suffering from depression.
The evil villain of the piece, "Ji Wushuang", is actually a pair of conjoined twins played by Francis Ng Chun-Yu as the male twin and Elaine Lui Siu-Ling as the female twin. Ng is an actor and director whose credits include "Kung Fu Cult Master/Evil Cult", "Flirting Scholar", "Young and Dangerous", "2000 A.D.", "Gen-X Cops", "Infernal Affairs II" and many more. Appearing in a handful of movies, Lui has featured in titles such as "The Innocent Interloper", the "Angel/Iron Angels" films, "Ghost Punting", "Once Upon a Time in China V" and "Red Wolf".
Popular Shaw Brothers and TVB actor Eddy Ko Hung stars as the military General, "Wu Sangui". In a career stretching back to the 1960's, Ko has starred in films such as "The Invincible Iron Palm", "The Thundering Mantis", "The Postman Strikes Back", "The Miracle Fighters", "Shaolin Drunkard", "The Peacock King", "Heroes Shed No Tears", and many more. He became popular with Chinese television audiences playing Master Huo Yuanjia in the 1995 TV version of "Fist of Fury", that starred Donnie Yen as Chen Zhen. He will be familiar to worldwide film fans for his role as Grandpa Hong in "Lethal Weapon 4", and his cameo as a potential buyer in Jackie Chan's "Rumble in the Bronx".
Plot
Zhuo Yihang is a rebellious but extremely talented swordsman of the Wudang Sect (aka the Wu-Tang Clan) who is groomed to one day be its leader. He is tasked with leading a coalition force formed by the eight major orthodox martial arts sects to counter an evil cult.
During a battle against the cult, Zhuo Yihang meets a young woman, Lian Nichang, and falls in love with her. She is an orphan, who was raised by wolves as an infant before being adopted by Ji Wushuang, the conjoined twins who lead the cult. Zhuo convinces Lian to leave the cult to be with him, a decision that will ultimately lead to death and betrayal.
Action
The Opening Action is Beautifully Artistic…
One of the first action sequences is an excellent Jianshu (wushu straight sword) form performed silhouetted against an orange sunset. It really is a beautiful piece of artistry both physically and cinematically.
When the fighting kicks off the level of violence for a supernatural fantasy is a little startling. Lian Nichang engages some soldiers and bodies are literally sliced and diced, as arterial blood hoses across the screen. It's a scene that wouldn't look out of place in an "Evil Dead" movie!
A subsequent duel between Lian Nichang and Zhuo Yihang bizarrely uses a stuttering frame effect. It's a shame as the hypereal wire-fu is otherwise impressive.
Philip Kwok's Choreography Reaches Dizzying Heights
When the titular Bride appears, hell truly hath no fury like a woman scorned! Her white hair becomes a weapon and an integral part of the fighting. Philip Kwok's choreography is a dizzying display of twisting and twirling wire work. With the previous 80 minutes or so teasing romance, the final battle is given an extra emotional and tragic core.
Summary
Having not seen this before (I know, I know!), the first thing that struck me is the stunning visuals. Everything is beautifully lit and shot, with this Blu-ray version featuring new colour grading by Eureka themselves.
Star Leslie Cheung is mesmerising as Zhuo Yihang. He demonstrates great depth with an emotional range stretching from romantic to heroic or forlorn to comedic. Co-star Brigitte Lin delivers an equally entertaining performance as a fierce warrior, besotted lover, but ultimately betrayed woman.
The special features include a new, very insightful and entertaining, 40-minute interview with director Ronny Yu. He reveals that Francis Coppola's "Dracula", Michael Mann's "Last of the Mohicans", Sydney Pollack's "The Way We Were", Akira Kurosawa's "Ran" and Ridley Scott's "Duellists" were all influences on the making of this film. Although I recognise these influences, I feel Yu is being very modest, delivering a film that reinvigorated a dying genre, becoming influential in its own right.
If Baz Luhrmann made a Chinese martial-arts fantasy film it would look like this one. Other features include audio commentaries by Asian film expert Frank Djeng and director Ronny Yu, and new interviews with actor Joe Tay, screenwriter Jason Lam Kee To, editor David Wu, and composer of the film's epic score, Richard Yuen.
There is also a look behind the scenes in an archival "making of" featurette. This limited edition is packaged in a slipcase with some excellent new artwork by Darren Wheeling, and a collector's booklet, whilst the film itself features superb quality Mandarin, Cantonese and English audio options.
By no means action-packed, "The Bride With White Hair" is visually breathtaking with a plot that has Shakespearean ambitions. On those terms, this is a very fine example of the genre.
Trivia
The Cinematographer for this film Peter Pau, would go on to win an Academy Award for his work on "Crouching Tiger Hidden Dragon".
The love song at the end of the film was performed by Leslie Cheung, and as a gimmick, the song was not released to buy in any way so people who enjoyed the song would have to re watch the movie in theatres.
Ronny Yu also directed Brandon Lee's "Legacy of Rage", "Warriors of Virtue", Jet Li's "Fearless", and the Hollywood hits "Bride of Chucky", "The 51st State" and "Freddie vs Jason".
Film Rating: 8/10
"The Bride with White Hair" is out on Blu-ray from 9th November 2020, and you can order your copy NOW from Eureka Video or via Amazon!
Do you remember "The Bride with White Hair" from some 28 years back? Which fight or action moment do you remember best and where does it rank among your fave, wuxia classics? Which other Hong Kong action movies would you love to see receive the full TLC uplift? Let us know in the comments below; Like, share and join in the conversation on Facebook and follow us on Twitter & Instagram!