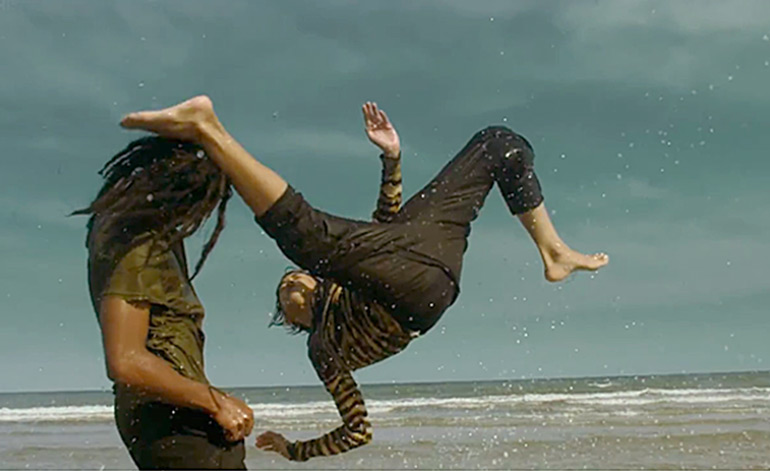 After successfully landing her breakout role in "Chocolate", (2008) Jeeja Yanin, reuniting with fight choreographer Panna Rittikrai, soon after took on another lead role in the Thai martial arts hit "Raging Phoenix", (2009)
Trailer
Cast
Jeeja Yanin is Deu, a troubled woman who befriends a group of breakdancing martial arts masters after they foil an attempt to kidnap her. Nui Saendaeng, Sompong Lertwimonkaisom, Boonprasayrit Salangamand Kazu Patrick Tang are masters Kee Moo, Kee Ma, Kee Kwai and Sanim respectively. Actress Roongtawan Jindasing plays the antagonist London, the leader of the Jaguar Gang that specializes in kidnapping certain women.
Plot
Troubled young Deu has lost her parents and has found herself kicked off the rock band she was part of. With nowhere to go and her problems worsening, Deu resorts to drinking her sorrows away and is one day targeted by the violent Jaguar Gang, who abduct and murder "special" young women across Thailand. The gang's plans are nevertheless foiled by martial arts masters Kee Moo, Kee Ma, and Sanim, who had all lost loved ones to the gang. As Deu befriends Sanim's crew and trains under their unique martial arts style, she eventually volunteers to use herself as bait for the Jaguar Gang in order to put an end to their madness.
Action
What makes "Raging Phoenix" stand out is its use of a fictional martial arts style called Meyraiyuth, which combines elements of breakdancing, drunken fist and Muay Thai. Fans of Jackie Chan's films (most notably the Drunken Master series), breakdancing, capoeira, and the hard-hitting, bone-crunching devastation Thai films are known for will especially enjoy what "Raging Phoenix" has to offer.
For our first fight, we have Sanim against a group of bladed stilt runners who are trying to kidnap Deu for the Jaguar Gang. Here, we get to witness Kazu Patrick Tang's tricking, parkour as well as B-boy skills. Kazu kicks, flips, and, much like you'd see in a Jackie Chan film, he swings around poles and uses his surroundings to his advantage. It's blisteringly quick and a great fight scene to start off with the stilt runners giving Kazu a run for his money by hopping and flipping all over the place, making it much like the warehouse fight scene in Tom Yum-Goong, where Tony Jaa fights roller skaters along with motorcycle and ATV riders.
The fight that immediately follows has Kee Moo and Kee Ma in action. In my opinion, this fight is what really sets the tone for the action. It is well choreographed with such creativity, presenting pure breakdancing as an effective weapon, along with the uptempo music playing in the background, you could tell that our heroes are dancing to the beat in order to evade and counterattack. Besides that, there are some slapstick moments here that do get a laugh, such as an enemy's pants falling off twice and Jeeja's rear end getting stuck in a big hole in a stool.
Once Deu becomes accepted by Sanim's crew she undergoes rigorous training in Meyraiyuth. Under Kee Moo and Kee Ma, she learns about and chugs on various alcoholic drinks in order to use alcohol to her advantage, a nod to the Drunken Fist style, and under Sanim, Deu learns of the fighting aspect of Meyraiyuth and practices on top of a ramshackle citadel. Whether it'd be Jeeja sparring or practicing dance-like moves with Kazu or working on her forms, the training scenes are overall really impressive. What's more is that we first get to see the training pay off, when Jeeja fights henchmen of the Jaguar Gang in a warehouse. Also accompanied by upbeat music, the fight scene shows Deu fighting to the beat, toying with her enemies, and moving around like a monkey, making it difficult for her enemies to land a clean hit on her.
While these fight scenes are all well worth a careful watch, it is actually the epic finale of the film that deserves the most praise. As the final showdown, this fight really kicks the intensity into full throttle, and everyone gives it 1000% percent. We have Kee Moo, Kee Ma, and Kee Kwai breakdancing their way against a Muay Thai henchman as well as a pure kung fu practitioner.
Nevertheless, the highlight award really goes to Sanim and Deu, when they team up to fight the villainous London. Sanim and Deu's skills are performed in a most creative, artistic way, as their part mixes intense hand-to-hand combat with the gracefulness of ballroom dancing. This kind of choreography would be applauded by dance competition judges and pundits alikewho would arguably score it near to or maximum points.
Summary
If I were to sum up "Raging Phoenix", it would be "Step Up" meets "Ong Bak" and "Tom Yum-Goong". The fighting styles shown are fresh, agile and unique, placing "Raging Phoenix" in its own special place, in a league of its own.
Trivia
Film Rating: 8/10