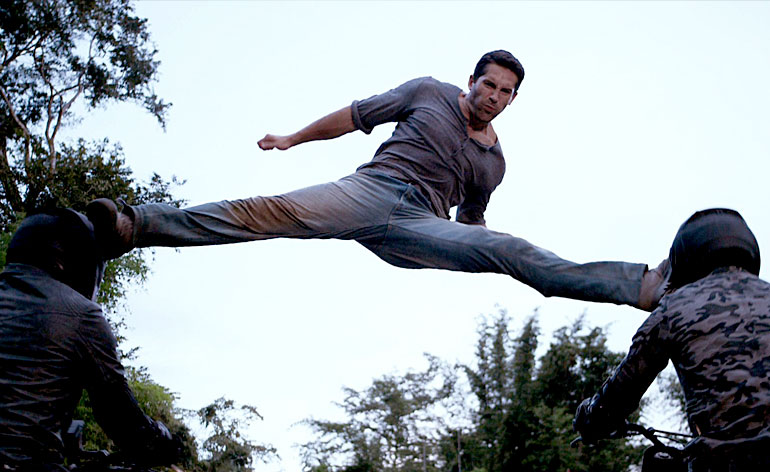 The Most Dangerous Game shifts territories from the bayous of New Orleans to the jungles of South East Asia in "Hard Target 2". Twenty-three years is perhaps an unusually long interval between a sequel and its predecessor, but that fails to slow down this thematic successor to John Woo's Hollywood debut in the least. Of course, how could it when Scott Adkins happens to be the man at the centre of the hunt?
Trailer
Cast
The always amazing Scott Adkins portrays the film's protagonist Wes "The Jailor" Baylor, a disillusioned MMA fighter tricked into what he thinks is a fight with a hefty payday, only to find himself the hard target of the villainous human game hunter Aldrich, played by Robert Knepper.
RhonaMitra portrays his leather-clad right-hand woman Sofia, while Temuera Morrison plays his equally bloodthirsty associate Madden. Wes' good friend Jonny is played by Troy Honeysett, with Katrina Grey as Jonny's wife Kay, while Ann Truong steps into the role of Tha, a local villager who becomes the ally of The Jailor, along with her brother Win, played by Amarin Cholvibul.
He'll need all the help that he can get too, given that Aldrich has further assistance from henchmen including Esparto, played by Adam Saunders, the father and son duo of Jacob and Tobias, played by Peter Hardy and Sean Keenan, tech support from Landon, played by Jamie Timonyand a few local Thai boxers, played by Jeeja Yanin and Kazu Patrick Tang.
Tha and Win prepare to escape the hunt
Sofia is Aldrichs most lethal hunter
Aldrich makes Wes an offer
Aldrich plays for keeps
Plot
MMA fighter Wes "The Jailor" Baylor lives in a perpetual state of guilt. His last big fight pitted him against his good friend Jonny, with both fighters amicably agreeing to face each other due to the huge payday they'd both receive and the promise of one of them becoming the next world champion. Unfortunately, Wes' determination to win got the better of him and his bid to land a knockout blow ended up killing Jonny.
Now eking out a career in underground fights in Thailand, Wes is approached after his last fight by Aldrich, who offers a $1 million purse for Wes to participate in a fight in Myanmar. However, after being taken to the middle of the jungle, Wes learns the unpleasant truth – the "fight" is actually a hunt, with Wes as the target. With both the prize money in the form of some priceless rubies, and his own survival contingent on him evading his pursuers and crossing the border to Thailand, Wes has little choice but to play Aldrich's twisted game.
Action
In the land of "Sequel to a long ago hit movie with different actors", Dutch filmmaker Roel Reine is clearly the king and don't think that's intended as anything but a compliment.
He's crafted such low budget follow-ups as the "Death Race" sequels, "The Scorpion King 3: Battle for Redemption", and "The Man with the Iron Fists 2", and all things considered, they've all tended to be pretty decent.
Wes realizes this fight is for life
Wes has found an ally in Tha
Wes drives the point to his hunters
Aldrich brings a posse of hunters with him
The paltry $4.5 million budget of "Hard Target 2" is utterly belied by the film's lush, sweeping cinematography of the jungles and rivers of Thailand. This is a movie whose price tag is considerably lower than the onscreen content would have you believe. It's a safe bet that fans of the original "Hard Target" will walk away pretty satisfied overall with the sequel. The notorious John Woo flock of doves is liberally worked in at several points to make our hero look ten to fifteen percent cooler and if there's one image that calls back to the original in the right way, it's that. Rest assured, the film is also cognizant not to waste too much time beyond that homaging its predecessor, but it is a scientific fact that the presence of doves can make anything from a gun fight on a bridge to a stick of butter look significantly more awesome.
"Hard Target 2" doesn't aim to waste anybody's time before diving straight into the action. There's rarely a scene in the film that doesn't feature Wes engaging in some form of physical exertion and while the original leaned towards John Woo's trademark gun-fu, heroic bloodshed action, the sequel has much more of an emphasis towards martial arts amid plentiful gunplay.
Wes competitive spirit brought trouble in its wake
Wes and Madden in fighting with guns
Aldrich pins a toll booth on the bridge to Thailand
Sofia gives Wes a run for his money
Wes has already taken part in four separate smackdowns in the ring before the twenty-minute mark, which will surely get viewers' adrenalin pumping for the hunt ahead. Once the game gets started, the jungle setting of the film gives it a bit of a "Hunger Games" feel, Wes even proving himself a capable archer against his pursuers. Sofia is unquestionably going to be everyone's favourite Aldrich associate, especially with her character's back-story which she reveals in a head-to-head match-up with Wes. If anything, you'll probably wish there were more of her when all's said and done.
The finale is where Reine again shows his predilection for using modest resources to their fullest potential, with a high-speed power-boat chase transitioning nicely into a confrontation finale between Wes and Aldrich's gang on a bridge to the Thai border. Jeeja Yanin and Kazu Patrick Tang are there to give Scott some thorny competition, but they're two of several final enemies he faces and don't register much beyond nameless adversaries -although they're both as sharp as ever in a fight scene.
Summary
"Hard Target 2" really is something of a rarity. How many other sequels to a beloved hit two plus decades ago exist that are actually solid follow-ups? Jeeja Yanin and Kazu Patrick Tang are sadly underutilized and RhonaMitra's portrayal of Sofia is so good that you wonder what else she might be able to bring on. However, those are minor considerations in a film that Scott Adkins adroitly carries on his shoulders and RoelReine is a true maestro of making a little money go a long way. It may have taken twenty-three years for there to be a "Hard Target 2", but it's decidedly been worth the wait!
Flying split kick catches double header
Wes gets ruthless in the ring
Wes lands a flawless roundhouse kick
Trivia
This is one of several films Scott Adkins has starred in where he either appears alongside Jean-Claude Van Damme, or the film itself is a sequel to a Van Damme film, or both. The two of them have appeared together in "The Shepherd: Border Patrol" (under the direction of Scott's frequent collaborator Isaac Florentine), "Assassination Games", "Universal Soldier: Day of Reckoning", and "The Expendables 2". They also have a fight scene against each other in each of the first three films.
The movie was filmed on location in Thailand in 20 days on a budget of $4.5 million. The original "Hard Target" was shot in 65 days on a budget of $19.5 million.
Irish martial artist Eoin O'Brien has a fight scene in the film with Scott Adkins. Earlier this year, he appeared in "Never Back Down: No Surrender", where has a fight scene against Scott's co-star from "Undisputed 2: Last Man Standing", Michael Jai White.
Film Rating: 7.5/10