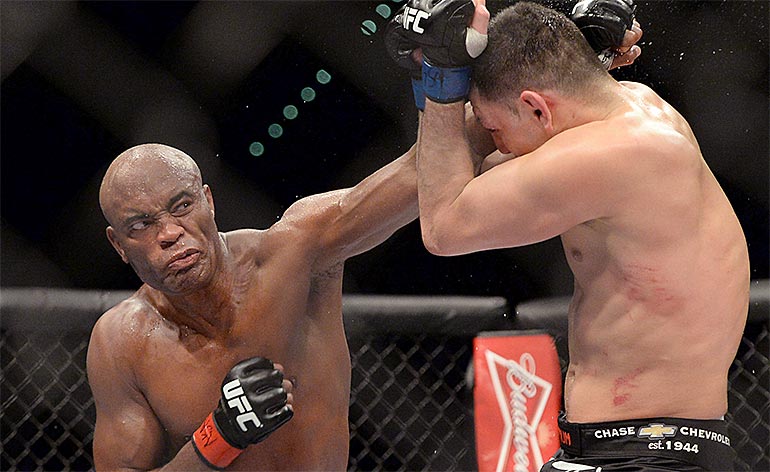 Synonymous with the Ultimate Fighting Championship (UFC), many Mixed Martial Arts (MMA) aficionados consider Anderson "The Spider" Silva the greatest fighter of all time.  The Brazilian entered the sport in its relative adolescence, and proved to be the most successful champion in UFC history, with 10 consecutive title defenses over a period of almost seven years as well as winning 16 fights in a row.
His record in MMA is only part of the Anderson Silva legend.  With an ability to render his opponent unconscious through devastating Muay Thai techniques and elite Jiu Jitsu skills, Silva quickly became a fan favorite after entering the UFC in June 2006.
Silva grew up poor, and began practicing Jiu Jitsu with his neighbors because he was unable to afford lessons.  By his early teens, Silva's family had saved enough for Taekwondo classes, and later Muay Thai tuition.  These early years would form the basis of Silva's innovative and devastating counter-striking style.  Solid fundamentals were later built upon at the renowned MMA nursery Chute Boxe, and later Brazilian Top Team (BTT) where Silva trained with the famous Nogueira brothers.  It is under the Nogueira's that Silva was able to develop his Jiu Jitsu skills, obtaining a black belt.
Given Silva's abilities, to reduce a list of knockouts to just five proved difficult, as seemingly no opponent would leave the arena conscious when facing Silva in his prime.  Despite this, we were able to compile a list that reflects Anderson's unique and entertaining skill set, here they are in descending order…
Vs Chris Leben – UFC Fight Night 5, June 28, 2006
Silva's first fight in the UFC was highly anticipated, having previously been billed as the best fighter in Japan. "The Spider" was not given any favors in his debut for the organization, matched up with fan favorite and former The Ultimate Fighter contestant Chris Leben.  Leben was riding a 5-fight winning streak, and was known for his heavy hands and iron chin.  This only served to allow Silva to showcase all of his striking skills, hitting Leben with counter punches, kicks and knees to first stun, then knockout the American.  Amazingly, Silva's striking accuracy was 85% for the fight, and the performance served notice to the rest of the middleweight division that there was a new contender in town.
Vs Rich Franklin – UFC 64, October 14, 2006
After dispatching Chris Leben, fan voting meant that Silva would face incumbent UFC middleweight champion, Rich Franklin for the title at UFC 64.  Rich had defended the title twice and, at that time, was considered the premier middleweight in the world.  Silva was to again display his superior Muay Thai skills, this time utilizing the clinch to deliver devastating knees to Franklin's body and head.  With Franklin wobbled, "The Spider" calmly delivered two explosive knees to the head, rendering the champion unable to continue.  Silva would not relinquish his middleweight title for another six and a half years.
Vs Chael Sonnen – UFC 148, July 7, 2012
In perhaps Silva's most high profile fight, he managed to dismantle the controversial Sonnen in under two rounds.  After submitting Sonnen with only seconds left in their first fight (and avoiding a decision loss), the general consensus was that their second matchup would be similarly close, and the lead up was characterized by the usual trash talk that accompanies a Chael Sonnen fight.  Silva, however, displayed his elusiveness and masterful use of range on the feet, easily evading a Sonnen spinning back fist and capitalizing by reigning down vicious strikes against the cage.  The referee mercifully brought an end to the contest two minutes into the second round, and Silva was able to rectify what he felt was a mediocre performance in the pair's first contest.
Vs Forrest Griffin – UFC 101, August 8, 2009
In what was his second fight at light heavyweight in the UFC, Silva embarrassed fan favorite Griffin with a blistering display of counter-striking, culminating in a now famous walk-away KO.  Many pundits felt that Griffin, the much bigger fighter, had a huge chance to beat Silva prior to the matchup, but Silva proved that his striking was the best in the world, standing directly in front of his opponent with his hands down and using head movement to evade strikes.  The final blow was nothing more than a pawing right hand against an advancing Griffin, and still ranks as one of the most spectacular KO's in MMA history.
Vs Vitor Belfort – UFC 126, February 5, 2011
In a genuine grudge match, Silva was able to land a well-timed front kick on UFC legend and former teammate Vitor Belfort.  Belfort had previously trained at the famous Black House MMA gym with Silva, and Belfort's challenge was seen as disrespectful and a betrayal by Silva's team.  Furthermore, it was a fight between two of Brazil's most famous MMA exports, and a clash of Silva's counter-fighting with Belfort's lightning-fast boxing.  In a moment, straight out of a martial arts movie, Silva front-kicked Belfort in the face, and subsequently finished the fight with ground strikes in what has now become a truly iconic moment in MMA.  Fight commentator Joe Rogan's reaction is priceless, as was the news after the fight that Silva had supposedly perfected the front kick technique with martial arts heavyweight Steven Seagal.
So there we have the Top 5 Anderson Silva Knockouts! What do you think about the list?  Do you think we got it right, or was a major KO left standing? Let us know your Top 5 Anderson fights by either commenting below or on Twitter or Facebook!