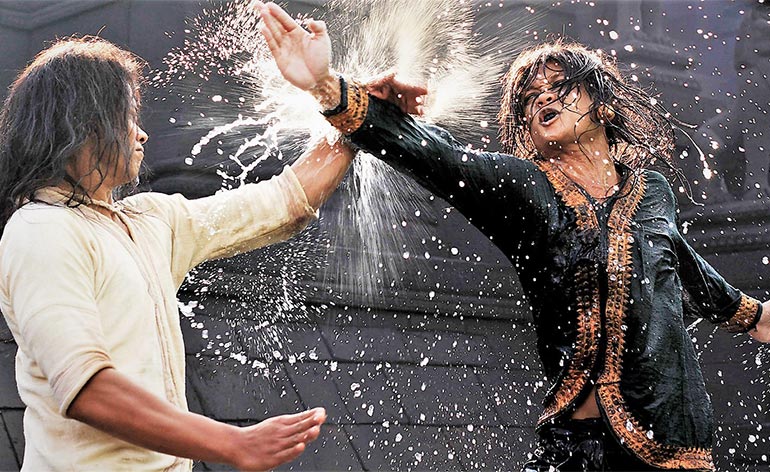 After skyrocketing to international superstardom in 2003's "Ong Bak: The Thai Warrior", Tony Jaa took on the task of Thailand's most ambitious film production yet with the film's prequel. The scope and scale proved so vast that the film was ultimately split into two parts, with "Ong Bak 3" receiving a noticeably less positive reception than "Ong Bak 2". To call that bewildering would be an understatement, as "Ong Bak 3" brings Tony Jaa's epic Muay Thai trilogy to an energetic, action-packed, and powerful close – I guess everybody's got to have a "Most Underrated" title on their filmography!
Trailer
Cast
Returning to the role of the film's righteous warrior, Tien, is the always amazing Tony Jaa, who spends all 95 minutes of the film's running time leaving jaws agape once more! His fellow stuntman extraordinaire Dan Chupong appears in the role of the spooky "Crow Ghost" Bhuti Sangkha, following his brief appearance in "Ong Bak 2", while Primorata Dejudom portrays Tien's love interest, Pim. Sarunyu Wongkrachang also returns as the vicious warlord Rajasena, while Nirut Sirijanya portrays Master Phra Bua. Tony's co-star from "Ong Bak" and "Tom Yum Goong", comedian Petchtai Wongkamlao injects some levity into the film as local villager Mhen, and somehow manages to be the most memorable part of one of Tony's fight sequences (you'll know it when you see it!).
Plot
Thailand, 1431. Following his capture by the bloodthirsty warlord and his parents' killer, Lord Rajasena, the mighty warrior and thief Tien is crippled and tortured within an inch of his life. As he prepares to finally execute his prisoner, Tien is pardoned by the king and taken to a local village. Having failed to avenge his family and with his limbs all but shattered, Tien at first contemplates suicide, but eventually manages to rehabilitate and resurrect himself back to the warrior he once was. Meanwhile, Rajasena, finds a new enemy in the form of Bhuti Sangkha, who has his own plans to usurp his throne and conquer the land.
Action
"Ong Bak 2" had originally been envisioned as a single, sweeping period epic before ultimately being split into two films, with the first ending on a cliffhanger, but that doesn't mean that "Ong Bak 3" feels in any way jarring or disjointed. If anything, Tony Jaa has taken his game up a notch between films, and barring an exceptional amount of gore in the upcoming "Triple Threat" (which is far from an impossibility), this is easily his most violent film to date.
"Ong Bak 3" opens with Tien enduring savagely brutal punishment at the hands of Lord Rajasena's bodyguards, which effectively sets the tone for the rest of the film. While certainly not without its share of gymnastic flash and flair, there's noticeably less gravity defiance in the action compared to the first "Ong Bak", and a good deal more blood and guts this time around even when compared to "Ong Bak 2". This also contrasts well with the heavy Buddhist themes and symbolism seen throughout the film; more so than its predecessor, "Ong Bak 3" is the story of a man surrounded by chaos and violence choosing to seek a life of peace and serenity, while presented with a dark mirror of what he could become were he to succumb to violent and vengeful impulses influenced by Bhuti.
The first half of the film is devoted primarily to Tien's resurrection, and after the merciless cruelty he endures from Rajasena's henchmen, his rise seen in the film's training montage feels both earned and fully triumphant. This also makes Tien's first major fight sequence in the film feel all the more satisfying when his enemies catch up with him, and he stoically fights them off without ever breaking from his monk-like resolve.
The shot of Tien in a planted horse stance, pinballing punches between two henchmen is arguably the money shot of film – testimony that simplicity is no barrier to Tony's ability to astonish viewers. Dan Chupong also gets a chance to establish Bhuti's weight as a villain in a battle with dozens of Rajasena's guards that's almost more of a murder spree with how little threat they offer him. The finale is one of the best displays of yin and ying you'll ever see, both in the action stakes and the film's broader concept. We're first treated to a dark dream sequence where Tien unleashes on Rajasena's forces with a level of ferocious barbarism that even 'Mad Dog' from "The Raid" would be surprised by (less surprised than you or I would be, but still)!
By contrast, Tien returns to a Zen Jedi-focused state in a final one-on-one with Bhuti, deflecting and avoiding his enemy's wilful assault rather than facing him head on. After caving-in skulls with falling elbow strikes in his previous few films, Tony Jaa has made a laudably conscious effort not to merely repeat what he's done before, but to reinvent himself along with new and exciting manoeuvres.
Summary
With its engaging cultural Buddhist theme and consistently outstanding action sequences, "Ong Bak 3" brings the trilogy Tony Jaa began in 2003 to a thoroughly satisfying close. While one can't help but wonder what the singular massive epic he originally had in mind would have looked like, "Ong Bak 3" nevertheless has everything that hardcore fans of Muay Thai action crave. And rarely has the concept of yin and yang been more flawlessly displayed on celluloid than in the ending of "Ong Bak 3"!
Trivia
The film, along with "Ong Bak 2", was co-directed by Tony Jaa and his mentor, the late Panna Rittikrai.
Dan Chupong previously appeared in 2004's "Born to Fight", a remake of Panna Rittikrai's 1984 film of the same name.
Following the release of "Ong Bak 3", Tony Jaa took a sabbatical from filmmaking and became a Buddhist monk in Surin, Thailand. After leaving the monastery, he returned with 2013's "Tom Yum Goong 2", his final film with Panna Rittikrai prior to his demise on July 20th, 2014.
Soundtrack: "Tien's Rise"
Film Rating: 8/10
Favourite Quotes
"I owe you a debt of gratitude for saving my life." – Tien (to Master Bua)
"Power should be possessed by those who deserve it." – Bhuti Sangkha
"I feed off the vengeance in your heart. You can never overcome me." – Bhuti Sangkha (to Tien)
What are your thoughts on the Ong Bak movie trilogy? Which scenes got you engaged and fired up the most? Let us know in the comments below, feel free to join in the conversation on Facebook and follow us on Twitter. Don't forget to check out our other movie reviews for your daily dose of high-octane-fu!