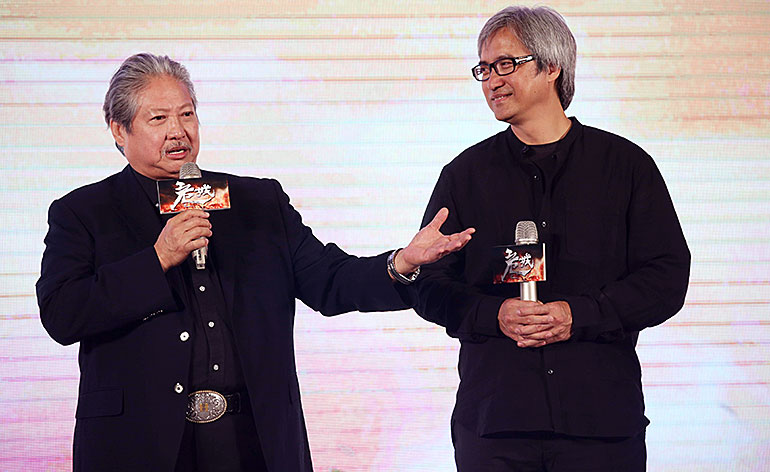 Benny Chan is one of the foremost writers, producers and directors of Hong Kong action cinema in the new millennium. He has directed Jackie Chan in some of his best modern-era projects such as "Who Am I?", "New Police Story" and "Rob-B-Hood". In the movies "Gen-X Cops" and "Invisible Target", Benny brought big budget, Hollywood-scale stunts and action to Hong Kong and introduced a new generation of Asian stars including Jacky Wu Jing, Nicholas Tse, Daniel Wu, Terence Yin and Shawn Yue.
In 2010, he brought the generations together in the box office hit "Shaolin", a historical martial arts film starring Andy Lau, Nicholas Tse, Jacky Wu Jing, Fan Bingbing, Xing Yu and Jackie Chan. As he returns to this format for his latest epic, "Call of Heroes", Kung Fu Kingdom had the privilege to ask Benny about his influences, working with legendary action director Sammo Hung and the challenges of bringing such a huge movie project to life.
On directing influences and projects
So, Benny, which films, stories, actors or directors have influenced you the most?
What is your favourite type of film to watch? Do you like the old school (Bruce Lee, 70's), 80's action ("Police Story", "Eastern Condors" etc.), 90's Wuxia ("Once Upon a Time in China" etc), or do you prefer films like Sergio Leone's Westerns, Martin Scorsese, Steven Spielberg etc.?
Well, many forms of cinema accompanied my growth, including costume dramas, westerns, fantastic Wuxia (aka swordsman) films, and realistic martial arts films. I really enjoy watching Wuxia films myself. Akira Kurosawa is one of my favourite directors, and I have seen some of his early warrior spirited films, for example "Yojimbo", and "Sanjuro" are among his films that I like.
I have loved Shaw productions since I was young, director Chang Cheh's films about passionate men and brotherly love, or the heartfelt films by martial arts director Lau Kar-leung, all have a profound impact on me, in the way my films convey those sentiments or cinematic language.
Will there ever be a sequel to "Rob-B-Hood" or at least a re-teaming of Jackie Chan and Louis Koo? (They were hilarious together!) You've worked with Jackie Chan, Sammo Hung and Yuen Biao. Any chance of you reuniting the 'Three Dragons' for "Wheels on Meals 2"?
If I could get these superstars together for a cooperation, it would be something brilliant, but I believe that everyone has busy schedules, so no such plan as yet.
On martial arts action
You've worked with some of the biggest names including Jackie Chan, Andy Lau, Sammo Hung, Louis Koo, Jacky Wu Jing, Nicholas Tse, Donnie Yen in the TV show Fist of Fury, which martial artists were your favourites to work with in terms of action so far?
The martial arts actor that I have worked with the most frequently is certainly Jackie Chan, he is an important representative of Hong Kong action films, we have numerous sparks during our collaborations, the new generation includes Wu Jing, cooperation with him also has provided lots of chemistry.
On "Call of Heroes"
Talking about your latest movie now, "Call of Heroes", how would you describe it and what would you like to say about it first of all?
"Call of Heroes" is actually a very simple, black and white clearly separated story, that is, when people encounter evil forces, whether there is courage to face them; how each person will have a different attitude towards the same thing and the effects that arise when crisis appears. This is a story about human nature, I hope to view this film from a martial arts perspective, not with a preachy style, but with the simplest story to tell the true side of human nature, so that we comprehend the faith that I want to convey. This story is very simple, but very meaningful.
How did you first become involved with "Call of Heroes"? What interesting or unique stories can you share about making the film?
At first began wanting to make a story about a ranger helping a town in the face of extreme, vicious people, and how to deal with it. Ordinary people usually fear, scare, and retreat when facing very large and strong forces. Building this city is to say that everyone should have their own bravery inside, have their own world, and people should have a brave heart. I positioned the stage inside this city, hoping to create a concentrated miniature representative of many places. There are such events in the world, with lots of bad guys, vicious people, and then the question arises if you have the courage to face these evil forces? This was my original concept creating this story.
The most memorable shooting experience should be the weather. We shot 100 days, almost 80 days were raining, so we built a large tent to block the rain. It was a huge project, as the city was completely exposed to the elements. If the wind was very strong it would make filming very difficult. The weather was not good, and the actors' schedules were tight, time was very tight, so all staff had to put in all their best efforts to complete the film.
It's one of the most expensive Chinese films ever produced, with the film's set taking some four months to build; what sorts of challenges did you encounter in order to realize your vision for such an ambitious film?
Pucheng was a beautiful place I imagined. We went to a lot of attractions, Kunming, Hangzhou, Hengdian, Beijing, etc., looking for a suitable place to build this Pucheng. Some places I liked, but because of weather problems and as protected areas, were not suitable, we went through a lot of difficulties, only to find Shaoxing here. During the design of Pucheng, we also experienced more than a year of complex processes, the design was constantly changing. In fact, our time was very inadequate. In April, we were still building the city. In late May, we were still building, shooting while building simultaneously. You can imagine how many difficulties we faced.
"Call of Heroes" was converted to 3D, do you think this is the future for martial arts action films?
Not necessarily. It depends on if the content, theme and so on are appropriate.
Do you see Virtual Reality (VR) finding a place in martial arts movies? How do you imagine it might be used in the future?
I believe it has potential to develop. I haven't dug into this aspect yet.
"Call of Heroes" marks your third collaboration with Wu Jing, following "Invisible Target" and "Shaolin". What special stories can you share about working with Wu Jing on this and previous films?
A special thanks to Wu Jing for playing this character. I told him that I need a master for a master in this film, and I think you are a very suitable person in the film industry. Fortunately, he was available. After being a director he came back as an actor, and I think he has become better. He also said that it is very tough being a director. He joined this time to see how the two directors filmed, and we would discuss and learn from each other on site, maintaining a very positive attitude. Wu Jing is really a very good actor, because the hardest fight in the whole story was his. Enduring the hot weather, holding a weapon every day to fight, I am very grateful to him.
What special or memorable stories can you share about making "Call of Heroes" with Dai Goh, (Big Brother) Sammo Hung as the film's action director?
I grew up watching Big Brother Hung's films. After joining the industry, I have always wanted to collaborate with him. There were several opportunities that I wanted to find him, but his schedule didn't allow it. This time I told him a year ago, that I would like to work with him to shoot the film. He finally had an available schedule to shoot, I was very delighted. I was working with him with a learning mentality. Our script balanced the both of our directors' ideas, many of which were his suggestions, his advice on the whole story was also a very great help. He was from a different angle, for example, from the perspective of martial arts, in terms of how Lau Ching-Wan and Louis Koo should fight with their characters.
I'd also think of my own idea, but then he'd come up with was something that I wouldn't have thought of. Lots of times we would talk about the story like this. His experiences were very valuable, he has forty years of filming experiences. I think no matter which director cooperated with him, he would be very happy. For each scene, he is using his years of filming experience. I also think that I have so many years making films, and used a lot of martial arts directors, but no martial arts director has proved as thorough as he is. During filming, his standards were also very high, strict and very persistent on shooting well in order to capture good work for the film and the audience. So, working with him this time I felt really happy.
What would you consider the most challenging film that you've directed so far?
Basically, each set of films has different challenges, such as for "Call of Heroes", in addition to preparing for shooting, we were also affected by heavy rain. Humans cannot fight nature, but we had to come up with many ways to continue shooting. This is something every film set faces, but the difficulties always seem to be different.
With the likes of "Shaolin" and now, "Call of Heroes" in mind, what are some of the essentials in making a good martial arts period movie in your opinion?
I believe that a martial art or an action film, needs to satisfy the audience's visual experience, to bring excitement, and the framework does not need to change a lot for this, e.g. turning a solid Kung Fu film into a science fiction one. I think that the action should follow the drama, it cannot be too overwhelmingly exaggerated.
What other projects do you have coming up in the future following the release of "Call of Heroes"?
I have finished a fantasy comedy series which is in the post-production process now. It will be releasing in summer of this year. Following this, I am planning another action film.
Thank you so very much Benny, it's been a real pleasure. We wish you all the best of success with "Call of Heroes" and look forward to your upcoming, exciting and creative movie ventures in 2017!
"Call of Heroes" is available now on DVD and Blu-ray from Amazon, e-Bay and all other good retail outlets.
(Stay tuned for our review!)