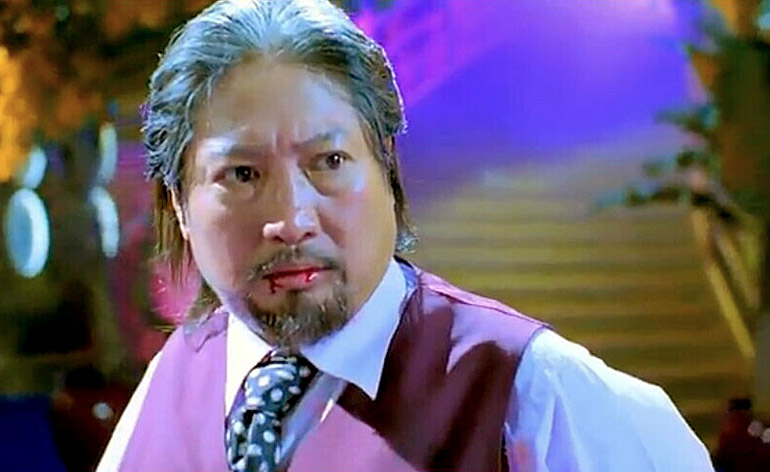 Sammo Hung is arguably one of them most inventive and influential martial arts action directors and performers in the history of the genre. The Hong Kong film industry calls him Da Goh Da, "Big Brother Big", or "Biggest Brother". He was Jackie Chan and Yuen Biao's senior at Yu Jim Yuen's famous Peking Opera School. It was here as children that they learned the incredible physical performance skills that would make them the number one action stars in Asia. When Sammo began working in the burgeoning world of Hong Kong martial arts films, he would call on his old classmates to act as stuntmen. They, along with fellow members of the "Seven Little Fortunes", Corey Yuen, Yuen Wah, Yuen Tak, Yuen Tai, and Yuen Mo, set the standard for martial arts choreography and stunts throughout the 1970's and 80's.
In 1977, Sammo made his directorial debut with "Iron Fisted Monk", in which he also starred. The martial arts choreography was powerful, precise and acrobatic in equal measure, all of which would become hallmarks of Sammo Hung's style.
Classics such as "Warriors Two", "Knockabout", "Magnificent Butcher" and "The Odd Couple" followed. In 1980, Sammo's "Encounters of the Spooky Kind" kick-started an entire genre of "Jianshi", supernatural, kung fu horror comedies.
In 1981, Sammo Hung directed one of his best friends, his "little brother" Yuen Biao, in what many consider the finest traditional kung fu film of all time, "The Prodigal Son". The rest of the decade saw Sammo performing in and directing some of the best action productions of the era. He worked several times with Jackie Chan and Yuen Biao in fan favourites "Project A", "Wheels on Meals", "Dragons Forever" and the Lucky Stars series of films.
Sammo's career is nothing if not versatile having directed in fantasy ("Zu Warriors from the Magic Mountain"), historical ("Moon Warriors"), contemporary ("Dragons Forever"), drama ("Heart of the Dragon") and comedy ("Skinny Tiger, Fatty Dragon") settings.
His success and innovation continue to this day either acting to great acclaim in movies such as "SPL" aka "Kill Zone", choreographing the action in Donnie Yen's Ip Man or recently directing and starring in the film "The Bodyguard".
If ever there was an impossible list to write, it's this one! So please sit back, relax and enjoy our Top 10 Sammo Hung Movies! in descending order…
"Enter the Dragon" (1973)

Not strictly a Sammo Hung movie but the opening scene to Bruce Lee's classic would have been the first time many martial arts fans got to see the acrobatic and hard-hitting style of the burly star. Aged just 21 years old at the time, Sammo was already gaining a reputation as a top action director and performer. As a contemporary of Bruce Lee's, Sammo took on board Lee's belief that audiences wanted to see a more realistic style of fighting in movies, rather than the rigid rhythmical kung fu routines of old. The rest as they say…is history!

"Magnificent Butcher" (1979)

Jackie Chan's kung fu comedies "Snake in the Eagle's Shadow" and "Drunken Master" had proven to be hugely successful with Hong Kong cinema audiences. "Drunken Master" had featured the characters of Wong Fei-hung and Beggar So. "Magnificent Butcher" followed a similar concept, instead concentrating on the character of Lam Sai-wing, a real-life student of Wong Fei-hung. The movie is packed with old school traditional kung fu fights performed by Sammo himself and his regular collaborators Yuen Biao, Chung Fat and Lam Ching-ying. The original cinematic Wong Fei-hung star, Kwan Tak-hing makes a special appearance and shows he's still got the skills, even though he was 74 years old at the time! Sadly, Drunken Master's Beggar So actor Yuen Siu-tien died shortly before filming began and was thus replaced by Fan Mei-sheng.

"Pedicab Driver" (1989)

Set in 1930's Macau, two of the greatest heavyweights of kung fu cinema come together; Sammo Hung and Lau Kar-leung! The result is Sammo's fast and hard-hitting style combined with the power of Lau Kar-leung's authentic traditional kung fu. Pedicab Driver could only be found on VHS and Laserdisc for many years, but has recently become available to fans in the USA as a beautifully remastered DVD-on-demand via the Warner Archive.

"Millionaires Express" (1986)

Nothing demonstrates more the high regard and esteem that Sammo is held in by the Hong Kong entertainment industry, than his ability to recruit a huge ensemble cast of some of its biggest stars, old and young. Also known as "Shanghai Express", this movie features an incredible cast list from veterans Shih Kien ("Enter the Dragon"), James Tien ("Fist of Fury") and Hsiao Ho ("My Young Auntie"), to established stars such as Yuen Biao ("The Prodigal Son"), Lam Ching-Ying ("Mr Vampire"), Yuen Wah ("Eastern Condors"), Wu Ma ("A Chinese Ghost Story"), Eric Tsang ("My Lucky Stars"), Lau Kar-wing ("Odd Couple"), Hwang Jang-lee ("Secret Rivals"), and Yasuaki Kurata ("Legend of a Fighter"). That's not to mention the then rising stars Cynthia Rothrock, Richard Norton and Yukari Oshima, popular entertainers Richard Ng, Rosamund Kwan, Lydia Shum, Kenny Bee, Anthony Chan, Olivia Cheng, Billy Lau, Mang Hoi, Corey Yuen and Philip Ko, and cameos from Jimmy Wang Yu and Bolo Yeung! Incredibly, Sammo manages to give each of this huge range of talent their own chance to shine, resulting in some of the best ensemble comedy and fight action packed into a single movie!

"Sha Po Lang/Kill Zone" (2005)

With his film career well into its fifth decade, Sammo delivered one of his best dramatic performances as the ruthless and menacing crime boss, Wong Po. When he first encounters Donnie Yen's Hong Kong cop, Sammo slowly walks down a staircase, tapping his beer bottle against the railing. You can barely breathe through the tension. And despite his size and age, Sammo STILL puts in a decent shift in the action stakes, especially in the epic final MMA-style duel with Donnie Yen.

"Encounters of the Spooky Kind" (1980)




Although there had been a few supernatural kung fu films in the past, no one had ever brought together spooky chills, action and comedy as successfully as Sammo did with this movie. He almost single-handedly started a new genre which led to further classics in the Mr Vampire series, "Dead and the Deadly" and "A Chinese Ghost Story". The martial arts action is superb, especially the end fight which includes one of the best sword versus spear fights ever filmed!

"Wheels on Meals" (1984)

Jackie Chan has always looked that bit sharper and more powerful when he has been under the action direction of his Big Brother Sammo. In "Wheels on Meals" he got to perform perhaps his greatest on-screen fight against Benny "The Jet" Urquidez. That's not to forget some of the other nifty action and comedy set pieces of the movie along with his opera brother Yuen Biao. The film features a great training and sparring sequence between the two, and includes some incredible stunt work when they take on legendary stuntman Blacky Ko and his team, by kicking them off their motorcycles in a Barcelona square. Yuen Biao's own acrobatic fight in the castle (against American karate champ Keith Vitali) is hugely impressive, whilst Sammo plays it for laughs as the hapless detective, Moby.

"Knockabout" (1979)

For me, "Knockabout" combines the best of Sammo's old school style of choreography with some hilarious situational comedy. This film has all the classic kung fu movie ingredients; a deadly kung fu master for a villain, double-crosses, a teahouse fight and students who learn new martial arts skills that will eventually be tested in (what else?) vengeance! The cast of Sammo Hung, Yuen Biao, Bryan Leung and Lau Kar-wing are all superb in their roles, especially in the action scenes. The training sequences are up there with their equivalents in Jackie Chan's "Drunken Master", especially the incredible skipping scene and Yuen Biao's acrobatic form demonstration.

"The Prodigal Son" (1981)

This film is often cited by fans and experts as the epitome of classic old school kung fu flicks. Hugely popular with Asian audiences and fans of the "Late Night" martial art movie screenings, Sammo gave Yuen Biao the lead role in a tale of a wealthy man's son who learns some harsh life lessons through the martial arts. The traditional kung fu choreography is some of the most beautiful and intricate ever captured. It's all performed with speed and precision, but most importantly, clarity, so that we get to see every little nuance of the technique. Sammo himself has an amusing cameo as Wong Wah-bo, a Wing Chun master who reluctantly teaches Yuen Biao his fighting skills.

"Eastern Condors" (1987)

Long before Sylvester Stallone put together a bunch of action stars in "The Expendables", Sammo Hung brought together some of Hong Kong's greatest martial arts talent for "Eastern Condors". Using a military setting and plot, the movie plays like a kung fu version of "The Dirty Dozen". The cast list includes the usual suspects Yuen Biao, Yuen Wah and Lam Ching-ying, fellow choreographers Yuen Woo-ping and Corey Yuen, veteran of many of Bruce Lee's films James Tien, regular movie villain Dick Wei, stuntman Chin Kar Lok, Japanese action-legend Yasuaki Kurata, kickboxing champion Billy Chow, character actor Wu Ma, comic actor Billy Lau, and even Sammo's wife Joyce Godenzi! Using plenty of slow motion, the fighting is as hard-hitting as anything Sammo and his fellow cast members have filmed before or since. Coupled with some explosive Rambo-style gunplay, this is a martial arts war film not to be missed!

So there we have it folks, 10 brilliant movies that still make for riveting viewing today from action legend par excellence, Sammo Hung! As a Top 10 covering a career as prolific as Sammo's, this is really just the tip of the iceberg. Which is your favourite Sammo film and why? Let us know in the comments below and watch out for more selected Top 10's…coming soon!