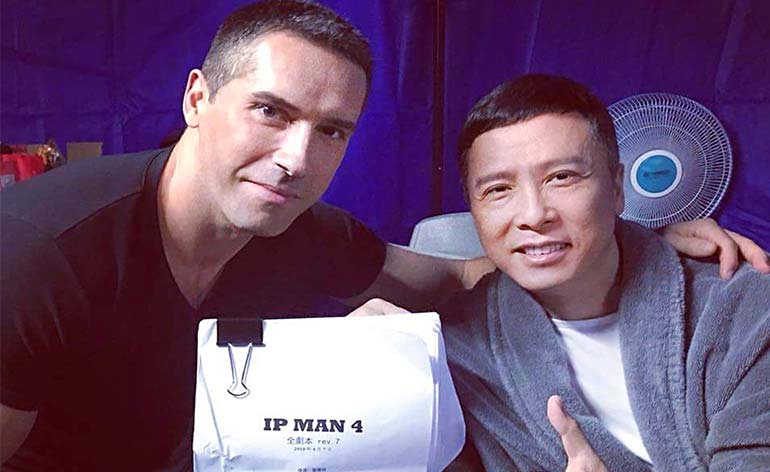 In the world of action movies, Scott Adkins is a name that commands all the respect in the world. That's especially true in 2019, which has seen Scott play everything from a crazed, revenge-obsessed former convict in "Avengement" to the uncompromisingly vicious villain of the martial arts dream-team ensemble "Triple Threat". Indeed, while Scott is no stranger to villain roles, this year has seen him flex his immense dexterity in that particular arena like never before.
On top of that, this year also marks the point where action fans will finally have the chance to see Scott go head-to-head with the one and only Donnie Yen. And how much sweeter does that sound than in the concluding chapter to the "Ip Man" series, "Ip Man 4: The Finale"? Then again, given that the movie sees Scott portray the almost cartoonishly evil Marine commander Barton Geddes, it did ultimately turn out just a BIT better!
Today, Scott sits down with KFK to share a behind-the-scenes look at the making of "Ip Man 4", and the experience of collaborating with Donnie Yen for the first time, while offering a pinch of information on his upcoming sequel to the 2018 black comedy assassin caper, "Accident Man"!
Hi Scott, great to speak to you again! Hope you're doing well and having a great holiday season?
Hi Brad, I'm doing terrific, thanks!
Great! Okay, let's kick off with how you came aboard "Ip Man 4"?
Scott Adkins on Playing US Marine Sergeant: Barton Geddes
Basically, Donnie Yen requested that they get Scott Adkins for the part of the villain of "Ip Man 4". And obviously, working with Donnie was an opportunity I jumped at. (Both laugh)
No doubt! On that note, you play a US Marine sergeant, 'Barton Geddes' in the new movie, who really embodies the feel of a lot of well-known military characters. Did you take inspiration from similar personalities in films such as Clint Eastwood's "Heartbreak Ridge" or the late R. Lee Ermey in "Full Metal Jacket" in creating the character?
Scott Adkins Quick Kick Demo in KFK Wear
Message from Scott to fans:
"Still got it. Merry Christmas everyone. Make sure you check out Ip Man 4: The Finale in theatres this holiday season. I'm good at being bad!!!!!"
https://www.facebook.com/119260628164628/posts/2643945572362775
Yeah, definitely. Obviously, I didn't just want to completely rip that off, but you definitely see it. R. Lee Ermey is so renown for military characters like in "Full Metal Jacket", and when you think of an image of a really tough American soldier, he really springs to mind. I also took a bit of inspiration from Jack Nicholson in "A Few Good Men", as well.
On Working with the Master of Action: Yuen Woo-ping
Another great movie military figure. Looking at the action now, your movie fighting style often involves a lot of high-kicking and acrobatics. How was that worked into the choreography to compliment the Wing Chun-based techniques of Donnie Yen's character?
Really, it all just comes down to Yuen Woo-ping's direction of the action. He's the gold standard of kung fu films, and I'd worked with him before when I was a bit younger, but I didn't pay as much attention to his process as perhaps I should have. So this time, I really wanted to learn as much as I could from him, and he was really captain of the ship in putting together the action for "Ip Man 4".
On Working with Martial Arts Legend: Donnie Yen
Indeed, Yuen Woo-ping seems as much a master of action now as he's ever been. On that note, what can you share about the experience of working with Donnie Yen for the first time and filming your fight sequence with him that appears at the end of the movie?
It was fabulous, and I learned a lot from working with Donnie on the movie as well. He's phenomenal to see on screen, and when you're working with him or with guys like Jackie Chan, Sammo Hung, or Wu Jing, you're working with the best of the best, so it's a challenge but also an honor. I love the Ip Man films, and I'm really honored to have been part of what I consider to be the greatest modern-day kung fu franchise.
Learning from the World's Best…
That it is! Every movie project brings its own lessons with it. Given your own extensive career in action movies now, what would you say you took from working with a star like Donnie Yen, action choreographer master Yuen Woo-ping and director Wilson Yip?
Well, I kind of knew how things run on Hong Kong movies anyway, because that was where I started out. And everything I learned during that time, I've carried through all the movies that I've done, especially in shooting fight scenes, which I've always done the way the Hong Kong guys do it.
But there's always more to learn, so I really tried to take as much as I could from Yuen Woo-ping and Donnie Yen. Really, so much of it also falls to the camera operator. They really need to understand the fight choreography as well as the performers do, and our camera guy on "Ip Man 4" was so good. I think he made maybe just one mistake the whole time.
Sounds like he was as much on his A-game as everyone else. Speaking of other people featuring in "Ip Man 4", how was it working with the multi-talented Sifu Chris Collins on the movie?
Working with Sifu Chris Collins
Well, I'd worked with Chris before on "Wolf Warrior", and it was great to meet up with him again on a set. A lot of his life experience in the Marines became part of the story as well. He's a brilliant Wing Chun guy himself, so it was a bit of a challenge for him to portray a Karate practitioner.
He certainly pulled it off. Looking ahead now, what other projects do you have in the works after "Ip Man 4"?
Coming up…"Accident Man 2"
I like to stay busy, so I've got quite a few coming up. I'm about to start on "Accident Man 2", and from this, people can expect a lot of action, lots of comedy, more crazy, larger-than-life characters, and lots of killing. (Both laugh)
Scott's Message to Kung Fu Kingdom Fans & Followers
We look forward to seeing the return of Mike Fallon in "Accident Man 2"! Well, as we sign off Scott, would you be happy to say a few words this Christmas about KFK's mission which is to inspire 100 million people around the world to get into martial arts for all the benefits it brings an individual, the community and socially? Hopefully it will encourage more people to take up martial arts in the big new decade: 2020 coming up…
Sure. Martial arts has benefit in all areas of life. It sets you on a path to achieve difficult goals, and emerge on the other side with an indomitable spirit. Everything to be gained from martial arts are things you can carry through life, and it's a journey that never ends.
I'm still discovering things, and it's just such a part of my life now that I don't even think about it, I just get up every day and do it, and that's how I see the journey of martial arts.
Well said. Thank you so much for sharing that Scott, and for the pleasure of another great interview. Wishing you all the best of success for "Ip Man 4", and looking forward to hearing more on "Accident Man 2" as well as other thrilling projects you have in the pipeline! Merry Christmas and a Happy New Year 2020 from us and all Kung Fu Kingdom followers and fans!
Thanks Brad. Same to you all too, and it's a pleasure to speak with Kung Fu Kingdom again!
"Ip Man 4: The Finale" is in theaters in Hong Kong, and will release in North American theaters on Christmas Day and stay tuned for our review! Are you excited to see Scott Adkins finally face off with Donnie Yen in "Ip Man 4"? What are your fave, most memorable action, fight or emotive movie moments from the Ip Man series? Let us know in the comments below; Like, share and join in the conversation with us on Facebook and follow us on Twitter & Instagram.