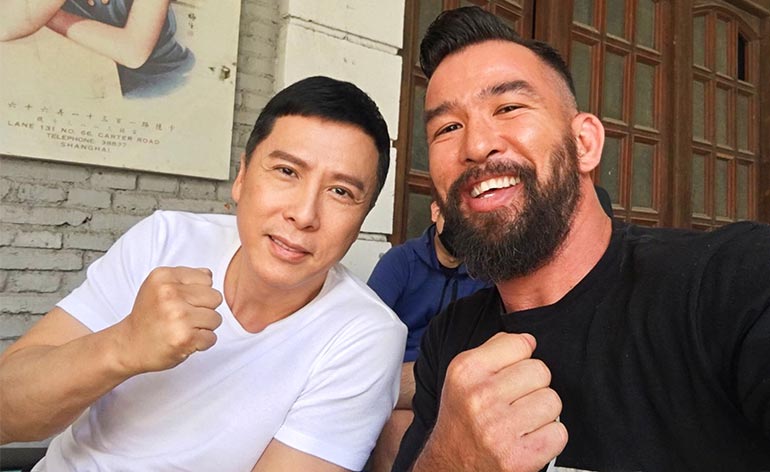 Pop quiz, hot shot – have you ever casually joked that you were going to appear in the next installment of a popular movie franchise following the life of a real-life kung fu master, only for your jovial prediction to come true just a few years later? Chris Collins knows a thing or two about that, given that he made that very joke among his Wing Chun students after a showing of "Ip Man 3". Fast forward to 2019, and Chris is the latest enemy that the world's most famous Wing Chun master is forced to battle in the concluding chapter of the Ip Man saga, "Ip Man 4: The Finale". Talk about winning the lottery!
A veteran of the United States Marine Corps, Chris Collins developed a devotion to martial arts would eventually take him to Hong Kong, where he would earn the rank of sifu in the art of Wing Chun. But Chris' journey in the Far East was just getting started, and he would soon find himself training actors and designing action in the Hong Kong film industry. Chris' skill in this arena would subsequently take him in front of the camera, with 2017's "Paradox" giving way to his appearance in "Ip Man 4", the latter of which even interweaves elements of his real-life military background into the story.
Today, Chris sits down for a KFK exclusive interview to share a look back on his journey in the military and martial arts, his beginnings in the Hong Kong film industry, and a peek behind-the-scenes on the making of the highly anticipated "Ip Man 4" which releases in two days, on the 25th -Christmas Day!
Hi Chris, welcome to Kung Fu Kingdom! Thank you for the pleasure of speaking today. Hope you're doing well and having a great holiday season?
Hi Brad, happy to be here! I'm doing great, thanks.
Sifu Chris Collins – Martial Arts Background
Awesome! Okay, well let's kick off with your beginnings in martial arts. When did you first start training and what different disciplines have you studied?
Well, my dad started my brother and I in boxing really young, I was about five, and we continued boxing when we moved to Pensacola, Florida at Roy Jones Jr.'s gym. I'd also started wrestling in school, and from there I went into Brazilian Jiu-Jitsu in the early 90's.
I first go introduced to Wing Chun kung fu when I was in the United States Marine Corps, and it was kind of by fluke. I was stationed in California, and a lot of us would go to Yosemite on the weekends, and I kept seeing this little old Chinese man in his 70's there doing kung fu. So, on one trip, I just walked up to him and asked what martial arts discipline he was doing, and he told me 'Wing Chun'.
Getting into Wing Chun Kung Fu
I wasn't really too familiar with Wing Chun at the time, but he mentioned Bruce Lee training with Ip Man, and I made the connection right away. He was such an amazing martial artist, I'd toss a few punches at him, and this little old man was just so swift and so calm in how he was able to deflect everything. And I thought, "If he can do this in his seventies, imagine what Marines in our twenties could do?"
When I asked if I could train with him, he said "No, I'm not good enough. If you want to really learn the essence of Wing Chun, you need to go to Hong Kong." That just stayed in my mind for months, and at the time, I was getting ready to go into sniper school, but by this point, I wanted to focus more on close-quarters hand-to-hand combat. So eventually, I managed to get over to Hong Kong, and I searched out all the Wing Chun schools, and I found what I thought was the best one, and I've been there for the last twenty-two years.
Excellent! Sounds like some of your military background made it into "Ip Man 4".
Working on "Paradox" with Wing Chun Fanatic Wilson Yip
Well, that actually came about when I worked previously with Wilson Yip on "Paradox". We talked a lot about my life and my background before I started in movies, and Wilson Yip is a Wing Chun fanatic. And that kind of lead us into talking about my life and my objective of bringing Wing Chun and Kali, which I'd also studied in the Philippines, into the Marine Corps since they really blend together well.
Wing Chun in the US Marine Corps
This was all before they had developed the Marine Corps Martial Arts Program (MCMAP), and I knew first-hand that it would really benefit the Marine Corps to have this kind of training. So, if you look at the story in "Ip Man 4", there are quite a few parallels with my life in it.
You can certainly see the influence it had on the film's story. On that note, what can you share about your beginnings in the movie industry?
Getting into the Movie Industry
It was really by accident (laughs). It was back in 2000 when I received my sifu title in Wing Chun, and I'd done some fighting previously but there wasn't a whole lot of money in it at the time. So, my sifu told me, "You've spent a lot of time fighting, and you're also teaching now, and something you might want to look into later is getting into movies." That really stuck with me, and I was also running a security company in Hong Kong at the time.
Helping Design the Action on "The White Storm"
Later on, I ran into this woman on the street one day, and she asked if I had done any modeling. She ended up putting me in couple of ads and a couple of small movies. I wasn't really gunning for being in the business at the time, but eventually, I met with Nicky Li, who's a very famous action director in Hong Kong and China. I had some YouTube videos of my security company doing some training stuff, and he asked "I've seen the training videos you did on YouTube, do you think you could help us create some great action for 'The White Storm'?", which was being directed by Benny Chan, and I said "Yeah, sure." So, that ended up being an amazing experience in helping design the action for that movie.
Nicky Li went on to be the action director for "SPL 2: A Time For Consequences", and one day when I was on the set, he pointed me out to an older gentleman named Paco Wong, who's a really big deal over in Hong Kong. He said "This is Chris Collins, you should sign this guy, because he can do everything."
Training Actors in Martial Arts and Weapons
So he brought me on to start teaching a lot of actors and actresses martial arts, how to shoot guns, and lots of other skills. Then some time later, he tells me "Chris, I don't think you should just be training actors, I think you should be one yourself. And I think you could really be a superstar if you dedicated yourself to it." And I'm in my forties by now, so I think the ship has kind of sailed on that, but he really believed in me and encouraged me to go for it. So having him believing in me really got me started, and I eventually had my breakthrough in "Paradox" and now "Ip Man 4".
The seeds of kung fu karma always bear fruit, eventually! Diving right into "Ip Man 4", what can you share about how you became involved with the movie, and the experience of making it with Donnie Yen and Scott Adkins?
Working with Scott Adkins
Oh, it was fantastic! This was actually the second time I've worked with Scott, as we previously worked together on "Wolf Warrior", so it was great to meet up again and catch up with Scott on set.
Working with Donnie Yen
Of course, Donnie Yen has been one of my idols since I was a kid and someone in the industry I've looked up to for a very long time. So, to be able to go from watching him in everything he's done to working with Donnie was just a dream come true.
I learned so much from working with Donnie, from how he puts together the rhythm of a fight scene and how he works with the camera. He would tell me that he's always trying to create a symphony with his fight scenes.
Actually, true story – I actually saw "Ip Man 3" in the cinema with a lot of my Wing Chun students, and after it was over, I just kind of joked with them, "Okay, everyone, watch out, because I'm gonna be in the next 'Ip Man' movie. Just wait and see!" And it was a complete joke, and for it to come true…well, I just never saw it coming.
A pleasant, one-in-a-million prediction. On that note, what can you share about filming your fight scene with Donnie Yen in "Ip Man 4" – were there any injuries for example?
…and Action!
It was a fantastic experience! There weren't really any injuries making the movie other than me dislocating my shoulder, but that's something that I've done several times before, so I wouldn't really attribute it directly to "Ip Man 4". Also, I did hurt my back about two weeks beforehand, so that made it harder to do a lot of the kicking.
The thing about working on a Hong Kong movie is that the action is never set. There's always a really rough outline of how an action scene is going to play out, but then when you get on set, you kind of start creating it as you go.
However, that also leaves more of an opening to make mistakes, so you really need to stay on your game that much more. But when we finished our fight, Donnie said to me "Chris, you were great to work with and I really enjoyed doing our fight scene. I really hope we can work together again in the future." So to not only be working with one of your idols, but have him compliment you like that was just unforgettable.
Just goes to show, dreams do come true! Well, as we sign off Chris, what other projects do you have in the works following the release "Ip Man 4"?
I have a few things coming up. My next one is "Ruckus Factor", which goes back a little more into the military. I'm also working with Donnie and Benny Chan again on "Raging Fire", and I'm also helping put together the action on the film as well.
Well, we certainly look forward to hearing more and seeing those soon. Thank you so much for the pleasure of connecting today, Chris. We all look forward to the release and success of "Ip Man 4" and all the exciting projects you have coming up! Merry Christmas and a Happy New Year 2020 from us and all Kung Fu Kingdom followers and fans!
Thanks Brad. The same to you all, very happy to speak with Kung Fu Kingdom today!
"Ip Man 4: The Finale" is in theaters in Hong Kong, and will hit North American theaters on Christmas Day! Excited to see Chris in action in "Ip Man 4"? What do you consider the most memorable fight action moments from the "Ip Man" series? Let us know in the comments below; Like, share and join in the conversation with us on Facebook and follow us on Twitter & Instagram.