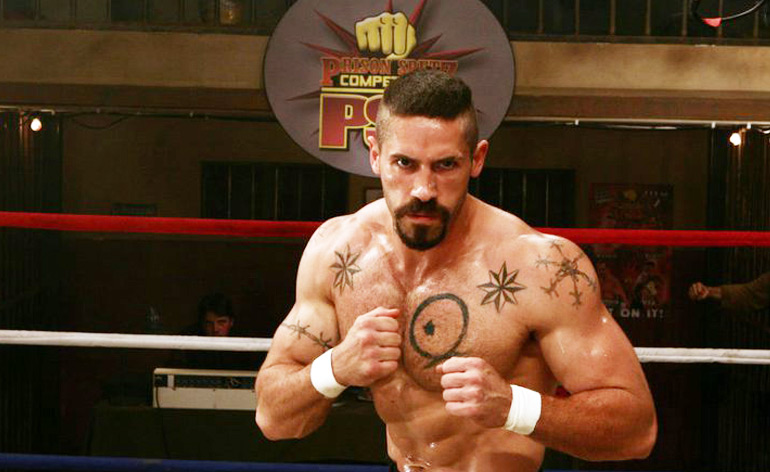 Happy New Year 2014! With Ninja II: Shadow of a Tear just having been released yesterday we realised our Ninja-searching efforts were coming to a close, and our covert task in the jungle dojo complete, well…almost! We felt there was something missing, so mustering all our Ninja-fu we continued to explore going out on a limb and sticking our necks out of our proverbial Ninja-turtle shells and finally who did we happen to cross paths with and find fresh from his own mission of stealth but the main Ninja star himself.
We're especially pleased to bring you the first in a two-part exclusive interview with martial arts action superstar Scott Adkins! He's worked with some of the very best action movie heavyweights of the world from Jackie Chan, Jean-Claude Van Damme, and Hugh Jackman, to the prodigious Michael Jai White and starred in Expendables 2.
We get to find out a little more about how he started out and gravitated toward fulfilling his dreams of being an actor adept in martial arts action. Passionate, driven, yet down to earth and extraordinarily dedicated, Scott is a modern-day warrior and it's not hard to understand why he's in growing demand as one of the best in the world. Whether you prefer him playing the notorious Boyka "The Most Complete Fighter in the World", a Koga Ninja or any other of his diverse characters, what better way to jumpstart the New Year than by a talk with the man himself, please welcome…Scott Adkins!
Hi Scott good to be speaking with you and, first things first, Happy New Year!
Hi Raj, Happy New Year to you too!
We're keen to discuss and share your views on the just released Ninja II as well as other things which I'm sure is going to get interesting, so let's get started on some of the basics:
When were you born and where are you from originally?
I was born on 17 June 1976 in Birmingham.
What is your height and weight?
I'm 5ft 11in (1.80m) tall and weigh 12.9st -13.5st (82-86kg)
How did you first get started in the martial arts, can we get a bit of background?
Sure. I started when I was ten years old, I did judo because my dad and brother practiced it. Eventually, they stopped and I continued and I never stopped. After that I got into taekwondo for many years as I've always been very flexible with my legs. Since I was a fan of martial arts films from the start and I was interested in doing the flashy kicks, I had a natural affinity for taekwondo with that high kicking style.
Bruce Lee was also a main influence for you, can you tell us about that?
Yes, I remember that Enter the Dragon would be on late at night, so I would stay up late or set the video to record Enter The Dragon. I hadn't seen all his other movies until a while after but in Enter The Dragon he's so vicious, so mean and so lithe with muscles everywhere. I was very impressed with him! Later I got more into Bruce Lee and would go to these Bruce Lee conventions when I was around fifteen years old and of course, watched his back catalogue of movies. Back in those days I remember trying to get any and all uncut footage of Bruce Lee, which was hard to get, but you could get them at the conventions.
Which other teachers inspired or instructed you?
My main instructor was Ron Sergiew from the TAGB (Taekwondo Association of Great Britain). He's a great kicker, I learned a lot from him and also did kickboxing under Anthony Jones for quite a while. Now I train with Vaughan Lee the UFC fighter at the UTC (Ultimate Training Centre) in Birmingham. I've picked up a lot from him.
Which other styles have you practiced?
Aside from judo, taekwondo and kickboxing (which I've also taught via the PKA -Professional Kickboxing Association) , I've also done some capoeira, krav maga, Jeet Kune Do (JKD), and wu shu kung-fu to learn the weapons and their style of kicks. In fact, I'm interested in doing seminars around the UK if I've got the time in 2014.
You play Yuri Boyka in Undisputed II: Last Man Standing and Undisputed III: Redemption, and are well known for your incredible range of manoeuvres, when did you get into gymnastics and acrobatics?
I didn't get into gymnastics until I was eighteen, however I could already do back somersaults and some flips, I could pick up those moves fairly quickly. At one point I was toying with the idea of being a stuntman, so I was doing the gymnastics qualification but I decided not to continue with that because I always had it in my mind to be an actor in the movies like Van Damme and Jackie Chan. At times there were some doubts from people around me advising me to be realistic and so on, but once I made my choice, I never looked back!
Let's talk about the first Ninja before going into Ninja II.  Director Isaac Florentine and yourself expressed discontent about the first Ninja, what was it that you wanted to significantly improve this time around?
In the first one, we found that the story was weak and the character (Casey Bowman) a little bland, a bit of a wet blanket basically. The 'flash-factor' that wows the audience that featured in, for example, Undisputed II, was definitely missing in the first Ninja, so basically we wanted to improve everything.
For those who may not know, can you tell us briefly about your character Casey Bowman and his modus operandi here?
Casey is now the lead instructor of the dojo and is settled down and happily married with Namiko the love of his life, with a baby on the way. Everything's going well but sadly his wife gets killed, Casey then goes on an unrelentingly rough revenge rampage to make everyone involved in his wife's murder pay.
What can fans expect fom the movie?
Well, it's an old school martial arts film with tons of action and around thirteen fights!
What was it like working director with Isaac on this one?
Well, we've come a long way since he discovered me and persuaded the studio for me to play Boyka in Undisputed II years ago We understand each other so can get straight down to the work we both enjoy. I can give my all to the movie, while he knows I will be there often going beyond the call of duty for the sake of the film as the directing is left in his capable hands.
Can you tell us a bit about the fight choreography in the film and the stunt team behind it?
Tim Man along with Brahim Achabbakhe did a great job on the fight choreography. They were really organised, and had it planned out in the gym before arriving on set. They've got their own set up too, so that helps. Still, it was brutal doing three fight scenes a week, we had limited time and budget, so it was really very ambitious getting that much action into the film. You really do need to be well prepared, so well done to those guys.
Which is your favourite fight scene?
The end fight with Kane Kosugi's character (Nakabara). I have to say he's so amazing to work with, so humble and such a nice guy. His talents should be made more and better use of because, as a martial artist and screen fighter, in my view, he's as good as the likes of Jackie Chan or Jet Li. I'd like to partner up with him again sometime and do something perhaps like Assassination Games like I did with Jean-Claude Van Damme.
We heard you injured your back, (but It looks like you're perfectly fine throughout the movie) what happened?
Well, after a move where I drop kicked one of the Burmese officers, my back tightened up as there was only a thin mat to land on so my back felt odd. By the time we came to the bar scene my leg was numb, but still we managed to pull through and finish it.
Were there any other challenges on the set?
Wearing the ninja suit was a challenge, and by the time I was fighting the evil Goro near the end of the film, we had flames on the set too, it was really hot, the place was like a sauna!
Onto other movies now Scott, you played the Weapon XI/Deadpool in X-Men Origins: Wolverine with Hugh Jackman what was that like?
Yes, even though I did stunts there, I was actually on an actor's contract. I have to say, and everyone will tell you this, Hugh is a really nice guy, he's genuinely interested in everyone around him including the crew. His background in theatre means he can easily remember choreography sequences and his physique is better than most action actors out there. He's the type that would be up at 4.30am everyday training in the gym, before being on the set all day.
Surely Scott, you've been asked this a lot but we're dying to ask: How is Undisputed IV shaping up?
We're just waiting to get the green light!
Who would you ideally like to draft in for the fights, who comes to your mind as possible candidates?
Well, I was thinking about Nathan Jones (the WWE wrestler) someone who could play a mean role, Darren Shahlavi (who played The Twister in Ip Man 2) would be great too as would Kane Kosugi too, but it really depends on the script. It's not going be Tony Jaa, or Jason Statham, this time round, sorry guys!
Any chance George "The Iceman" Chambers might return?
Probably not, as it would change the dynamic of the story.
Hercules: Was that beard real?
(Laughs) For the Young King yes, that's real but for the old King no, that's added-on beard. Don't let the abundance of testosterone scare you!
You did El Gringo with Christian Slater, would you like to do more comedy action movies?
Yes I would, actually, I enjoyed making it, was a lot of fun! We only had three and a half weeks to shoot that, again quite an intense schedule. It might have lacked a great climax maybe, but I'm happy with the result overall.
You're starring in Wolf War with Hong Kong director Wu Jing, can you tell us more?
It's a military movie, and I play the bad guy, someone who's pretty disparaging of Chinese competence in modern warfare (I hope the Chinese will forgive me!). I get to fight Wu Jing head to head too and he's someone I sincerely respect as both a martial artist and a person. The action co-ordinator is Nicky Li who is the stunt team leader from the Jackie Chan Stunt Team.
Now your views if we may on some well known martial arts actors and their work.
Benny "The Jet" Urquidez?
I'm a fan of his work, my favourite movie of his is Wheels on Meals with him and Jackie in their prime going hard at it!
Bruce Lee?
My favourite movie of his is Enter The Dragon, the character is scary and I like the scene where he fights O'Hara (Bob Wall).
Jackie Chan?
Worked with him on Accidental Spy and The Medallion. Jackie's up there with Bruce Lee, it's amazing to sit down and watch him do thirty-six takes, very hard-working, a living legend. I was very star struck being around him as I was just doing some stunts back then.
Jet Li?
My favourite of his is Fist of Legend, in my view, one of the best ever made with Yuen Woo-ping handling all the without-wire fights, great retelling of Fist of Fury.
Jean-Claude Van Damme?
One of my favourites, and I know you're probably smiling Raj, but for me, it's…Double Impact! Double the Van Damage, he was so charismatic here! I also watched Bloodsport tons of times, and Kickboxer.
Donnie Yen?
My favourite is Flash Point, he mixed in MMA and raised the bar.
Tony Jaa?
My favourite of his is Ong Bak, it was a real eye opener!
Mark Dacascos?
I like Drive, and also Only The Strong. I've conversed with him before, Mark's a really nice guy.
Gary Daniels?
I'd say my favourite of his is Bloodmoon.
Michael Jai White?
Out of his movies, I would say Blood and Bone is my favourite.
Read on for part two where Scott  talks about his movies, training and much more!
In case you missed them, read our earlier interviews with Ninja II star Kane Kosugi, action choreographer Tim Man, action actor/martial artist Jawed El Berni and director Isaac Florentine.
Ninja II: Shadow of a Tear trailer
Image Gallery