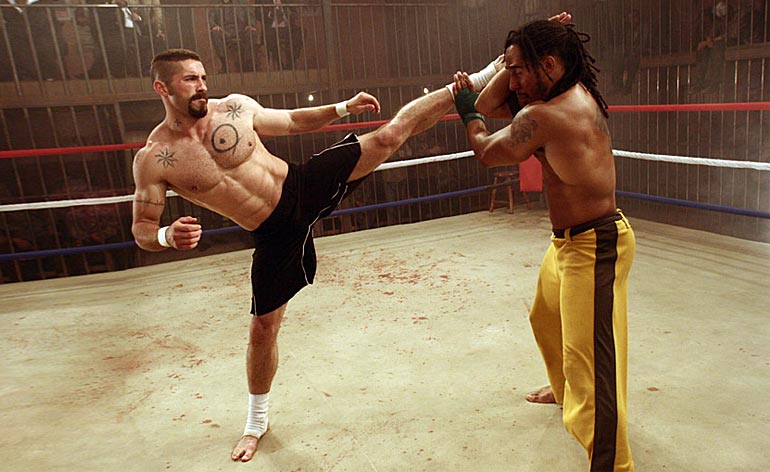 Beware! This review contains spoilers.
Martial arts cinema has long needed a character like Yuri Boyka – not simply another action hero adept with his fists and feet, but a man with both the mindset and personal code of honour of a modern warrior, singularly focussed on his goal to prove himself, "The Most Complete Fighter in the World", an unrelenting passion in which he views his own personal destiny. "Undisputed 2: Last Man Standing" gave the world its first glimpse of Yuri Boyka. Aided by rising fight choreographer Larnell Stovall, the dynamic duo of Isaac Florentine and Scott Adkins returns for the sequel, "Undisputed 3: Redemption", to give martial arts aficionados exactly what they've wanted since the previous film – the opportunity for Boyka to be the one we're rooting for!
TRAILER
Cast
Leading the cast of "Undisputed 3" is Scott Adkins, returning to role of Yuri Boyka. The film marks his fifth collaboration with director Isaac Florentine, and his second time as leading man following his and Florentine's previous collaboration, "Ninja". Adkins was simply born to play this role, and he handles the challenges of playing the lead with the same effortlessness he defies gravity with. Chilean-born martial artist Marko Zaror makes his English-language debut as the villainous Dolor, and he's equal parts sleazy and fearsome, easily pulling off aerial kicks and manoeuvres more commonly associated with fighters half his size. Mark Ivanir returns as Gaga, Boyka's duplicitous associate within the Russian mafia, while Mykel Shannon Jenkins joins the cast as Turbo, a fellow inmate with whom Boyka butts heads before allying with. The icing on the cake comes in the form of capoeira virtuoso, Lateef Crowder, best known for his duel with Tony Jaa in "Tom Yum Goong", who provides a formidable challenge for the beleaguered Boyka.
Plot
Russian prison fighter Yuri Boyka was once on top of the world. Respected and feared both in and out of the ring, it seemed there was no fighter in the world capable of equaling Boyka. That is, until a match with American boxer George "The Iceman" Chambers left Boyka with a shattered knee and his only known defeat. Boyka has since become a shell of his former self, denied parole and relegated to mopping the prison's filthy halls and unable to fight as a result of his crippling knee injury, with the only elation in his life coming in the form of his devout Catholic faith. All of that changes with the announcement of an international competition pitting eight prison fighters from all over the world against each other, with the winner to be granted his freedom. Boyka petitions his Russian mobster associate Gaga for an opportunity to compete, but Gaga knows that Boyka's bad knee will doom him to failure. Boyka works tirelessly to rehabilitate and strengthen and his bad knee, and once his prison's champion is declared and selected to compete in the international competition, Boyka arrives to challenge the new champion. Ultimately, Gaga and the warden permit his request, with Boyka easily trouncing his opponent. Gaga realizes the Boyka's zeal for fighting and drive to prove himself "The Most Complete Fighter in the World" outweighs the effects of his knee injury, and backs his entry into the tournament.
Boyka is transported to Gorgon prison in Georgia, where he is to be pitted against seven other inmates of varying nationalities, including Columbian fighter Raul Quinones, better known by the moniker "Dolor" (which means "pain" in Spanish). The competitors are forced to participate in hard labour in the prison yard and it is here that Boyka develops an immediate dislike for the tournament's American fighter, known simply as "Turbo", a dislike which the American reciprocates! Boyka and the other fighters also notice that Dolor, who unbeknownst to them is being supplied with steroids by the prison staff, is exempted from the hard labour they are forced to partake in, and is granted unlimited ability to train for the tournament, as opposed the other seven who are permitted one hour to train after a day of back-breaking manual labour. It becomes clear that the tournament's organizers are attempting to rig the competition in the favor of Dolor.
The next day, the tournament begins, with Boyka, Dolor, Turbo, and Brazilian Capoeira fighter Rodrigo Silva victorious in each of their matches. The four losing fighters, expecting to be transported back to their respective prisons, instead find themselves met with a firing squad that kills each of them. Meanwhile, Boyka and Turbo's rivalry finally reaches a tipping point when the two fight during their hard labour, and both are subsequently placed in solitary confinement. Gaga and Turbo's backer, Farnatti, having learned of the treatment their fighters are receiving, confront the tournament's chief organizer Rezo, who acknowledges that the tournament is indeed being fixed in Dolor's favor, and encourages both men to place their bet on him, assuring them that Dolor's victory can be guaranteed. Realizing that they only view their fighters as a means to the end of their money making, both Gaga and Farnatti agree.
After being released from solitary confinement, Boyka and Turbo slowly develop an alliance, treating their hard labour as a means of training as they are deprived of food and their work load is increased. Turbo also revels to Boyka his past as a U.S. Marine, and recommends holistic medicine to alleviate the pain symptoms of Boyka's knee injury. As the tournament continues, Boyka defeats Silva, and in stark contrast to his past conduct in the ring, helps his opponent to his feet and commends him on a good fight. Unfortunately for Silva, he too is murdered during his supposed transfer back to his own prison. Meanwhile, the prison staff take notice of Boyka and Turbo's efforts of turning their situation to their advantage, later cornering and savagely beating Turbo, knowing that the next fight will pit him against Dolor, with the winner to face Boyka in the final match. Seeing the effects of Turbo's beating, Boyka knows that Turbo doesn't stand a chance, and both men learn from another inmate of the firing squad that awaits the losing fighters. Although knowing that he is sacrificing his only shot at freedom while also aware that he will be kept alive to face Dolor, Boyka helps Turbo escape during their intense quarry labours. Boyka is captured and restrained during Turbo's escape, and later learns of Gaga's betrayal.
The match begins later that day, with Boyka initially holding his own before Dolor, who had witnessed Boyka hobble out of the ring in his previous fight. He traps Boyka in a submission hold and nearly breaks his leg again before Boyka manages to escape. With the pain in his knee now significantly heightened, Boyka is at a severe disadvantage, and endures a punishing beating from Dolor before being kicked out of the ring. Just as Boyka's defeat appears imminent, he sees a push-mop near the ring, and remembering his awful hardships and extended privations, ties the pad around his knee and re-enters the ring before the referee can declare a TKO. The fight resumes, and Boyka's tenacity ultimately wins him the fight when Dolor shatters his shin against Boyka's knee! Farnatti kills Rezo for failing to secure Dolor's victory in the tournament before being killed by the prison's warden, who then informs Boyka that, for his role in Turbo's escape, he has sacrificed his own freedom despite winning the tournament. Boyka, having now revalidated his worth as a fighter, does not care and resigns himself to whatever fate is now in store for him. However, just as the warden and the guards prepare to kill Boyka, Turbo arrives, shoots and kills all of them, and takes Boyka to a car where Gaga awaits. The Russian mafioso reveals that he had, in fact, placed his bet on Boyka all along, and presents Boyka with a briefcase containing his cut. Boyka decides to head off on his own, and thanks Turbo for helping to "bring down the walls", a reference to Turbo's real name, Jericho. Before parting ways, Turbo requests that he and Boyka settle their own personal match at some point in the future, which Boyka quite affably accepts.
Action
If you only watch one Isaac Florentine/Scott Adkins collaboration, this is the one to see! It's Boyka's first chance to have the spotlight all to himself, no holds barred! Fight choreographer Larnell Stovall, stages the action with a deftness straight out of Hong Kong's kinetic Golden Age, and the results are nothing short of spectacular. MMA has rarely, if ever, been done so beautifully on film. Even better, the plot point of Boyka's affected anatomy adds an addition element of risk and danger to the tournament that raises the viewers emotional investment in the fights, which is only further compounded by the knowledge of the fate each losing fighter faces. Between the impeccable choreography of the action and the height to which the stakes are raised, by the time the final fight arrives, the audience daren't look away!
Picking highlights from the film is like sifting through a diamond mine, but the film really hits the jackpot in the fight with Boyka and Silva. It's a flurry of spinning-kicks and tumbling from both fighters, and Lateef Crowder is more than up to the challenge of matching Scott Adkins for both power, speed and flair. But, like all performers, Isaac Florentine saves the best for last. The duel between Boyka and Dolor is an all-out war. Marko Zaror continues to defy logic with the kind of gravity defying kicks he can execute despite his height, while Adkins is beyond incredible in his ceaseless assault of just about every kicking combination imaginable, even working in his trademark "Guyver Kick" in such a way as to fit into the parameters of Boyka's bad knee –outstanding! While the concept of stationery camerawork is all too often a luxury for action fans these days, Florentine films each battle in long, fluid, unbroken takes, allowing the viewer to fully soak-up the action and sound in all its intense, impressionable, high energy and visceral glory!
Summary
Florentine, Adkins, and Stovall could not have crafted a better debut lead for the Most Complete Fighter in the World. Fight choreographer Stovall, seems poised to belong in the same Hall of Fame as the likes of Panna Rittikrai and Yuen Woo-ping, while Isaac Florentine runs circles around the A-list of Hollywood's action directors with an ease that makes one wonder why his films continue to bypass a wide theatrical release. As for Scott Adkins, he once again proves himself to be in the upper echelon of 21st century martial arts stars, never hesitating for a moment to thumb his nose at things like wires, stunt doubles, and safety pads, and dive head first into each fight with all the zeal and fire of Boyka himself!
Trivia
This film continues the "Undisputed" series tradition of the villain from the previous installment becoming the hero in its sequel; in this case, Boyka, who was the villain of "Undisputed 2: Last Man Standing", now becoming the hero of "Undisputed 3".
The film premiered at the first annual ActionFest in Asheville, North Carolina (15-18th April, 2010), where it won awards for Best Director and Best Fight Choreography.
J.J. "Loco" Perry, the fight choreographer for the previous film, "Undisputed 2: Last Man Standing", was unable to commit to "Undisputed 3" due to a scheduling conflict, and contacted Larnell Stovall to step into his shoes!
Film Rating: 9/10