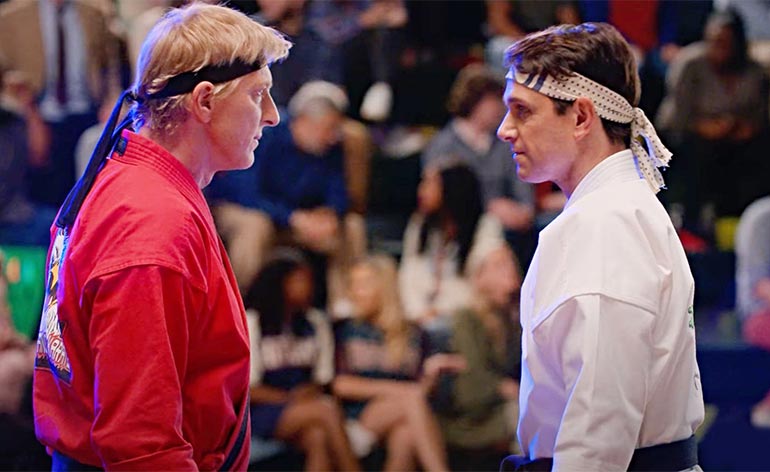 "Cobra Kai" is back and better than ever for Season 4 that brings all the fire that made the show a cultural phenomenon.
With a conflict like "The Karate Kid" franchise has never seen before, plenty of comic relief, and the requisite amount of martial arts fights and then some, "Cobra Kai" season 4 is just the bonanza to nicely kick 2022 off with!
Trailer
Cast
Ralph Macchio and William Zabka return for season 4 as old rivals turned reluctant allies, Daniel LaRusso and Johnny Lawrence, with Courtney Henggeler also returning as Daniel's wife, Amanda.
Xolo Mariduena, Tanner Buchanan, Mary Mouser, and Peyton List are also back as the show's karate students Miguel Diaz, Robby Keene, Samantha LaRusso, and Tory Nichols, with their fellow students Eli and Demetri, again played by Jacob Bertrand and Gianni DeCenzo.
Also returning for season 4 are Vanessa Rubio as Miguel's mother Carmen, and Martin Kove as John Kreese, with Thomas Ian Griffith reprising his role as "The Karate Kid Part III's" sinister villain, Terry Silver.
Plot
For the Miyagi-Do and newly-formed Eagle Fang schools of karate, both are facing their greatest challenge ever.
After the dojo war of "Cobra Kai" season 3, John Kreese, Johnny Lawrence, and Daniel LaRusso have all struck a bargain – Miyagi-Do and Eagle Fang will face Cobra Kai in the upcoming All Valley Karate Tournament, with the sensei of the losing school to close down his dojo and never teach again.
Though Johnny and Daniel have a common enemy in Kreese, their martial arts philosophies still stand at odds with each another, making training their students for the tournament a challenge in itself.
Meanwhile, Kreese regains an ally of his own by convincing his old friend, Terry Silver to come out of retirement to make Cobra Kai bigger than ever.
As the tournament nears, the students of the different dojos can barely hold back their hatred for each other, making it harder and harder for Johnny and Daniel to rein them in before they meet on the tournament floor.
Action
Putting Johnny Lawrence and Daniel LaRusso together as senseis overseeing the same dojo sounds like a powder keg just waiting to go off.
Johnny Lawrence & Daniel LaRusso Learn from Each Other
Sure enough, the former enemies of "The Karate Kid" movies butt heads aplenty while training their students for the All-Valley Tournament, but "Cobra Kai" season 4 also gets a lot of mileage out of them learning from each other.
Martial Arts Perplexity & Humor Combine
Johnny and Daniel each sample the other's school of karate, and some of the funniest scenes of season 4 are all about their perplexity at the other's martial art.
Nonetheless, season 4 is determined to raise the stakes higher than ever on "Cobra Kai", and Johnny and Daniel can only maintain a truce for so long with John Kreese and Terry Silver opposing them.
Cobra Kai Action & Training Scenes Keep Getting Better
Suffice it to say, anyone who digs Johnny and Daniel in a sparring match will have a smile on their faces by the end of season 4 – and speaking of which, the action and training scenes of "Cobra Kai" just keep getting better.
"Cobra Kai" season 4 has a lot of fun contrasting Johnny's questionable training methods with Daniel's more mellow approach, and both against the psychotic drive of Cobra Kai itself.
An Abundance of Great Fights in Season 4
There are plenty of great fights in the ten episodes of season 4, such as Daniel being goaded into pummeling some unruly patrons at a hockey game by Johnny's button pushing, let alone season 4's All-Valley Tournament itself.
Robby and Tory are the fiercest fighters in the tournament, but who also still have the most to learn. As thrilling as it is to see them bring everything they've got to the mat, even they are starting to learn they're on the wrong side of the dojo war.
Eli Scores the Biggest Fist-Pump Tournament Moment
Eli is ahead of both of them in this regard, jumping ship from Cobra Kai and scoring the most fist-pumping moment of the tournament.
However, for all its humor, "Cobra Kai" has a dark side, and after so many amazing fights on and off the mat, it ends in a way that leaves you more eager than ever for season 5 to arrive…!
Summary
The magic of the winning formula of "Cobra Kai" shows no signs of dying down, with the series ramping up to become better with each new season.
With "Cobra Kai" bringing "The Karate Kid" back to life with more energy than ever before, it's just proof positive to never say never on long-awaited returns – ironically, those very words being closely associated with another chapter in "The Karate Kid" legacy. "Cobra Kai" season 5 ahoy!
Favourite Quotes
"Many of us used to be enemies, but rivalries don't need to last forever." – Daniel (to the united students of Miyagi-Do and Eagle Fang Karate.)
"Eagles do not respond. They swoop down and take whatever they want. First, you've got to learn how to fly." – Johnny (before asking his student to jump from one rooftop to another.)
"You just don't want to admit there's always been a little Cobra Kai in you." – Terry Silver (to Daniel.)
"If you told me a year ago that our family's safety depended on winning a karate tournament, I would have thought you were joking. Here we are, living in the Twilight Zone." – Amanda LaRusso.
Trivia
Season 4 of "Cobra Kai" was announced before season 3 was released on Netflix on January 1st, 2021.
Thomas Ian Griffith had retired from acting in 2007, and had turned down several offers to return for "Cobra Kai" as Terry Silver, but ultimately finally did return for season 4.
With the show being filmed during the COVID-19 pandemic, cast and crew members had to wear masks on set at all times, except when on camera – this included when the cast were training for the show's fight scenes.
Season Rating: 8.5/10
(Images: COURTESY OF NETFLIX © 2021)
Have you seen season 4 yet? What are your impressions on the evolving story, drama, and the show's karate fights? What do you think will be in store for season 5; and on a scale of 1-10, how much are you looking forward to it? Let us know in the comments below, join in the conversation, share this on Facebook, and follow us on Twitter & Instagram!