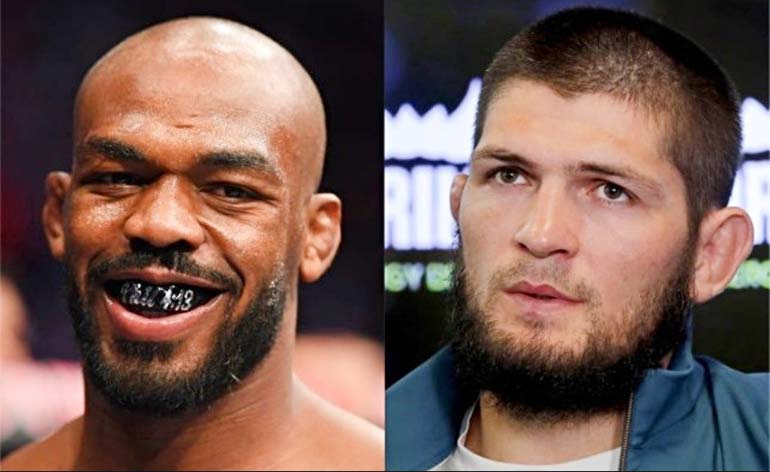 With Khabib Nurmagomedov reaching the top spot in the UFC's pound for pound rankings upon his retirement, many of us just can't stop revisiting the classic G.O.A.T argument.

Now, there is certainly solid ground in selecting Khabib here as the best to ever do it. He's undefeated, barely losing a round throughout his career. His wrestling has made elite level wrestlers look powerless, and there really isn't much left he can accomplish in the game.

We can't forget the many others who have had G.O.A.T attached to their names over the years, however we can, without a second thought add Khabib as the latest member to that exclusive list.

This line up may well create a battleground's worth of debate as to which mixed martial artist really is the 'baddest' of them all. We'll open the history books on all weight classes and time periods, and present 5 fighters we believe belong in this ultimate debate. With that said, let's dive straight in to MMA: Who is Pound for Pound the Greatest of All Time?
We'll dive straight in with the Russian Eagle himself. Khabib has always been an unsolved puzzle inside the octagon. We all know exactly what he intends to do to his opponents, and yet no one has been able to stop it, and if this was a top 5 'ground and pounders' list, Khabib would unquestionably take our top spot.
He's dominated everybody at arguably the most competitive weight class in MMA today, breaking down legends like Rafael dos Anjos, Dustin Poirier and Conor McGregor, accumulating a perfect 29-0 record. His stand up striking has never been high level per se, but he's never needed it, and his unrelenting pressure on the feet shadows that flaw in most of his fights against elite strikers like Edson Barboza.
However, champ-champ status is the now the ultimate prize in MMA, which is something Khabib never crossed off his list with his jump to welterweight. Also, though his title capture was way overdue, he only defended the lightweight title three times, which is of real significance in relation to our next contender…
Jon "Bones" Jones was quick to challenge spectators who had Khabib as their GOAT pick. Since the age of 23, Jones has won an incredible 14 championship fights in the UFC, which doesn't include his overturned victory against Daniel Cormier in 2014. That trumps Khabib's four, as well as the length of time he's been on top.
You could also say the smaller margin for error at light heavyweight also gives Jones the edge here, with him having dealt with opponents who hit a lot harder than they do at most other weight classes.
Jones falls back a bit in our debate of course when it comes to drug testing. No matter how much has been appealed, the light heavyweight champion has flagged many times ahead of fights, which has to be taken into account when measuring his success. Nonetheless, his freak genetics and extremely well-rounded game earns him a place on our list.
Perhaps the most well rounded of them all, "Mighty Mouse" is the undisputed 'King of the Flyweights', and has put on technical showcases in the UFC as well as ONE Championship in Asia.
He holds the record for most consecutive UFC title defences, having cleaned out most of the flyweight division. 'Mighty Mouse' embodies the new definition of 'mixed martial artist'. He's not a specialist in one particular discipline. He's simply excellent everywhere. His speed and tenacity makes it seem like you're watching his fights in fast-forward mode, and he ruled the pound for pound UFC rankings for much of his career.
In the competition and margin for error stakes, the fact that his record includes numerous legitimate defeats throughout his career makes him a highly viable list contender indeed.
At the height of Silva's career, there weren't many that disputed his place as the pound for pound king. He wasn't just dominant, his performances were absolutely jaw-dropping, mowing down and knocking out most that were presented before him at multiple weight classes.
His striking was beautifully technical, and even with his Achilles' heel in the wrestling department, he could certainly hold his own on his back, holding many submission finishes under his belt.
While he's perhaps the most respected MMA fighter of all time, his last few years have certainly not helped his all-time ranking, winning only one of his last nine fights. His recent history of drug suspensions also raises the question – how clean really was he during his prime?
The greatest welterweight of all time, GSP had a spectacular run in the UFC, defeating everybody he ever faced. Perhaps the best jab in MMA history, the man known as "Rush" had the ability to frustrate opponents for all of 25 minutes.
His wrestling is also amongst the best, which is incredible bearing in mind he didn't come from a wrestling background. He achieved champ-champ status after a five-year absence, when he jumped up to middleweight and took Michael Bisping's throne. Even now, there's potential for a super-fight with Khabib Nurmagomedov at lightweight.
While he's avenged both of his losses, GSP has been finished twice, by both TKO and submission. His partially exposed vulnerability in these cases, along with a razor-close fight against Johny Hendricks are really the points or cases we can put against his incredible run as a professional fighter. Despite his age, a fight with Khabib at any weight class would affect this list dramatically.