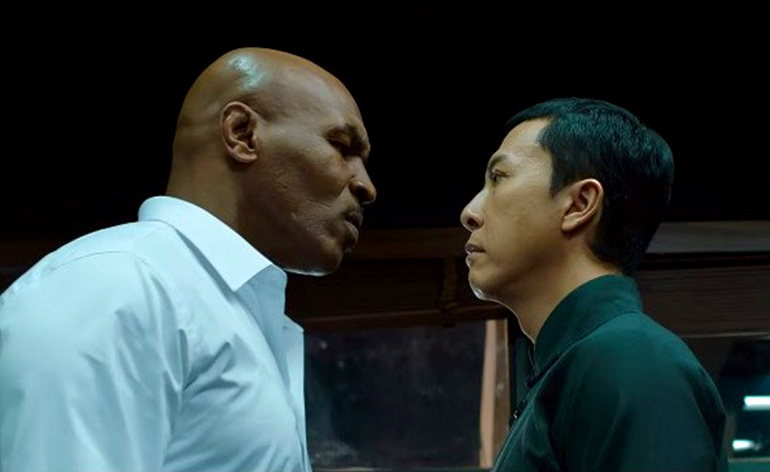 Donnie Yen is in stunning form in arguably his most popular role as the real-life Wing Chun master "Ip Man". Also returning for the third time is director Wilson Yip.
Trailer
Cast
Hong Kong action icon Donnie Yen stars once more as "Ip Man", renowned Wing Chun master and teacher of Bruce Lee.
One of the new generation of Asian martial arts action talents, Max Zhang Jin plays "Cheung Tin-chi", a fellow Wing Chun master. Beginning as a stunt performer in "Crouching Tiger, Hidden Dragon", Zhang has risen to prominence as a very capable martial arts actor in the films "The Grandmaster", "Rise of the Legend" and "SPL 2: A Time for Consequences".
Former World Heavyweight Boxing Champion "Iron" Mike Tyson makes his Hong Kong action debut as the ruthless property developer and underground fight fan "Frank". Model and actress Lynn Hung reprises her role as Ip Man's wife "Cheung Wing Sing". Noted for his role as "Push Pin" in "Beast Cops", Hong Kong actor and singer Patrick Tam plays gang boss "Ma King-sang". Danny Chan Kwok-kwan appears as the young "Bruce Lee". His similar look and mannerisms have seen him portray the iconic martial artist previously in "Shaolin Soccer" and the television series "The Legend of Bruce Lee".
Burly actor Kent Cheng who played "Lam Sai-wing" in "Once Upon a Time in China" and "Inspector Hung Ting-bong" in Jackie Chan's "Crime Story", here plays the policeman with a conscience "Sergeant Fatty Po". Old school star "Beardy" Bryan Leung Ka-yan appears as "Master Tin Ngo-san", the former mentor of Ma King-sang. Beardy is best known to his fans for the movies "Knockabout", "The Victim" and "Legend of a Fighter". Popular mainland Chinese actress Karena Ng plays school teacher "Miss Wong".
Working the wooden dummy
There is a real suspense that Ip Man faces danger if Frank lands his powerful punches
Sarut Khanwilai brings us the intriguing concept of Muay Thai versus Wing Chun
Real techniques such as Chi Sau sticky hands are employed
Plot
Set in Hong Kong in 1959, Ip Man is settling into a quiet life with his family and teaching his Wing Chun students. Ip's young son, Ip Ching gets into a fight at school with a boy called Cheung Fung. Ip Man sees that the boy is hungry and that his father is unavailable to collect him, and so invites him home for dinner. At Ip's house, Cheung demonstrates some Wing Chun skills on the wooden dummy. It is revealed that the boy's father is Cheung Tin-chi, a Wing Chun master, and also a lowly rickshaw puller who fights in illegal underground boxing matches for extra cash.
Ma King-sang, a local gang boss, organises the illegal contests for Frank, an American property developer. The ruthless Frank orders Ma to acquire a piece of land for his latest development, which is occupied by the school that Ip's and Cheung's children attend. Frank gives Ma two weeks to remove the teachers and students from the school by any means necessary so that it can be demolished. Ip Man becomes involved in a deadly struggle to protect the school from demolition whilst coping with some tragic personal news.
Witnessing Ip Man's growing popularity, Cheung Tin-chi begins teaching Wing Chun, claiming his skills are pure and authentic and that Ip Man's are not. The challenge is laid for Ip Man to defend his name and honour as a Wing Chun master.
Action
The film opens with the now iconic "Ip Man" theme music, and we see the familiar figure of Donnie Yen practicing on the wooden dummy. As the credits fade, enter another familiar figure…the young Bruce Lee! Danny Chan Kwok-kwan is quite a startling lookalike, with all the thumb-stroking mannerisms to boot. It sets up a brief but well-shot encounter with Donnie Yen as the young upstart tries to prove how quick his kicks are, and also serves as a demonstration of the use of 3D in this film.
When we first see Max Zhang Jin in action it is at a brutal underground fight. The Wing Chun and street fighting techniques do not shy away from the violence, which is illustrated vividly with a slow motion kick to the head that then thuds against a wall.
Mike Tyson handles his fight well
Max Zhang Jin excels as Master Cheung
Iron Mike Tyson plays a ruthless property developer
Ip Man forced to kowtow
Donnie Yen gives us a brief glimpse of his skills when he stops some thugs bullying the staff in the school office. Subsequently Ip Man and his students take it upon themselves to protect the school. When the building is attacked by a gang of arsonists, the students led by their notorious master leap into action. Donnie works his way through and around the gang incorporating recognisable Wing Chun techniques and a few nifty kicks too, although they never look out of place. Cheung Tin-chi happens upon the fight and aids Ip Man and his students. Here we get to see the contrast of Max Zhang Jin's power alongside Donnie Yen's technical skill.
For fans of the old school kung fu flicks, "Beardy" Bryan Leung Ka-yan makes a welcome cameo. After a tense stand-off at the shipyard, he gets to throw a few shapes just like in his glory days, against a powerful opponent in the unique confines of his umbrella shop.
A major action set-piece takes place in the shipyard when Ip Man and Cheung Tin-chi face Ma King-sang's gang. Initially, Donnie takes on eleven opponents at once, twisting and turning, using chain punches, low kicks, sweeps and throws. As Donnie starts to get the upper hand, dozens of foes join the fracas, fighting our hero through unfinished ship hulls. Zhang Jin joins the action kicking and punching gang members off a wooden platform. Moving into a warehouse setting, Donnie has the space to fight with a pair of sticks. His pace is lighting quick, playing like an extended version of a similar technique employed by Sammo Hung in "Millionaires Express".
Tony Jaa lookalike and his stunt double from "Skin Trade", Sarut Khanwilai brings us the intriguing concept of Muay Thai versus Wing Chun, when he attacks Ip Man and his wife in an elevator. Given the confines of their surroundings, the choreography is excellent, using classic defences well known to practitioners of Wing Chun, such as lap sau and huen sau, against the elbow and knee strikes of Muay Thai Boxing. The fight opens out into the corridors and down the staircases. The stairs themselves become an integral part of Donnie's fighting technique, and there are some great overhead tracking shots to follow the action.
One of the biggest announcements made for this sequel was that it would feature the former World Heavyweight Boxing Champion, Mike Tyson. Playing to his boxing strengths, Tyson does exceptionally well in the fight choreography with his bobbing and weaving style, and meteor-like punches. Perhaps for the first time in this movie, there is a sense that Ip Man will be in serious trouble if these blows start to rain down on him. It's a scene that had the potential to be a weak point in the film, but in terms of action, actually holds up very well.
Ip Man faces Mas gang
Ip Man 3 retains authentic techniques whilst maintaining stylish choreography
Donnie Yen has made the role of Ip Man his own
Following a montage of Cheung brutally and efficiently defeating four different masters to gain publicity and prove that he is qualified to challenge the more popular Ip Man, we arrive at the grand finale between the pair. Beginning with the traditional long poles of Wing Chun, the pace is upped, which is an achievement in itself given the quality of the preceding action scenes. Matching each other for power, the two masters move onto the short butterfly knives, and finally, empty-handed Wing Chun vs Wing Chun. I don't think I have ever seen such authentic looking techniques performed on screen before with such speed, rhythm and style. Considering there are Wing Chun classics such as Sammo Hung's "Warriors Two" and "The Prodigal Son" to compare it to, that is one hell of a compliment, and it makes for a barnstorming finale to the film, and potentially, this trilogy of films.
Summary
The great thing about Donnie Yen's "Ip Man" films is that they have managed to combine good acting with decent, if simplistic stories, and action that retains an authenticity of technique, whilst keeping the choreography exciting.
Wing Chun, like all very practical methods of fighting, doesn't necessarily make for the most aesthetically entertaining fight scenes for films. The "Ip Man" series however has managed to successfully blend traditional Wing Chun techniques seamlessly into its innovative fight choreography. Sammo Hung was the Action Director for the first two films and is replaced in this movie by Yuen Woo-ping, who has a reputation for highly-stylised fight scenes, often involving lots of wirework. I am pleased to report that for "Ip Man 3", Yuen Woo-ping has done some of his best work, keeping the majority of the action grounded, but still looking pretty.
Donnie Yen's acting performance has been central to the success of these movies and he really has made the role of "Ip Man" his own. He portrays the character with dignity and humility throughout and it compliments Lynn Hung's elegant performance as his wife beautifully. The love story between their two characters has never been told with such tenderness, and it gives the final scenes of the film an extra poignancy.
The supporting cast, especially old hands Kent Cheng and Bryan Leung Ka-yan are good value, although it is a little startling (and amusing) to hear Mike Tyson speaking Cantonese! However, it is Max Zhang Jin, as he did in "The Grandmaster" and "SPL 2: A Time for Consequences", who once again stands out. Surely he will be given a leading role very soon?
Wilson Yip is an accomplished director, shooting the action crisply and the drama functionally. Apart from the opening scene with Bruce Lee, the 3D effects are not overdone and are mostly complimentary to the action, rather than distracting from it, a problem that has plagued other martial arts films. If you can only view it in 2D however, you will still be vastly entertained.
"Ip Man 3" is a more emotionally-driven character piece than its predecessors. This stronger core to the story arguably allows it to appeal to a broader audience. It's usually very difficult for the third film in a series to improve on the previous entries, but "Ip Man 3" betters part two, and is right up there with the original movie. I know it's only January, but for me this is the martial arts film of 2016 to beat!
Trivia
Bruce Lee was originally going to be represented with the use of CGI, but a potential legal dispute over image rights led to the eventual casting of lookalike Danny Chan in the role.
In its opening weekend, "Ip Man 3" knocked record-breaking blockbuster "Star Wars The Force Awakens" off the number one spot at the Singapore Box Office.
Mike Tyson accidentally fractured a finger in a fight scene with Donnie Yen.
In reality, by 1959 Bruce Lee had already left for the USA, and Ip Man was 65 years old.
Film Rating: 8.5/10