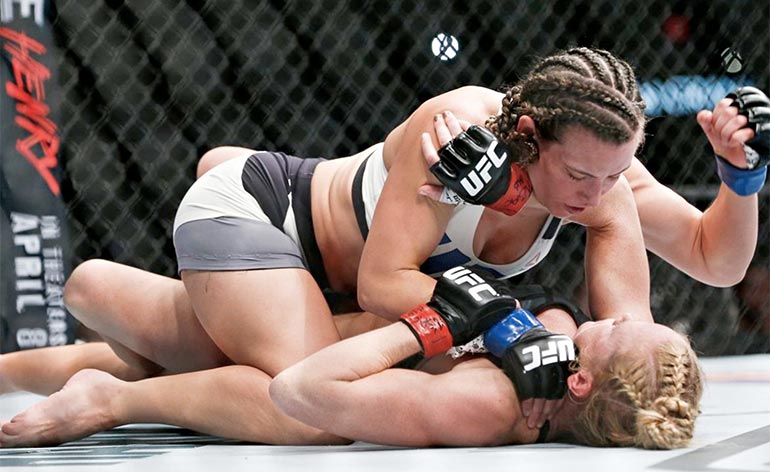 Miesha (aka "Cupcake" , aka "Takedown") Tate born August 18, 1986 is an MMA fighter from Tacoma, Washington, USA and is a former UFC and Strikeforce champion owning a noteworthy record of 18-7, with 3 of those wins coming via TKO/KO and 7 by submission against some of the best females in the world. 
Tate holds notable wins over Liz Carmouche, Sara McMann, Jessica Eye and most notably of all, Holly Holm.   
Tate's fighting style is as an aggressive wrestler with impressive grappling skills evidenced by her purple belt in Brazilian Jiu-Jitsu and 7 submission wins.
Tate is a pioneer of women's MMA and her rivalry with Ronda Rousey is one that very few can compete with, and despite never being able to get a win over Rousey, their feud brought Women's MMA to the forefront of mainstream media. 
Tate took Strikeforce gold in 2011 and after a 0-2 start in the UFC she went on a 4-fight win streak and took UFC glory, in just under 5 years since winning her Strikeforce title, thus fulfilling her life goal.
However, after losing 2 fights after winning the title, Tate chose to retire in 2016, but in March 2021 Tate stated 'I Am Back' on social media after leaving us waiting anxiously for her return after 5 years.
In the interim, she had a short stint working at One Championship, and is now scheduled to fight veteran, 43 year-old Marion Reneau this summer at UFC Fight Night 192, on Saturday 17th July. 
With a legendary career and one that isn't finished just yet, what more can Tate add to her legacy? Who should she fight? Can she become champion again? We can't wait to find out…
So now you have a brief background story into "Cupcakes" career, let's dive into her Top 5 MMA Finishes! (in descending order)
5. Vs. Jessica Bednark – FCF 27 (Jan. 31, 2009)
This fight marked the fifth professional fight of Tate's career, and after getting a first round stoppage in her previous fight, Tate looked to repeat this trend against Bednark.
Immediately Bednark throws a kick which is caught, whilst Tate slams her to the mat, landing straight into side control – she is quickly able transition to the mount. As Tate postures up, she reigns down hellish strikes causing the referee to stop the fight at just 1 minute, 22 seconds of the first round. 
4. Vs. Zoila Frausto – Strikeforce (March 26, 2010)
In Tate's return to Strikeforce after losing her last fight in the organisation, she looked to show what her submission game could do and only took two rounds to do so.
At 30 seconds in, Tate pressures the smaller Frausto into the cage and starts to work her wrestling magic as she grasps onto a single leg, taking Frausto down at the centre of the mat.
Tate controls Frausto from side control, but 3 minutes in, Frausto looks to get up and escapes with Tate almost taking her back.
With a minute, and 30 seconds left in the round, Tate uses a straight left-right to close the distance and blasts Frausto into the cage, using a body lock to take the fight to the floor, seeing out the round with top control.
At a minute into the second round, Tate goes back to enforcing her superior wrestling, this time with a double leg, landing her in side-control; with Frausto holding onto Tate's head to stall her attack.
However, Tate, with 2 minutes left in the round, manages to pop her head out and immediately transitions to mount, unloading heavy strikes.
Frausto, sensing danger, tries to escape, but Tate latches on to an arm, hyperextending it now with an armbar, forcing Frausto to tap 4 minutes, 9 seconds into the second round.
This was a return to Strikeforce that marked the start of an impressive 5 wins out of her next 6 fights in the organization, losing to only Ronda Rousey. 
3. Vs. Julie Kedzie – Strikeforce (Aug. 18, 2012)
At 2 minutes, 10 seconds into the fight, Tate shoots for a double leg takedown that is well defended by Kedzie and she almost takes Tate's back; however she decides to stand up and not risk her chances with Tate's high-level grappling skills.
Tate becomes predictable with her takedown attempts, and Kedzie looks to be easily defending them, sprawling heavy on each attempt. With under 30 seconds left in the first round, Kedzie fires out a sidekick to Tate's body that pushes her to the floor, then she jumps into Tate's guard but Tate uses a triangle in an attempt to sweep Kedzie and threatens an armbar, but Kedzie is saved by the bell.
A minute into the second round, Kedzie presses Tate against the cage, but Tate hip throws Kedzie and scrambles to top position, however Kedzie is able to contain Tate with an omoplata attempt. Tate is able to escape and takes Kedzie's back, quickly landing some heavy artillery, before sinking in a deep choke, which Kedzie impressively scrambles out of. The round ends with Tate enforcing her grappling dominance, 1-1 going into the third round.
Just over 10 seconds into the third, a vicious leg kick spins Tate round and over, but Kedzie rejects the opportunity to take it to the floor and remains standing.
At a minute in, Kedzie fires out multiple jabs prior to blasting a right head kick that lands flush and knocks Tate to the floor.
Kedzie looking for her chance to finish the fight, jumps on Tate. Then, Tate quickly clasps on an armbar which takes around two minutes to complete and she finally gets the tap in a stunning turn of events, finishing the fight at 3 minutes, 28 seconds into the third round.
2. Vs. Marloes Coenen – Strikeforce (July 30, 2011)
After winning Strikeforce's Bantamweight tournament, Tate earned her shot at Strikeforce gold against Marloes Coenen after an impressive 5- fight win streak, and looking to make it 6.
Tate immediately presses Coenen against the cage, a trend seen in pretty much all of Miesha's fights, and looks to work in her cage wrestling.
At just over two minutes in, Tate lands her first takedown of the fight and is able to control Coenen for the rest of the round but Coenen prevents Tate from landing anything significant by always staying busy.
The second round was almost a mirror image to the first, and at a minute, 15 seconds in, Tate again presses Coenen to the cage, taking the fight to the floor.
Coenen seems absolutely fine here however, and takes Tate's back. Contradictory to the first round, it is Coenen this time who controls Tate for the rest of the round on the ground, landing multiple strikes throughout.
Just under a minute into the third, Tate catches Coenen's low kick and powers through into a double leg takedown and is able to successfully work from full guard.
However, 3 minutes in, the referee stands the action back up. From here, it doesn't take long for Tate to get Coenen back to the floor and she finishes the round on top.
At a minute into the fourth round, Tate again lands a takedown and is able to transition to side control before beginning to work an arm triangle  forcing the tap from Coenen at 3 minutes, 3 seconds.
This bout won Tate the Strikeforce Women's Bantamweight Championship.
1. Vs. Holly Holm – UFC 196 (March 5, 2016)
The first round here was very uneventful, but score wise, Holm was edging ahead with the classier striking.
At 30 seconds into the second, Tate lands a trip takedown and is able to control Holm for over 2 minutes. Then Holm tries to scramble, but Tate takes her back and looks to sink in a choke, which Holm is able to defend. This was a dominant round from Tate with the fight looking to be 1-1 after round two.
The third round, like the first, didn't feature much of significance with Holm, as the more efficient striker picking off the better grappler from a distance to take the round on points.
At a minute into the fourth, this time Holm forces on the wrestling, pressing Tate against the cage. Once again, Holly sticks to bobbing, weaving and popping Tate with the jab and besting the round with it looking to be 3-1 now going into the fifth.
Tate, knowing she's behind on the score cards, comes out blazing and fires forward. Three minutes in and Tate latches onto a body lock and takes the fight to the ground. Tate swiftly takes Holly's back who tries to stand but she falls to her back and is choked unconscious at 3 minutes, 30 seconds into the fifth round.
This incredible win from behind earned Tate the UFC Women's Bantamweight Championship as well as a $50,000 Performance of the Night bonus plus World MMA's Comeback of the Year (2016).
So there we have it folks, 5 of Miesha Tate's best MMA Finishes! Where do you say Tate ranks among the All-Time Greats of Women's MMA? Can she make another run at the title on her return? What's your favourite "Takedown" Tate fight moment from the list above? And…Which fighter should be KFK'd next? Let us know in the comments below; Like, share and join in the conversation on

Facebook

and follow us on Twitter &

Instagram

.