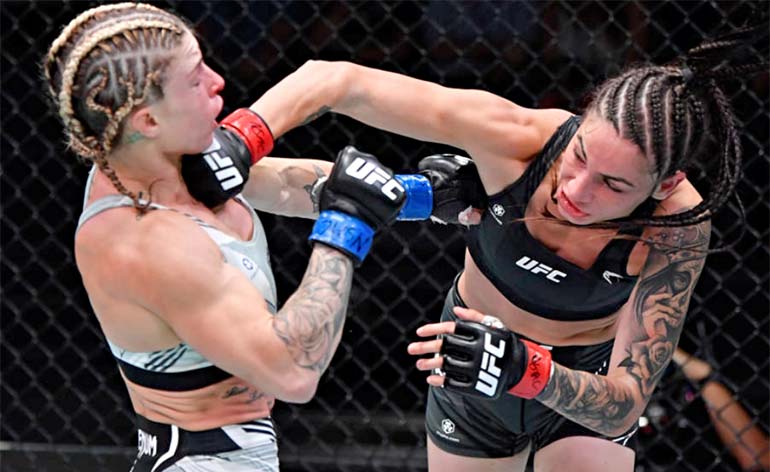 Diana Irena Belbiţă, (aka "The Warrior Princess"), born on June 26th, 1996 (in the city of Drobeta-Turnu Severin) Romania, is a UFC fighter that's currently ranked the 36th Best Female Strawweight in MMA worldwide.
The now 25 year-old, is a former World and European Kempo champion, specializing in judo, kempo, and kickboxing.
In 2014, after 6 years of gruelling training in kickboxing, judo and karate, she became a professional fighter and earned her way to European and World titles in kempo.
Diana started to train at the age of just 12 under coach Ilie Gadea. Her obsession with MMA was a result of a moral conflict with her father. Her self-esteem was hampered by the fact that her father wanted a male child when her mother was pregnant.
Diana resolutely wanted to prove to her father that being born a girl wouldn't mean she couldn't be as tough and strong as a boy.
"My father wanted me to be born a boy. I started martial arts because I wanted to show him that I can do whatever a boy does."
She was spotted by the UFC in 2019, making her debut against Molly McCann on October 18th, 2019.
Diana put up a brave fight but lost the bout via unanimous decision. However, the loss gave her renewed vigor to shape the landscape of women's fighting in the UFC.
"In my first fight in the UFC, I was just a kid. I have changed, I have evolved and I am looking forward to showing this to the whole world," says Belbita.
Diana won her first fight in the UFC when she defeated Hannah Goldy by unanimous decision. Diana Belbita is now training hard in preparation for her next bout where she will face Gloria de Paula at UFC Fight Night 202, on February 19th, 2022.
We know that those who have something to prove usually smoulder with an unknown force behind the scenes that nobody sees, so without further ado, let's uncover how that's manifested so far for "The Warrior Princess" as we get into Diana Belbita's Top 5 MMA Finishes! (in descending order)
5. Vs. Milena Bojiç – RXF 33 (Dec. 10, 2018)
Here, Diana was pitted against a fighter from Serbia with 10 years' more experience, Milena Bojiç.
The fight started with Diana running wild on her opponent from the get go without so much as giving a moment's breathing space!
Diana rained down ruthless hooks, and a flurry of left-right jabs to absolutely demolish poor Milena.
Rendering her opponent obsolete, Diana won the match via knockout punches in just 17 seconds of round 1.
4. Vs. Morgane Manfredi – RXF 27 (July 29, 2017)
In the first minute of the match, both fighters looked agile and nimble, throwing calculated punches whilst controlling themselves from going wide with any sudden outbursts.
At 1:24 of round 1, Diana moving forward in her orthodox stance, scored a solid thigh kick on Morgane. Manfredi, irritated by the kick, moved in too close and, as a consequence, was forced to absorb more blows from The Warrior Princess.
Soon after, we see Morgane grounded, and Diana looked to capitalize, and finish her off with thunderous ground and pound.
Morgane tries to create some breathing space by getting away, however Diana unleashes her 'beast mode' with fully extended hooks, and punches smothering Morgane from left and right.
Diana again fires off more offence at 2:45 into round 1, with sweet chin music (kick), following up with a combination of punches and hooks.
Going into round 2, Morgane clearly looked overwhelmed by the amount of punishment she took in round 1. Still, Diana delivered another power-packed blitzkrieg of hooks and hard-hitting knees to her stomach.
Morgane fired back with a plethora of punches, holding Diana tightly in the clinch whilst delivering knees to her stomach.
Diana then rocked a controlled-yet-thunderous right hand to Manfredi's temple.
In the final 15 seconds of round 3, a right hand punch from Diana saw Manfredi bite the dust.
Diana had the upper hand throughout the match, and by the end of round 3, was declared the winner of the bout by majority decision.
3. Vs. Alice Ardelean – RXF 14 (Nov. 3, 2014)
Diana here at just 18, went up against Ronin UK Fight Team member, Alice Ardelean.
The initial seconds of round 1 saw a barrage of punches thrown as the fighters went berserk on each other without wasting any time. Jabs, flying from both sides, injected the audience with an adrenaline spike causing them to go wild!
Diana rolled Alice on her shoulders to a massive fall on the canvas. Then, at 2:12 into round 1, Diana attacked with a heavy jab to Alice's face, at which Alice charged in hastily resulting in her getting beaten-up further with a couple more Warrior Princess, iron-like jabs.
At 3:05 into round 1, Diana was fired up to exact a spine-wrecking throw of Alice away, to the other side of the cage!
Now on top of her opponent, Diana ransacks Alice with brutal hammer fists, landing anywhere on her face.
In round 2, within the first 30 seconds, Diana pounced with a heavy right jab to Alice's nose, who, by now had lost much of her courage owing to the assault she was forced to absorb in round 1.
Alice, soon after caught hold of a flying kick thrown by Diana, only to become further embroiled in the clutches of the Romanian Warrior Princess.
Diana now rained a massive storm of hammer fists and some stiff, short-armed, bloody jabs that fundamentally made it 'game over' for Alice. Taking hold of Alice's arm, Diana locked up a gruelling armbar to which Alice quickly taps.
The referee intervened at 3:05 of round 2, to call the quit with Diana winning the match via armbar submission.
2. Vs. Ana Maria Pal – RXF 34 (May 13, 2019)
Diana fought debutant Ana Maria Pal in the RXF Bantamweight division.
To start, Maria Pal took Belbita down to the canvas with a barrage of vicious right hands to her skull.
The match gained momentum at 45 seconds of round 1 as the crowd rose to cheer seeing both fighters go all out on each other at this very early stage.
Diana, looking to hurl a low kick on Maria, was caught off guard, giving the debutant an extra second to swiftly shuffle back and whack Diana with a mighty left hand.
Diana, poised for revenge, now traversed the cage more strategically, marking her opponent's feet.
At 1:12 into round 1, it was time for a full-blown attack by Diana as she rocked Maria with a ruthless right hand, then driving her to the canvas with a ferocious right kick, accompanied by hard-hitting knees which kept Maria humble.
Diana seemed to be in an unforgiving mood, refusing to let this opportunity slip out from the momentum force she'd generated by this point of the match.
Shell-shocked by the assault of hard-hitting knees and jabs, Ana tried her best to stay away from being merely passive prey to the dominant, now roaring Diana.
Diana now further capitalized by using hammer blows on her opponent, restricting her free hand movement by tightly gripping her wrists and artistically coiling her hands around her head before going in for merciless hard-hitting knees to her head, leaving Ana with a swollen, black eye.
By the start of round 2, "The Warrior Princess" looked in a hurry to put her opponent away.
With two quick jabs on Maria, Diana went in for a sublime takedown into a seamlessly-executed, deadly armbar. Maria screamed in pain from this vicious armbar to which the referee immediately intervened at 1:35 of round 2. This confirmed Diana's armbar submission win.
1. Vs. Renáta Cseh-Lantos – RXF 17 (March 16, 2015)
Riding high on the success of her first four consecutive victories in her MMA pro career, "The Warrior Princess" looked to continue her winning streak in 2015 by facing Hungarian challenger Renáta Cseh-Lantos.
Both fighters grappled at the start of the bout looking to dismantle each other from the off.
With momentary striking in the first 3 minutes of the match, both of them started to close the distance, sparring at the side of the cage.
Finding an opening, Diana tossed Lantos to the ground before smashing down lightning-quick punches, from the front then changing position, on her face at 2:58 of round 1.
Lantos tries to pull away from the hold trying to control her opponent's legs, however Diana swiftly coils her legs over Renata's neck and proceeds to blast her head with a barrage of hammer fists.
Lantos gets more conscious about not directly invading her opponent's territory and instead measures her time before making any moves in order to score maximum points.
A Diana hook, landing on Lantos, at 0:26 of round 2, gets Lantos blowing a fuse as she relentlessly rushes in for another bout of sparring fury!
Soon after, Diana throws her opponent into another takedown. Lantos turns aside to save her face from the incoming Warrior Princess assault and tries to block with her right hand.
Regardless, Diana heaps on another barrage of ruthless striking at 1:14 of round 2, leaving her opponent's face a bloody mess!
The crowd rises to its feet as Diana lifts up Lantos like a gunny sack, before slamming her back to the canvas. Lantos, brutally manhandled by the Warrior Princess, sees the mat now turn 50 shades of…red.
Diana climbed convincingly to the 5th straight victory of her pro MMA career, going the full 3-round distance to win this match via unanimous decision.
So there we have it folks, 5 of Diana Belbita's best MMA finishes!
With a 14-6 record; 6 notable TKO/KO's, and 4 submissions, along with super-vigorous combat performances, do you think Diana Belbita can be ranked among the best Strawweight fighters in the Women's Division? From the list above, what's your favorite "Warrior Princess"  fight? How do you think she'll fare in her next bout vs Gloria de Paula at UFC Fight Night 202, on February 19th, 2022?
And…which fighter should we KFK next? Let us know in the comments below; Like, share and join in the conversation on Facebook and follow us on Twitter & Instagram!