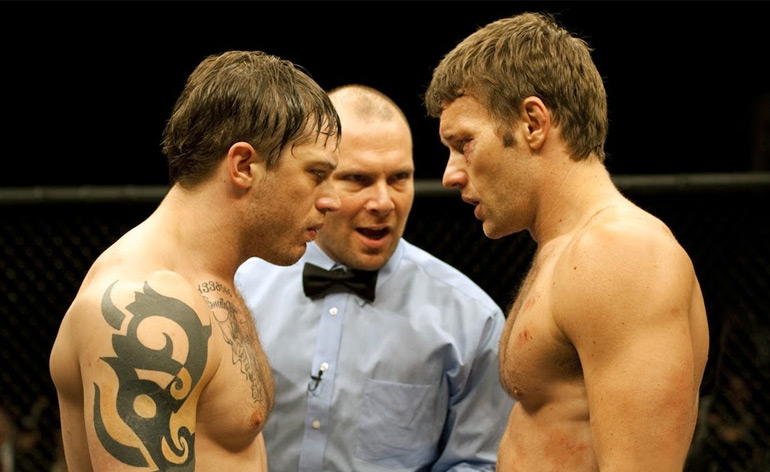 The sport of MMA gets the "Rocky" treatment at last in "Warrior", a profoundly moving and superbly well-acted sports drama that delivers a knockout punch right to the tear ducts of even the most cynical of misanthropes.
Trailer
Cast
Tom Hardy and Joel Edgerton portray estranged brothers and MMA fighters Tommy and Brendan Conlon, their lives having diverged at a critical point in adolescence, who find themselves competing in the same competition. Nick Nolte plays the brothers' father Paddy, a recovering alcoholic who wants nothing more than for his two sons to give him the second chance that neither believes he deserves. Jennifer Morrison steps into the role of Brendan's supportive wife Tess, while Frank Grillo plays his good friend Frank Campana, who helps trains Brendan for what will truly be the fight of his life.
Plot
Tommy Conlon hasn't seen or spoken to his formerly alcoholic father Paddy in the past fourteen years having fled with his mother after years of domestic abuse. He's even more embittered towards his older brother Brendan, who stayed behind with his girlfriend Tess, leaving Tommy to bury their mother after a terminal illness claimed her life. Now adopting his mother's maiden name Riordan, Tommy quickly becomes an internet sensation after a video of him flattening MMA-fighter "Mad Dog" Grimes, a serious contender in the upcoming MMA mega-tournament "Sparta", goes viral online.
Tommy is quickly offered a spot to compete in Sparta, and begrudgingly enlists Paddy as his trainer. Little do either Tommy or Paddy know, however, that Brendan will also be competing in the very same tournament. A former professional MMA fighter turned high school physics teacher, Brendan moonlights in underground fights to make ends meet. Unfortunately, when news of this reaches the school, Brendan is suspended without pay, and with his home facing foreclosure, his last viable option is the $5 million purse that will go to the winner of Sparta.
When Sparta is ashes Mad Dog has my permission to die
Tommys fellow U.S. Marines salute him
Tommy trains for the battle of Sparta
Tommy stares down his opponent
Tommy has Mad Dog on the ropes
Action
"Warrior" is primarily a sombre drama with the focus devoted to the falling out of Tommy and Brendan and Paddy's desperate effort to earn the trust and forgiveness of his sons once more, with the action largely being saved for the third act. However, that isn't to say that viewers will feel shortchanged on that front. Indeed, the first fifteen minutes allow Tom Hardy to very clearly establish himself as one of the most physically adept, novice martial artists in Hollywood.
To give a little historical perspective, the not terribly large Hardy would be seen as the massive and fearsome Bane, a villain well-known for being impossibly muscular and famous to DC Comics fans as the man who "Broke the Bat", in 2012's "The Dark Knight Rises" -the two films released less than a year apart. With such an intimidating pair of shoes to fill, Hardy creates a powerful and commanding presence every second that he's onscreen in the film, his beefed-up body decorated with nearly as many tattoos as Yuri Boyka's.
Early on, Tommy volunteers to "keep your boy warm for you" after Mad Dog's pool of sparring partners is depleted, and delivers a jaw-droppingly ferocious beating (bet you never thought you'd hear about a character in a martial arts film with the name Mad Dog being so effortlessly KO'd, did you?). It's easily the best individual scene of the entire film, and not only shows off Hardy's impressive physicality, especially for having no martial arts background at all prior to this film, but also sets the bar remarkably high for his then forthcoming portrayal of Bane (which, it must be said, he delivered the goods in, as well).
Tommy feels like his brother betrayed him
Tommy and Brendan prepare to face off
This is SPARTA
Paddy just wants to be back in his sons lives
Flex
Brendan tries to make amends with Tommy
When Sparta kicks off during the final third of the film, Tommy shows no more mercy to his new opponents either. Once the bell rings and the fight begins, Tommy immediately closes in on his adversary and like a male Ronda Rousey demolishes them with a veritable tidal wave of strikes. His opponents in Sparta include the vengeful Mad Dog, and the rematch goes about as well for him as the first go-around. By contrast, Brendan is a much more conservative fighter, lacking his brother's knockout power but making up for it in his ability to weather incredible punishment.
The film does a good job of placing Tommy and Brendan's fighting styles in total contrast with one another, Tommy being largely a fist and foot fighter while Brendan is more well-versed in grappling arts, and while the camera work is at times intrusively fast and shaky, J.J. 'Loco' Perry's choreography is hard-hitting and brutal, echoing the down and dirty brawls of the "Rocky" films. Of course, every moment, every line of dialogue, every match in the cage of Sparta leads up to the finale pitting Tommy and Brendan against one another. With no villain in the film and each of the two brothers having completely earned the sympathy of the audience, this is, in the words of the late Roger Ebert, "a rare fight movie in which we don't want to see either fighter lose". But more than that, it's paradoxically the rare fight movie in which, for all the anticipation of the final fight, we'd like nothing more than for the two combatants to reconcile.
You'd truly have to be soulless to be unmoved to tears by the last five minutes of the film, in which Tommy and Brendan's enmity finally reaches its home stretch. This is an ending where the issues flare and the tissues are an absolute must!
Brendan lands a punishing roundhouse kick
Brendan goes to his good friend Frank for help
Brendan doesnt have the luxury to be afraid of losing
Brendan begs Tommy to stop
A crippling right cross from Brendan
Brendan tries to bring the fight to an end
Summary
"Warrior" packs a punch like few sports dramas ever do. The performances of every member of the cast are absolutely stellar (Nick Nolte earned a well-deserved Oscar nomination for his), and Tom Hardy proved himself a true physical specimen long before donning the leather of Mad Max. Estranged families rarely get to clear the air like Tommy and Brendan have the chance to, (maybe there's something for all people with families to realise here) and boy, is it an intense rollercoaster-tearjerker when they do.
Trivia
The film is dedicated to the memory of Tap Out founder Charles "Mask" Lewis, who was killed by a drunk driver on March 11, 2009. The director of the film, Gavin O'Connor, spoke at Lewis' memorial service on April 14, 2009.
Famed MMA trainer Greg Jackson helped get Tom Hardy and Joel Edgerton in shape for the film.
Although he doesn't fight in the film, Frank Grillo holds a black belt in Brazilian Jiu-Jitsu (BJJ). He appears in the MMA-themed TV series "Kingdom", and will soon be seen displaying his skills in the role of Crossbones in "Captain America: Civil War" and in "Beyond Skyline", alongside Iko Uwais and Yayan Ruhian of "The Raid" films. He's also attached to the upcoming Hollywood remake of "The Raid".
Film Rating: 8/10