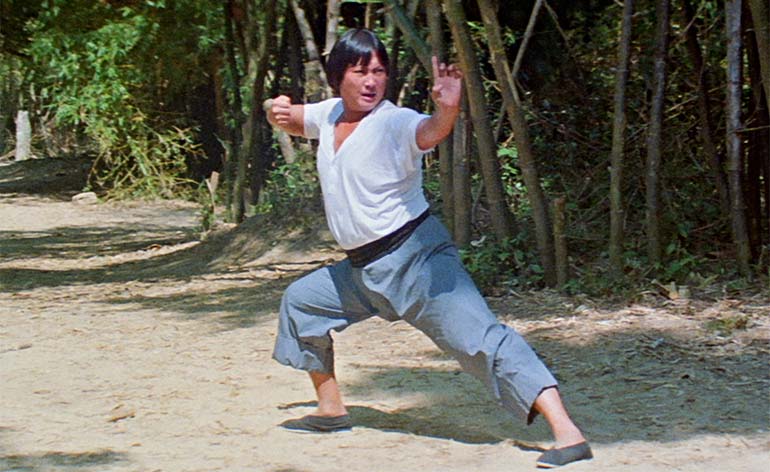 Win this amazing Sammo Hung Blu-ray Box Set: Three Films with Sammo Hung, The Iron-Fisted Monk, The Magnificent Butcher & Eastern Condors. This trio of spectacular martial-arts films, from one of Hong Kong cinema's most iconic stars, is now available courtesy of Eureka Entertainment!

Presented FULLY UNCUT (for the first time ever in the UK) from brand new 2K restorations, this 3-Disc Blu-ray edition debuting worldwide, is part of the Eureka Classics range, which includes a Limited Edition booklet [2,000 copies only], is available to order now on Blu-ray and releases on Monday 7th October 2019.
Trailer
One of the most prolific figures in the history of Hong Kong action cinema, Sammo Hung (Hung Kam-bo, or more affectionately, "Da Goh Da" [Big, Big Brother]) has worked as a stuntman, actor, choreographer, producer and director in a career spanning almost 60 years (his first film appearance was in 1961). Presented here are three highlights from his incredible career, showcasing his astonishing skill and artistry both in front of, and behind the camera.
Iron-Fisted Monk Clip 1
The Iron-Fisted Monk [1977] – Sammo Hung's directorial debut, "The Iron-Fisted Monk" introduced many of the choreographic and editing techniques that would become commonplace in modern action cinema. A significantly darker and more violent film than audiences were used to, the film was originally cut when released on UK home video, but is presented here fully uncut for its worldwide Blu-ray debut from a brand new 2K restoration.
Iron-Fisted Monk Clip 2
Magnificent Butcher Clip 1
The Magnificent Butcher [1979] – Directed by the legendary Yuen Woo-ping as a spiritual successor to his earlier smash hit, "Drunken Master".
"The Magnificent Butcher" stars Sammo as "Butcher" Lam Sai-wing, a pupil of Wong Fei-hung (the role Jackie Chan portrayed in "Drunken Master", but here played by Kwan Tak-hing who played the legendary folk hero in over 70 films).
When Lam is framed for murder by a rival clan, he must track down the real murderer and fight to clear his name. To be strong enough to have a chance of winning, he must train under the original Drunken Master, Beggar So! Presented from a brand new 2K restoration.
Magnificent Butcher Clip 2
Eastern Condors Clip 1
Eastern Condors [1987] – Quite possibly Sammo's best film, this high-kicking tribute to "The Dirty Dozen" sees ten convicts offered amnesty if they undertake a deadly mission behind enemy lines in Vietnam to destroy a top-secret munitions dump. Featuring numerous references to Western war movies, such as "The Deer Hunter" and "Rambo: First Blood Part II", "Eastern Condors" is an action masterpiece like no other, filled with incredibly dangerous stunt sequences and full-contact fight scenes that left its cast bloody and bruised. Presented here fully uncut for the first time ever in the UK, and from a brand new 2K restoration, this film is an absolute must-see!
Eastern Condors Clip 2
Blu-ray special features:
Stunning 1080p presentation of all three films on Blu-ray, from brand new 2K restorations and in their original widescreen aspect ratios
Original Cantonese mono tracks for all three films
English audio options, all three films include the option of "classic" English dubs from the films' original international releases, and the newer English dubs produced for later home video releases
The Iron-Fisted Monk –- Fully Restored Cantonese mono track, with original sound effects reinserted after being absent from previous releases
The Magnificent Butcher – Alternate Cantonese mono track featuring a unique mix and different music cues
Eastern Condors: The Export Version [94 mins] – Presented in 2K, a shorter edit of the film released to international markets
Newly translated English subtitles (optional) for all three films
Brand new audio commentaries on Eastern Condors and The Magnificent Butcher by martial-arts cinema authority Mike Leeder and filmmaker Arne Venema
Brand new audio commentary on The Iron-Fisted Monk and Eastern Condors by Asian film expert Frank Djeng (NY Asian Film Festival)
Multiple interviews with Sammo Hung, talking about his work on each film
Interview with actor and stuntman Yuen Wah, talking about his work on Eastern Condors
Interview with Yuen Woo-ping, talking about his work on The Magnificent Butcher
Eastern Condors Live! – a live performance from the 1987 "Miss Hong Kong Pageant"
Trailers for all three films
O-Card Slipcase
Limited Edition Collector's booklet [First Print Run of 2000 units ONLY] featuring new writing on all three films by James Oliver
This release is an absolute ESSENTIAL must-have edition for all fans of real kung fu, martial arts and blisteringly-paced physical action movies!
Lucky Kung Fu Kingdom readers can get their copy for FREE courtesy of our friends at Eureka Entertainment BUT DO HURRY, COMPETITION ENDS SUNDAY 20th OCTOBER 2019!
All you need to do to be in with a chance of winning is "LIKE" the KUNG FU KINGDOM FACEBOOK PAGE, "SHARE" this SAMMO HUNG BLU-RAY COMPETITION POST, and WRITE IN THE POST'S COMMENTS section, your answer to the following simple question:
In the opening scene of "Enter the Dragon", Sammo Hung fought which legendary martial arts star? Was it:
Winners will be notified via Facebook message by 23:59GMT/BST Monday 21st October 2019.
Good luck!
Competition rules:

UK entrants only.
Entrants must be 18 years or over.
Entry is restricted to one entry per person.
Multiple and automated entries will be disqualified.
Winners will be chosen at random from all valid entries.
Winners will be contacted via email.
Prize will be sent to winners via UK mainland post only.
The judge's decision is final and no correspondence will be entered into.
Competition closes Sunday 20th October 2019.
What are some of your favourite films starring Sammo Hung and which of his fight scenes do you deem most memorable? Let us know in the comments below; Like, share and join in the conversation on Facebook, Twitter & Instagram.
Get yourself into a host of FU-flix this weekend, along with these in-depth interviews, grab your KFK gear, and subscribe to us on YouTube for more old-school / new-school martial arts action!