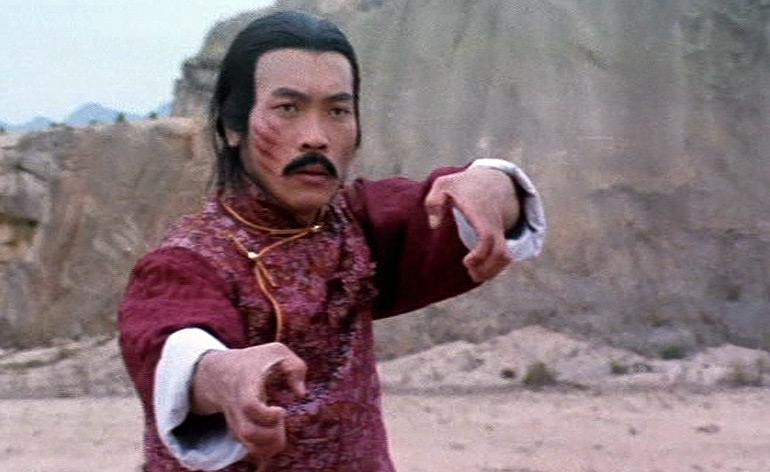 Name: Hwang Jang Lee / Hwang Jeong-Ri / Silver Fox
Date of Birth: 21st December 1944
Birth Sign: Sagittarius / Chinese Year of the Monkey
Country: South Korea
Here's a cool little tribute video we found on YouTube to get you started:

Training Background
At the age of fourteen years old, Hwang began to learn Taekwondo, eventually earning a 7th Dan black belt. In 1965 at age 21, Hwang became a martial arts instructor for the Korean and South Vietnamese Armies.
In January 2003, Hwang received his 9th Dan black belt in Taekwondo. Additionally, he currently holds a 9th Dan with the World Tang Soo Do General Federation.
Hwang still actively teaches martial arts. He is currently an instructor with the World Tang Soo Do General Federation.
Biography
Korean at birth, Hwang Jang Lee was actually born Hwang Jeong-Ri in Japan in 1944. His father owned a shipping company, but in 1945 the Japanese wanted all Koreans out of their country, and the company was closed down. Hwang and his parents returned to Korea.
As a teenager, against his parent's will, Hwang started training in Taekwondo. In 1965, Hwang was drafted into the army. His martial art skills were recognised during his basic training, and he was sent to teach Taekwondo to over 1000 military students. One day Hwang was challenged to a fight whilst teaching by a South Vietnamese knife fighter. Some versions of events say the fight lasted around 30 seconds with a kick landing to the head, which knocked his challenger out. Others claim that a soldier lunged at Hwang with his knife, but Hwang intercepted him with a thunderous roundhouse kick to the temple, killing his opponent instantly. It is claimed Hwang was never charged as all the witnesses deemed that he acted in self-defence.
Since retiring from films, Hwang has apparently owned a golf-tee manufacturing company, a hotel, and a bodyguard service. In 2003, Hwang was awarded his 9th degree black belt in Taekwondo, earning the title of Grandmaster Hwang Jang-Lee.
What a pain in the neck Lackey the Lady Tiger
Hwang scored a hit with Jackie Chan in Snake in the Eagles Shadow
legs and hands From superkicker HJL in Drunken Master
Roundhouse on Jackie care of HJL
More tough lessons in Snake in the Eagles Shadow
Learning the hard way
Film Career
In 1974, Hwang made his movie debut in a low budget Korean film called "Korean Connection". In 1975, Ng See-Yuen, a former executive of Shaw Brothers who created a new company, Seasonal Film Corporation, was looking for a local actor to play the white-haired villain in Seasonal's first film, "The Secret Rivals". Hwang's impressive kicking skills won him the role of "The Silver Fox". The film launched the careers of both Hwang Jang Lee, and fellow "superkicker", John Liu. His character became, and remained, one of Hong Kong's most popular movie villains, and the nickname "Silver Fox" stuck with him. Hwang went on to reprise the role in the 1977 sequel "Secret Rivals 2". Hwang and John Liu, would appear in two more films together, "Snuff Bottle Connection" and "The Invincible Armour".
In 1978, Ng See-Yuen recruited Hwang to play an Eagle Claw Master who takes on Jackie Chan in "Snake In The Eagle's Shadow". The film was a breakout hit, launching Jackie Chan to stardom. It was quickly followed up with an even bigger hit, "Drunken Master", with Jackie Chan again playing hero to Hwang Jang Lee's villain, "Thunderleg". Yuen Woo-Ping's inventive choreography proved to be a superior showcase for both stars' skills.
In 1980, Hwang convinced Ng See-Yuen to have him play the hero for once. Ng not only agreed, but Hwang was given a chance to make his directorial debut with "Hitman In The Hand Of Buddha". Working alongside action directors Corey Yuen and Mang Hoi, Hwang was able to showcase weapon skills alongside his usual kicking repertoire.
In 1982, Hwang created an instructional tape titled "The Art of High Impact Kicking", demonstrating various Taekwondo kicks and training techniques.
During the 1980's, the period kung fu films became less popular, and Hwang began appearing in more contemporary roles. He appeared opposite Sammo Hung in "Where's Officer Tuba?", Moon Lee in "Angel", and Michelle Yeoh in "Magnificent Warriors". In 1987, Hwang made his English-language debut in "No Retreat, No Surrender 2: Raging Thunder", featuring a memorable fight scene against fellow Tang Soo Do Master, Cynthia Rothrock.
In 1990, Hwang travelled to the USA, where he co-starred in the B-movie "Street Soldiers" as the mute henchman of the villain. The film credits Hwang as "Jason Hwang", named after his son. Hwang got to take on fellow Taekwondo master Jun Chong in the film.
Shortly after, Hwang returned to Korea and made two low budget films, "Emperor Of The Underworld" and "Boss".
Hwang Jang Lee goes ballistic Hitman in the Hand of Buddha
hwang jang lee 2
hwang jang lee 1
HWANG JANG LEE Drunken Master
Hwang as Thunderleg in Drunken Master
HJW Snake in the Eagles Shadow
Did you know?
During the climatic battle in "Snake in the Eagle's Shadow", Hwang accidentally knocked out one of Jackie Chan's front teeth with a kick. If you look carefully in some scenes, you can see the gap in Jackie's mouth.
During his time in Hong Kong, Hwang learned Eagle Claw kung fu.
Hwang is famed for his wire-free jumping triple kicks that he could apparently still perform in his sixties!
Sometimes he is credited as "Jason Hwang", which is his son's name.
Hwang allegedly killed a soldier who attacked him with a knife by kicking his foe in the temple. He was never charged as it was deemed to be a legitimate self defence.
Hwang is a 9th Dan Black Belt Master in both Taekwondo and Tang Soo Do.
HJL scopes the drunken master wannabe
Hang in Hitman in The Hand of Buddha
Great flying drop kick Drunken Master
Coming to an agreement
Cynthia Rothrock with her old co star Hwang Jang Lee
Filmography
| Year | Title | Role |
| --- | --- | --- |
| 1996 | Boss | |
| 1994 | Emperor of the Underworld | Yoo, Deok-pal |
| 1991 | Street Soldiers | Tok |
| 1989 | Live Hard / Tie dan xiong feng | Chief Inspector Terry Chiu |
| 1989 | Dark Side of Chinatown / Sai nga tiu daai tiu saai | Sheung Siu Tung's hitman |
| 1988 | Bed Companions / Hua xin ye mei gui | |
| 1987 | No Retreat, No Surrender 2 | Ty |
| 1987 | Fighting Madam | Chang Lung |
| 1987 | Dynamite Fighters | Collaborator |
| 1986 | Future Hunters | Silverfox |
| 1986 | The Innocent Interloper / Liu mang ying xiong | Paleface |
| 1986 | The First Vampire / Mao shan xiao tang | The Ghost of March |
| 1986 | Where's Officer Tuba / Pi li da la ba | Blackmailer |
| 1986 | Millionaires Express | Yukio Fushiki |
| 1985 | Ninja Terminator | Tiger |
| 1984 | Shaolin: The Blood Mission | Dan Bang / General Yuen |
| 1983 | Champ Against Champ | Kurt Wong |
| 1983 | The Angry Young Man | |
| 1983 | Kwandong Viper | Kal Ma-ryong |
| 1983 | Fists of Lightning | Kam Fu |
| 1983 | Five Pattern Dragon Claws | |
| 1983 | Duel of the Ultimate Weapons / Soh Hwa-ja of Guangdong Hall | Won Dong |
| 1983 | Ghosts Galore / Man tian shen fo | Japanese Sorcerer |
| 1982 | Eagle Claw vs. Butterfly Palm | Sing Kun's master |
| 1982 | Five Fingers of Steel / Huet seung | Wong Lung |
| 1982 | Secret Ninja | Tiger So |
| 1982 | Masters of Tiger Crane / Sahyeongsaje | Silver Fox / Keum-wung |
| 1982 | The 36 Deadly Styles | Cheung Sze |
| 1982 | Kid from Kwantong / Guang Dong liang zai yu | |
| 1982 | Ninja Strikes Back | Ron |
| 1982 | Ninja in the Dragon's Den / Long zhi ren zhe | The Magician |
| 1982 | The Trouble-solving Broker | |
| 1982 | Hard Bastard / Raging Rivals / Chunyong-ran | |
| 1981 | Young Hero | Leader of Japanese invaders |
| 1981 | Half Piece of Map | |
| 1981 | The Phantom Thief | |
| 1981 | Hitman in the Hand of Buddha | Wong Chin |
| 1981 | Game of Death II | Chin Ku |
| 1981 | Shaolin Fighters vs. Ninja | Shangkuan Chin Lung |
| 1980 | Sangwoong | |
| 1980 | Eagle Silver Fox | Sa-sung / Silver Fox |
| 1980 | Buddha Assassinator / Fo Zhang huang di | Prince Yi |
| 1980 | Lackey and the Lady Tiger / She mao he hun xing quan | Shir Bar |
| 1980 | Challenge of the Tiger | Comrade Yang |
| 1980 | Jung-ri's School of Yong-hyung-ma | Russian Fighter |
| 1980 | Two Fists against the Law / Shuang la | |
| 1980 | Tiger Over Wall | Chen |
| 1979 | Demon Strike | Lord |
| 1979 | The Eagle's Killer / Bai cu shi fu kou cu tou | Lo |
| 1979 | Hellz Windstaff / Long hu men | Lu Shan-Tu |
| 1979 | Fearless Master Fighter | |
| 1979 | Dance of the Drunken Mantis | Rubber Legs |
| 1979 | Dragon's Claws | |
| 1978 | Drunken Master | Thunderleg |
| 1978 | Snake in the Eagle's Shadow | Lord Sheng Kuan |
| 1978 | Deadly Kung Fu Factor | |
| 1977 | Snuff Bottle Connection | Magistrate |
| 1977 | The Invincible Armour | Minister Cheng |
| 1977 | Secret Rivals 2 | Silver Fox |
| 1977 | Bruce Lee: A Dragon Story | Ching Yun-Cheh |
| 1977 | Heroes of the Wild | Tien Lung Chong |
| 1977 | The Instant Kung Fu Man | Yi Lan |
| 1976 | The Secret Rivals: Enter the Silver Fox | Silver Fox |
| 1976 | Bruce Lee Fights Back from the Grave | |
| 1975 | A Viper | |
| 1974 | Korean Connection | Kazio |