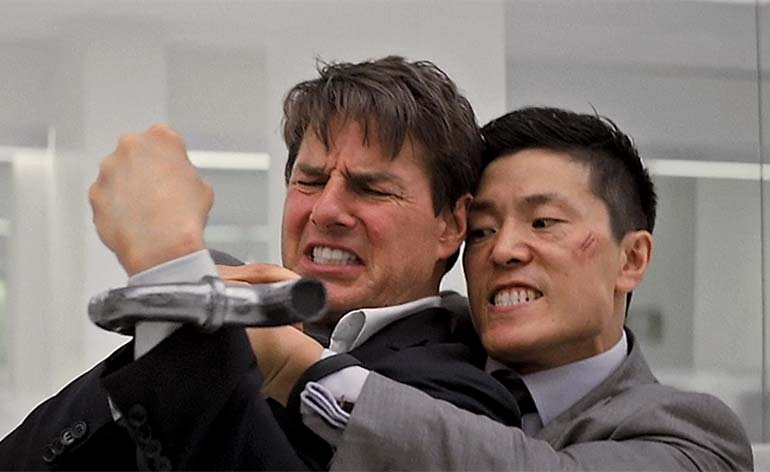 The Mission: Impossible franchise has, for over the last two decades always aimed to fulfill its brief of delivering fun-filled entertaining thrillers packed to the gills with stunt action that, with each film, grow ever more insane. However, after twenty-two years and six films has Tom Cruise fulfilled his impossible mission in delivering a film even more thrilling and loaded with jaw-dropping action? Join us, read on, and find out!
Trailer
Cast
Tom Cruise returns as top IMF agent Ethan Hunt, this time facing his deadliest and most personal mission yet. Accompanying him as always are his trusted teammates Luther Stickell (Ving Rhames) and Benji Dunn (Simon Pegg). "Rogue Nation's" Rebecca Ferguson returns as British agent Ilsa Faust on a personal mission of revenge and redemption, along with Alec Baldwin as IMF Secretary Alan Hunley.
Sean Harris returns as Solomon Kane former head of the anti-IMF organisation "The Syndicate" who continues to be a thorn in Hunt's side. Joining the action-packed cast of regulars are Angela Bassett as CIA Director Erica Sloan and swapping his cape for a mean looking moustache is Superman himself Henry Cavill this time as the bad guy – CIA assassin August Walker.
Plot
Fallout picks up where "Rogue Nation" left off, with Ethan Hunt and his IMF team, Luther Stickell and Benji Dunn, charged with recovering stolen weapons-grade plutonium from a group of arms dealers. When the mission goes wrong and plutonium bombs end up in the hands of The Apostles – former agents of The Syndicate headed by a now imprisoned Solomon Lane (Sean Harris) – Hunt finds himself answerable to his boss, IMF Secretary Alan Hunley and CIA director Erica Sloan.
Learning of a deal between The Apostles and a ghostly assassin known only as John Lark, Hunt plans to infiltrate the buy to recover the plutonium but Sloan assigns her right-hand man August Walker to accompany him and ensure the mission's success. However, things are not all they seem and soon friends become enemies with the IMF team in a race to prevent a devastating nuclear attack.
Action
Fans of the series will no doubt appreciate the presence of regular, staple hallmarks such as the recorded brief and its eventual destruction, those great disguises and of course Tom Cruise's insane stunts – they wouldn't be "Mission: Impossible" without them. Yet, for this latest instalment, Cruise once again with writer/director Christopher McQuarrie and stunt coordinator/fight choreographer Wolfgang Stegemann, seem to have hijacked the volume button and dialled the action intensity and insanity all the way – up!
The action is a mix of adrenaline-fuelled, perilous stunts and some humorous moments that add rather than take away from the intensity of the action – "Why have you stopped?" asks Benji "I am jumping out of a window!" uttered during the rooftop run where Cruise famously broke his ankle. This mix of action and light-hearted levity distinguishes it from other big cinematic superspy franchises as it doesn't take itself too seriously.
All the stunts and fight scenes are in the same vein yet markedly improved over what we've seen in the franchise before with lots of nods to famous action moments; the HALO jump for example, we can see clearly that Cruise is doing the jump just like Patrick Swayze's skydive in "Point Break".
Then there are the many stunning tower scenes or rooftop shots, which, if they're making you wonder why they seem familiar, I re-direct your attention to "The Dark Knight" or "Batman vs Superman", with all the vertigo-inducing impact we've come to expect from them. And if you like your car chases dizzyingly nail-biting (think the "Raid 2: Berendal" or "The French Connection") then the chase through Paris' L'Arc De Triomphe roundabout and streets will have you gripping your seat handles.
Just like the stunts, the fight action is fast and very furious and this time everyone from Simon Pegg (whose fitness regimen reportedly resulted in some rock-hard abs – visible through his shirt) to a slimmed down Alec Baldwin, get to trade body blows in the most dangerous mission yet. The production has pulled out all the stops for some bone-breaking fight action, most notably the bathroom fight pitting Hunt and Walker against the very capable henchman Liang Yang, and Hunt and Walker's fight in the finale on the mountain top. The finale on the snowy mountain top brings to mind Sylvester Stallone's battle in "Cliffhanger" with psychotic terrorist John Lithgow – and the much-anticipated Hunt vs Walker showdown doesn't disappoint.
The bathroom fight however is the standout mission moment – think along the lines of "True Lies" or "Casino Royale" for sheer entertainment value. The scalpel and hammer metaphor alluded to in the film comes into play with full force for this scene. Cruise employs his usual blend of Krav Maga, Keysi Fighting Style and jiu jitsu with some intricate strikes, kicks, and throws, Cavill with his imposing physicality wades in with hammer-sized fists, like a heavyweight boxer on a KO mission.
The two certainly make a formidable team but Wolfgang Stegemann has the slippery Liang Yang as the unstoppable henchman running circles around them, proving virtually impossible to kill with his wushu-esque gymnastic fight style. The non-stop mix of fast fight-fu and comedy (the bathroom stall moment garnering the most laughs) the bathroom fight scene is one of the best in the series – if you're a die-hard action fan see the other trailer below…
…you'll probably be thinking, "sh*t up and take my money!"
Summary
With "Mission: Impossible Fallout" Tom Cruise has struck a favourable balance of amped up adrenaline action with some tongue-in-cheek humour upping the excitement ante with each film. McQuarrie's story deals with the notion of difficult choices – the mission or the people you care about, and the fact that even being the good guy can come with dangerous risks.
Making this more of a personal mission for Hunt backed by his ever-loyal team adds to the visceral intensity of the action. As for the players, Cruise, is highly watchable as are the regular team members, of which Rebecca Ferguson is hopefully now a member. Sean Harris slips into the role of Hunt's nemesis but it is Henry Cavill whose sheer physical presence makes him a veritable powerhouse badass with heaps of smouldering villainous intensity effectively transitioning from 'Superman' to Superbad.
When reviewing Mission: Impossible Rogue Nation we said that "those breathtakingly insane stunts will take some beating should there be a sixth film." I can tell you now the film did what we thought was a mission: impossible. It has topped the bill as the most fun and thrilling "spy-fu" you're likely to see this summer and is the best in the franchise so far. One wonders if a seventh instalment will happen; as the years take their toll, can Tom Cruise the "Peter Pan" of action films stay forever young and fit enough for another mission? He has promised another to follow should "Fallout" perform well so I guess time will tell. Nevertheless, the latest mission delivers with a solid, well-paced story with some truly insane, epic stunt action that will keep you on the edge (or Fallout) of your seat.
Trivia
Tom Cruise trained for a whole year to perform the HALO jump.
HALO is an acronym for High Altitude Low Opening and in order to get that stunning shot of Hunt's jump into Paris from the C-17 military aircraft Cruise made over 100 jumps from 25,000 feet. About 8 jumps per day were being performed.
In an interview, Alec Baldwin laughed that during his fight scene with Henry Cavill, such was the sheer size of his physique, that Baldwin asked him to move as his shoulder was blocking the shot. He also pointed that Cavill was in incredible shape – "The guy's body is like marble. He really is Superman."
The film was greenlit by Paramount days before the release of "Mission: Impossible Rogue Nation".
Henry Cavill admitted that whilst he was in excellent shape he struggled with the physical demands of the shoot and needed re-training for his fight scenes and stunts.
The most well-known report to come from the set of the film was of Tom Cruise breaking his ankle during what is now the film's infamous rooftop jump. Cruise was off the set for seven weeks, and the shot was used in the finished film. If you look closely you can see Cruise hobbling after he pulls himself up.
Blink and you'll miss Street Fighter: Assassin's Fist co-creator/actor Joey Ansah as one of White Widow's henchmen.
Wolfgang Stegemann has worked on a number of films with Tom Cruise – in front and behind the camera as stunt co-ordinator and performer including "Mission: Impossible Rogue Nation" (Opera fight), "Edge of Tomorrow", "Jack Reacher: Never Go Back", and "The Mummy".
Favourite Quotes
"You use a scalpel. I prefer a hammer." – Erica Sloan
"The greater the suffering, the greater the peace. The ending you have always feared is coming, and the blood will be on your hands." – Solomon Lane
"I am here to do business. Tell your voice to go flip a coin." – Ethan Hunt
"How many times has Hunt's government disavowed him, betrayed him? How long before a man like that has had enough?" – August Walker
Film Rating: 8/10
"Mission: Impossible – Fallout" releases in the UK next week on 25th July and in the US and other countries on the 27th.  What are your impressions so far; which fights and action scenes from the MI franchise do you remember best? Let us know in the comments below, join in the conversation, share this on Facebook, and follow us on Twitter & Instagram. (Want more FU-busting action? Then check out our other reviews too!)