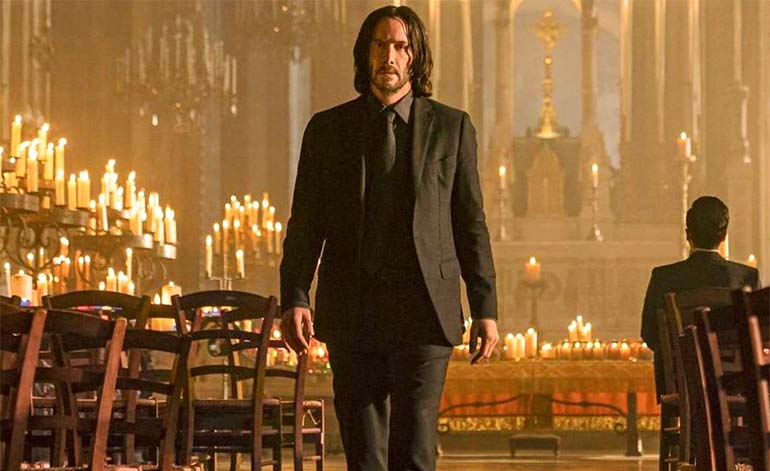 One thing that world knows well about John Wick is that you can't keep him down, not even if you push him off a roof! That exact event befell the legendary Baba Yaga at the end of  "John Wick: Chapter 3 – Parabellum", and yet he is back for the upcoming "John Wick: Chapter 4", set to hit theaters on March 24th, 2023.
To keep that admittedly sizeable wait under control, the first full trailer for "John Wick: Chapter 4" is finally here, which you can see below. Even better, the "John Wick" universe is continuing to grow with the spin-off "Ballerina" now filming!
Trailer
John Wick is Headed for a Showdown
The official synopsis of "John Wick: Chapter 4" reveals the scope of what John is going up against:
"John Wick (Keanu Reeves) uncovers a patch to defeating the High Table. But before he can earn his freedom, Wick must face off against a new enemy with powerful alliances across the globe and forces that turn old friends into foes."
Gun-Fu and Martial Arts Galore!
That the "John Wick" franchise is the king of action movie greatness is undisputed these days, a fact reflected in how much each chapter of John Wick's story steps up from what the last had to offer.
Even by those standards, "John Wick: Chapter 4" looks incredible beyond belief with the franchise's trademark gun-fu, and martial arts action in the trailer appearing simply stunning to behold.
Of course, having Chad Stahelski as returning director, Keanu Reeves in his John Wick groove, and Donnie Yen, Hiroyuki Sanada, and Marko Zaror coming aboard will do that. Even with the amount of incredible action seen in the trailer, it's still likely only scratching the surface of what "John Wick: Chapter 4" is preparing to deliver.
Where is Scott Adkins?
One pretty big player in "John Wick: Chapter 4" who continues to remain surprisingly hidden is none other than Scott Adkins.
The trailer and earlier teaser released during 2022's San Diego Comic-Con keep Scott well out of view, which could suggest he's being held back from appearing to really up the amazement factor when "John Wick: Chapter 4" finally arrives.
Considering the baseline that "Chapter 4" is starting from already, that could really imply big things for the movie and Scott's role in it.
With John seemingly set for a showdown of some kind with a big player in the High Table, that could be where Scott jumps into action, or it could be something completely different.
In either case, adding Scott Adkins to the "John Wick: Chapter 4" roster is sure to leave audiences thrilled when it finally arrives.
"Ballerina" is on the Way!
The arrival of the full trailer for "John Wick: Chapter 4" also has great timing, with the spin-off movie "Ballerina" kicking off production in Prague on November 7.
"Ballerina" is led by Ana de Armas, who plays the revenge-seeking assassin, Rooney. Additionally, as revealed by Collider, Keanu Reeves and Ian McShane are also set to appear in "Ballerina" as John Wick and Winston.
Between "John Wick: Chapter 4", "Ballerina", and the TV series "The Continental" all set to arrive next year, 2023 is primed to be the biggest year ever for the "John Wick" franchise.
Ana de Armas herself showed her great action talent potential in 2021's James Bond movie "No Time To Die", so hopefully, her central presence in "Ballerina" builds on that in the best possible way!
What's Next for John Wick?
It's hard to imagine the "John Wick" universe has not only gotten as big and grand as it has, but done so from the modest starting point that 2014's "John Wick" was.
While "John Wick" remains a game-changing action movie in every possible way, the franchise just keeps outdoing itself over and over in a way that is just stunning for action fans of every strip to bask in.
Even for the action classics he's previously made in "Point Break", "Speed", and "The Matrix" franchise, Keanu Reeves has helped move the action genre to astounding new heights with his portrayal of John Wick.
The stunts, gun-fu, and martial arts of the John Wick movies just cannot be stopped, standing as testimony to just how easy exceeding expectations can be achieved when pros like Chad Stahelski, Keanu Reeves, and the martial arts crew of the "John Wick" franchise are onboard.
With the world of "John Wick" also continuing to expand with spin-offs and a planned "John Wick: Chapter 5", there's no telling when or where the Baba Yaga's train will stop.
With "John Wick: Chapter 4" on the way as 2023's first action movie dynamo, all KFK can say is let the John Wick train run as fast as a bullet (train)!
"John Wick: Chapter 4" arrives in theaters on March 23rd, 2023, stay tuned for more info on that and the release of "Ballerina" as it arrives!
Are you excited for John Wick's world expanding with "Ballerina" and "The Continental"? Are you looking forward to seeing John again next year in "John Wick: Chapter 4"? What is your favourite John Wick movie fight from the series so far? Let us know in the comments below, join in the conversation / share this on Facebook, and follow us on Twitter & Instagram!