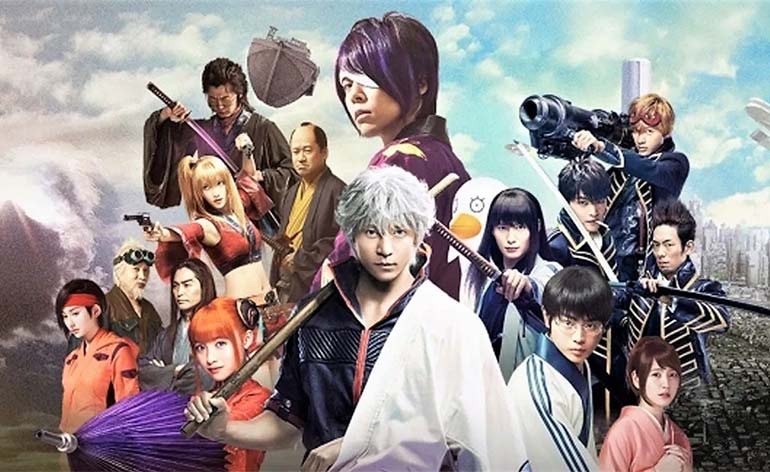 Just when you thought there was a dearth of wild, wacky, manga-inspired Samurai-action to feast upon, Japan's homegrown hit from last summer, "Gintama", has gone and dropped the first trailer for the film's sequel, "Gintama 2". Judging by the look of the soon-to-be-released follow-up as seen in the trailer, fans of the original are in for another wild ride with "Gintama 2", as you can see below!
The film sees Shun Oguri return to the role of the first film's protagonist, former samurai Gintoki Sakata, with Kanna Hashimoto and Masaki Suda also returning as his loyal allies, Kagura and Shinpachi Shimura. New additions to the cast of the sequel include Midoriko Kimura in the role of Otose, while Haruma Miura portrays Kamotaro Ito, with numerous other Japanese stars, such as Masataka Kubota of "Tokyo Ghoul" fame in the role of hard-hitting assassin, Bansai Kawakami.
Few sequels carry over the distinct visual style and story tonality with as much pinpoint precision as "Gintama 2" clearly does. Based upon Hideaki Sorachi's acclaimed manga-series, the first "Gintama" was as out-and-out bonkers a samurai flick as there ever will be, at least from the perspective of newcomers to the property. For fans of the source material, director Yuichi Fukuda brought their favorite manga to life with an utterly unrivalled fidelity to that source material, and in so doing, made a compelling case for manga and anime as the next big gold mine of intellectual properties for filmmakers to draw upon. Martial arts fans will certainly want to mark their calendars for "Gintama 2" as well, given that it looks set to deliver the same degree of unbridled action craziness of its predecessor in the vein of "Tai Chi Zero" and "Scott Pilgrim vs the World".
"Gintama 2" is set to hit theaters in Japan on August 17th. Stay tuned for more info on the film's release in the English-speaking world as it arrives. What are your thoughts and impressions on this sequel and indeed the first "Gintama"? What other manga or anime you would like to see adapted to high-quality live-action movies? Let us know in the comments below; Like, share and join in the conversation with us on Facebook and follow us on Twitter & Instagram. (Since you're here, click on for more of your news fix 'n' FU-flix!)