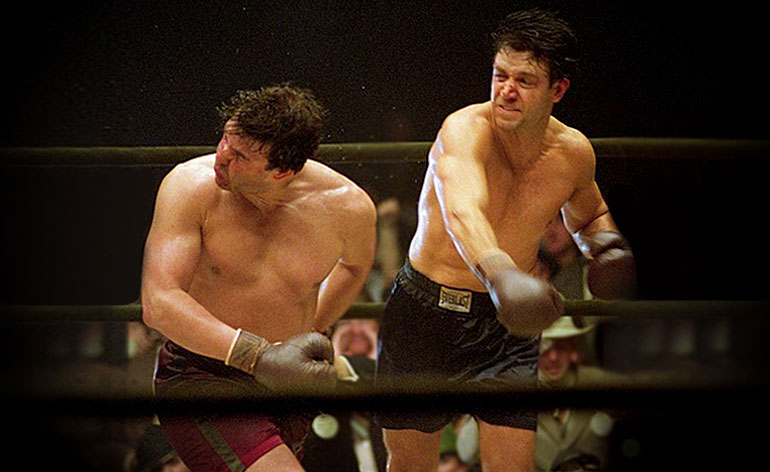 Directed by Ron Howard, director of "Angels and Demons" and "A Beautiful Mind", "Cinderella Man" bring us to late 1920's New York, just before the stock market crashed and the Great Depression took hold. The story is inspired by the life and trials of James Walter "Cinderella Man" Braddock. Braddock eventually adopted the name 'James J. Braddock' to follow in the footsteps of other boxing champions like James J. Corbett and James J. Jeffries.
Trailer
A rags-to-riches to rags-to-riches again kind of story, it will have you wincing at every punch that lands, keeping you firmly sat at the edge of your seat. It emotionally draws you in as the film progresses -if you've never seen it, get it and thank me later.
Cast
Russell Crowe breathes life into the character of James J. Braddock, he embodies a true gentleman, a family man and a hard worker, he hits hard and seemingly thrives in the face of adversity.  Nothing will stop him from feeding his family. Renee Zellweger plays our warrior's wife, Mae Braddock. She hates him fighting and never listens to his bouts on the radio fearing she'll jinx him to lose.
Paul Giamatti takes on the role of "Joe Gould", Braddock's longtime friend, trainer and manager. Their relationship underwent some issues over the years, mainly due to Mae and Gould's strained relationship, but he always believed Braddock could be great again. Bruce McGill plays the cold, business-minded promoter, James Johnson. Johnson keeps emotions out of the fight business, making harsh decisions and having the power to make or break the career of any boxer in his stable.
Craig Bierko convincingly plays the arrogant antagonist of our film while Paddy Considine makes an appearance as Braddock's friend and colleague at the docks, Mike Wilson.
If you're an avid boxing fan, you'll notice some professional fighters also make an appearance, "Art" Binkowski, a polish born Canadian super heavyweight boxer, playing "Corn" Griffin and retired boxer/actor, Troy Amos-Ross as John Henry Lewis. Braddock's real-life granddaughter, Rosemarie DeWitt, plays the troubled wife of Mike Wilson.
Plot
Our inspired tale begins in 1928, New York. Crowds screaming on their feet, we see a battered Tuffy Griffith taking serious punishment from our protagonist, Jimmy Braddock. A smiling, confident Braddock demolishes his opponent in brutal fashion – with a knockout, now Braddock is a contender for the Championship.
After the fight, Braddock and his manager, Joe Gould, talk money and business in the back of the car. It seems as though there is some tension between Gould and Braddock's wife, Mae, as Braddock sarcastically invites Gould into his home to see the kids. Gould's only response is "You still married to the same girl?" and respectfully declines his offer. Mae believes that Gould is going to use Jimmy and leave him a beaten, broken wreck, so she avoids seeing Gould whenever she can.
As Braddock approaches his beautiful home, he sees his wife standing on the steps, eagerly awaiting his return. He hangs his head low, furrows his brow, feigning a loss. He looks up, locks eyes with Mae and smiles. Mae explodes with relief and happiness running into Jimmy's arms.
We are soon shot forward in time to 4 long years into the Great Depression. Times have changed in the Braddock household; the beautiful house they once owned is substituted for a small, run-down apartment. None of this seems to have affected the family though; they're just as at peace with nothing as they did with everything. Watered down milk, overdue bills and the bitter cold won't break this family.
Braddock doesn't often get picked to work on the docks, work is scarce. Though a "$50 win or lose" bout could help put a bit more distance between his family and the street. Down at the local armory, Braddock readies himself for the contest against a local up and comer, Abe Feldman. Braddock ends up breaking his hand (seemingly not for the first time) and the fight is eventually declared a no contest, a poor showing for both men, leaving Braddock with nothing to take home to his family. His boxing license is revoked and presumably his boxing career over.
In a desperate move, Mae sends the children to her sister's, hoping they'll be better off. Braddock is furious, but left with limited options, so he signs on at the relief office. He later arrives and the boxing commission's HQ, hat in hand, literally, begging for some help to pay his bills and get his kids back. Here is where the comeback begins…
Gould arrives at the Braddock household to make James an offer he cannot afford to turn down; a clash with "Corn" Griffin, one of the top dogs in the weight class, though Braddock is just happy he has the opportunity to make some money for his family.
Eventually making his way to the top, battling adversity from every angle as he does so, Braddock finds himself being scheduled for a contest against the champ, Max Baer. A vicious knockout artist famed for killing two men in the ring. Can Braddock redeem himself and get back everything he's lost?
Action
From beginning to end, this masterful depiction of the sweet pugilistic science bombards you with carefully choreographed scenes of elegant destruction. What's really worth noting is the heart of Braddock. Something a lot of fighters talk about all over the world. No matter how battered or bruised he finds himself, he doesn't miss a step. Every time he hits the canvas, you can see his body language reset as he prepares to advance once more. His will and sheer determination is especially evident in the scrap with Corn Griffin. Braddock intensely stares at the crowds, the fans holler and scream and like a true competitor, Braddock absorbs this energy to the detriment of his opponent.
The use of real professional boxers such as "Art" Binkowski and Troy Amos-Ross really helps bring a sense of reality to the film. They were even asked by the director to make the fights as real as possible, although consequently this resulted in Crowe being injured several times during filming.
This is a real sense and demonstration of dedication from the entire cast and crew to really get behind each fight scene and get it right. Crowe really loved this role and has even declared it as one of his personal favourites.
In our opening bout, an unstoppable Braddock is in the middle of winning a lopsided contest against his opponent, hot prospect, Tuffy Griffith. Winning by knockout, it seems he's in the title contention mix, maintaining his reputation as "the spoiler".
In the later fight scenes, first-person style camera shots are used in which they actually used a "tire camera" covered in plexiglass for the actors to hit as though it were a punching bag. This gives a unique perspective from Braddock's view proving very effective in grabbing viewers' attention. Next up we have the Abe Feldman fight, a lackluster bout, a few years after his knockout of Griffith.
Each fighter throws a few punches, nothing damaging lands on either combatant. Braddock briefly picks up some momentum with some well-placed straights and hooks before he breaks his hand with a misplaced shot to Feldman's head. The crowd boos, throwing popcorn and rubbish into the ring after the fight is declared a "No contest". Braddock appears to be a shadow of his former self and formidable title challenger he once was.
After having his license revoked by the commission, Braddock goes back to working on the docks, until his manager, Joe Gould arrives with a life changing offer in the form of "Corn" Griffin. At the peak of his career, Griffin is a beast of a man and expects to run through our hero. This bout is filled with stunning combinations and a few back and forth exchanges favouring Griffin at first, with Braddock picking up speed as the slugfest continues. Armed with his newfound left-hand weapon, Braddock once again looks to shock the world.
He continues to do so in his next two fights against John Henry Lewis, who had actually handed Braddock a close decision loss after a close 10-Round battle some years previous. In between rounds, Lewis' corner becomes frustrated, "You beat this guy easy last time…" to which a panicked Lewis replies, "That ain't the same guy!"
Art Lasky, the Minnesota Boxing Hall of Famer, also has the misfortune of taking on "The Bulldog of Bergen" (another nickname he had was "Pride of the Irish Pride of New Jersey"). Despite Braddock racking up some wins, Lasky still doesn't see him as a challenge, but soon gets taken to school in a veritable back and forth war.
In every fight, we see Braddock struggle to some degree at different stages, but he uses unpredictable movement and a granite chin to be able to absorb damage and come back stronger. In our final bout, a cocky, overconfident Max Baer accepts a title challenge in the form of our hero of the working-class masses. Baer taunts and throws hammer-like haymakers with no technical prowess, but rather with malicious intent, aiming to remove Braddock's head clean off his shoulders. A patient Braddock bides his time using a combination of his technical ability and that stinging left hand to keep Baer at bay. But, with the climbing intensity, the twists, the turns that pulverize… what do you think it will take to get the belt?
Summary
Cinderella man is a real-life story which depicts the unfair nature of life, filled with true grit and a will that can't be broken. The film was nominated for a host of awards, with Giamatti scooping up "Outstanding performance by a male actor in a supporting role". This was just one of 16 wins, with 44 nominations in total. Cinderella man is truly an inspirational tale, focusing on resilience – the getting back up part when you've been knocked down. Something we can all relate to in our own way, in our own lives.
Crowe plays the character of Braddock flawlessly having dedicated a lot of his time to the role. He said that it was much more difficult to prepare for than "Gladiator". What I particularly enjoyed about the film was Mae and Braddock's unchanging relationship when they hit hard times. In some scenes, you see couples under strain and relationships falling apart, but not these two. Braddock uses Mae as inspiration as his rock, when he's hit rock bottom, literally and figuratively.
The action doesn't let you down for a second and gives you the sense of a courageous "it's not over yet…" tale throughout. We all love a good comeback story and you won't find a better one than in "Cinderella Man". All that's left for me to say is, Ladies and Gentlemen, let this movie be one of your main events of the evening!
Trivia
In the words of New York writer Damon Runyon (who coined the name "Cinderella Man") "In all the history of the boxing game, you find no human-interest story to compare with the life narrative of James J. Braddock…"
Crowe sustained cracked teeth and several concussions throughout filming and even a dislocated shoulder which halted filming for 2 months.
The sound designer used watermelon, beef and even broken glass for the sound of each punch.
Though set in New York, the film was actually shot in Toronto, Canada as the director felt New York had "changed too much" since the depression.
Crowe and Bierko were not friendly onset, which helped build some tension between the two. Crowe even excluded Bierko from his 40th birthday party to add to the already tense relationship.
Braddock's children really did think their dad was bringing home a turtle, rather than the title.
Portrayed as a brash, overconfident foe, Max Baer wasn't like that in real life. The film shows him bragging about killing two men, almost proud of this fact, when in reality, those two deaths haunted him for most of his life. He donated most of his purse to the wives of his victims and broke down in tears when he heard his opponents had passed away.
The character of "Primo Carnera" was played by Matthew G. Taylor, who played the role of 'Nemesis' in "Resident Evil", a former police officer with years' of martial arts training.
Film Rating: 8.5/10