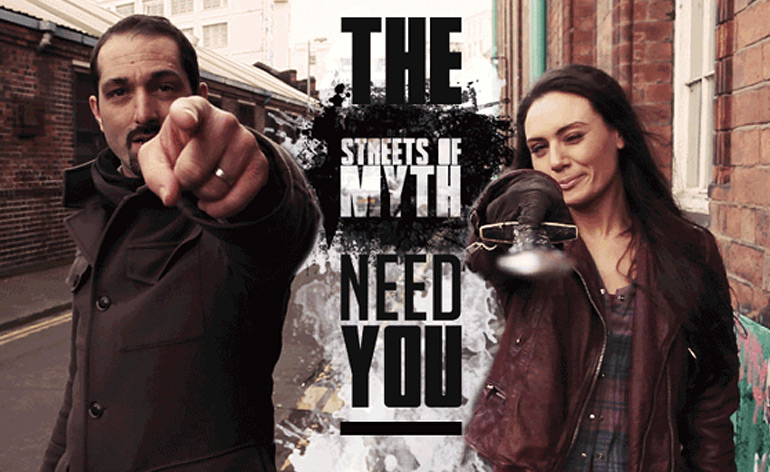 In November of last year, filmmaker Brandon Kahn released a short proof-of-concept video for his planned martial arts web series "Streets of Myth" on YouTube. Now, he's prepared to get the ball rolling on the series and has launched a Kickstarter campaign to solicit financing for the series pilot episode. The series's first season will consist of ten to twelve 30 minute episodes set in a fantasy version the city of Birmingham. Kahn likens the setting of the series' to the "Lord of the Rings" trilogy by Birmingham native J.R.R. Tolkien, with a fantastical, late-70's take on the city in which all its inhabitants are martial arts experts.
Leading the pack of the series' cast of warriors is Zara Pythian, who ranks as one of the most accomplished martial arts champions in the U.K., holding two Guinness World Records and being the first English martial artist to be inducted into the International Karate and Kickboxing Hall of Fame, alongside the likes of Bruce Lee and Chuck Norris. Pythian also appears in the film "Warrioress" alongside Cecily Fay, and has frequently performed with her in Fey's performance group "Babes with Blades". Fight choreography duties will be handled by Beau Fowler, who will also appear in the series and who handled the choreography of the proof-of-concept video, as well.
Kahn is currently seeking to raise approximately £30,000 for the pilot episode, and the Kickstarter page is rife with perks and rewards that contributors will receive according to the amount they donate. Once the necessary funds are secured, Kahn hopes to begin on the pilot this summer, with the release taking place in late August to early September. The advent of social media and online video sharing has given aspiring filmmakers and fans alike an avenue for direct interaction with one another and a platform to release their work a massive scale that would have been unthinkable just ten years ago.
Kevin Tancheron's fan film "Mortal Kombat: Rebirth" was released online the widespread acclaim for MK fans, leading to a follow-up web-series "Mortal Kombat: Legacy". Similarly, Joey Ansah and Christian Howard's fan film "Street Fighter: Legacy" drew a rapturous response from fans when it was released on YouTube, and fans will soon see the duo's efforts fully realized in the upcoming series "Street Fighter: Assassin's Fist". From the way Kahn describes it, it sounds like "Streets of Myth" has the same set of ingredients at work, and just going by the original proof-of-concept, "Enter the Streets of Myth", it's definitely something to get excited for. Take a look!
To contribute to the pilot episode, visit the "Streets of Myth" Kickstarter page. For more information about the series, visit their Facebook page and YouTube Channel, as well as the series main website!
https://www.kickstarter.com/projects/brandonkahn/streets-of-myth-episode-01
https://www.facebook.com/streetsofmyth
http://www.youtube.com/user/StreetsOfMyth?feature=watch
http://streetsofmyth.com/