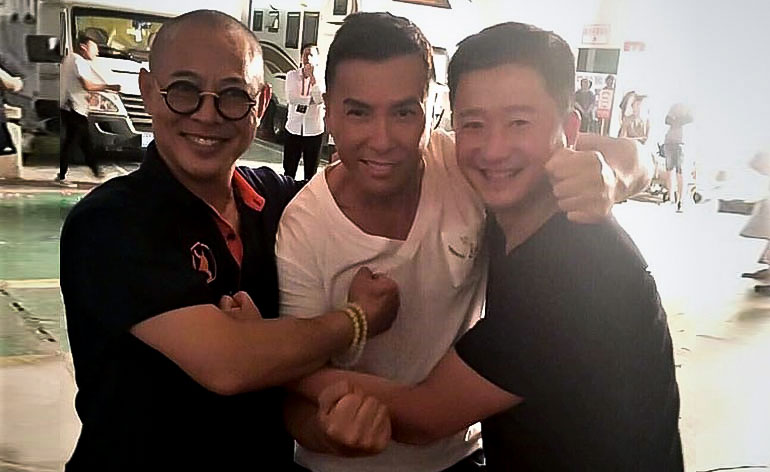 As the world awaits the release of the mega-martial arts ensemble that is "Triple Threat", just ICYMI it seems that a triple threat of a different sort will also be making landfall in the interim in the form of Donnie Yen's upcoming collaboration with Jet Li and Wu Jing – all the more fitting, given that all three have no doubt been fancast in the minds of countless fans around the world for the former's already greenlit sequel!
News of the trio's collaboration came in late September via Donnie Yen's Facebook page, where he posted the photo above alongside Li and Wu, with the following message that martial arts fans across the globe have doubtlessly spent no end of time dissecting:
"Jet Li, Wu Jing and I recently shot something which will shock the world! Releasing shortly and will update you guys! Remember Once Upon a Time In China 2, Hero and SPL (Kill Zone), some of the best, classic fight scenes created!"
All three men are names that need no introduction to action fans. The last decade has seen Donnie Yen emerge as one of the biggest action stars on the planet, following his portrayal of Bruce Lee's eponymous Wing Chun mentor in the "Ip Man" movies and his incorporation of MMA techniques into action hits "SPL" (Kill Zone), "Flash Point", and "Special ID", as well as the upcoming "Big Brother". More recently, Donnie's career has expanded into the English-speaking world with crowd-pleasing appearances in "Rogue One: A Star Wars Story" and "xXx: Return of Xander Cage".
His "SPL" co-star Wu Jing has grown increasingly recognizable to international audiences, as well. Following the 2015 Hong Kong smash hit "SPL 2: A Time for Consequences", which paired him with Tony Jaa and Max Zhang of "Ip Man 3" fame, Wu effectively created a Chinese "Rambo" with the 2015 hit "Wolf Warrior", following up with a colossally successful sequel this summer that single-handedly solidified the box-office clout of China on the international stage.
The upcoming project also sees Jet Li return from something of a semi-retirement. Beginning his career in the early 80's with the highly successful "Shaolin Temple" series, Li would go on to become one of the biggest stars in Asia, with hits like "Fist of Legend", "Fearless", and the "Once Upon a Time in China" series consistently ranking among the greatest martial arts films of all time. Li's Hollywood career would produce such hits as "Kiss of the Dragon", "Unleashed", "The Forbidden Kingdom" (opposite Jackie Chan), and "The Expendables" series. Recent years have seen him scale back action-heavy roles citing health concerns (though these concerns have reportedly subsided) while primarily focusing on his philanthropic work, so this upcoming project will no doubt mark quite a triumphant return indeed!
Stay tuned for more info on Donnie Yen, Jet Li, and Wu Jing's shortly releasing mystery project as it trickles through!