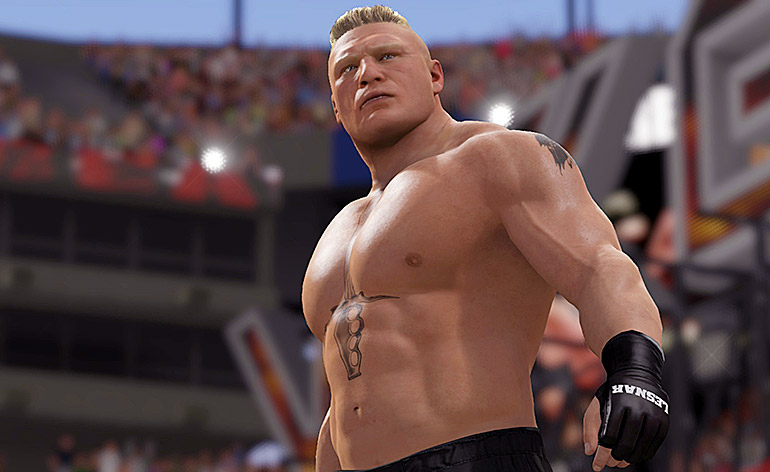 Publisher: 2K Games
Genre: Fighting
Year: 2016
Trailer
Review
WWE 2K17 is the latest release in a long line of WWE video games. It's obviously a wrestling game and allows you to recreate the excitement you see on TV or at the live shows by controlling and fighting as your favourite WWE wrestler.
The wrestlers look amazing, the most lifelike the series has yet produced. There are some minor issues (like longer hair) but these can be overlooked as the graphics are stunning. The surrounding areas including the crowd are good but not to the same standard, however your focus will be on the wrestlers and trying to beat your opponent into the ground.
The range of combatants available to play is massive. Nearly all the Smackdown and Raw wrestlers are available, with plenty of the NXT roster ready to rumble as well.  There are plenty of legends, including some of their different characters (e.g. Mankind, Dude Love, Cactus Jack), as well as some managers. It will take you a while to play them all as there is a tremendous range. The rings do look good and returning with this version is the ability to fight backstage (hallway, locker room and office) as well.
The game modes available are: MyCareer, Universe and Multiplayer. Multiplayer mode is straightforward and allows you to fight other players, smashing your friend or family into submission. Universe mode allows you to create your own PPV, shows, arenas and even your own title belts/championships! MyCareer mode is a brilliant idea. You create your own wrestler and take them through training at the performance center with a coach, moving to the NXT platform and showcasing your skills before progressing to the main roster and shows, working towards the championships belts.
The game is available on PlayStation 4, PlayStation 3, Xbox 360 and Xbox One. Downloadable Content (DLC) packs are available since the release with more to come in 2017.
Martial arts
The WWE Universe has had lots of wrestlers possessing a martial arts background or training over the years although not all have incorporated their training and moves into action for the ring.  Some (but nowhere near all) of the wrestlers who have training or a background in martial arts are:
Dave Bautista: Muay Thai and BJJ under the Gracies.
Brock Lesnar: Kickboxing, Boxing, BJJ and a National Freestyle wrestling Champion. No wonder he has been so successful in the UFC!
The Undertaker: Took up BJJ during his time in the WWE and now holds a black belt.
Rob Van Dam: One of the first wrestlers many think of when you mention martial arts in WWE. He has trained for many years in Kickboxing, Aikido, Kendo and Taekwondo.
Steve Blackman:  As with Rob Van Dam, one of the first wrestlers many think of when you mention martial arts in the ring. He spent time learning Escrima and Taekwondo and was one of the few wrestlers able to bring his martial arts into the ring with his character using Escrima sticks on his opponents.
Eve Torres: Kickboxing and a blue belt in BJJ.
Alberto Del Rio: Kickboxing and BJJ, fought Mirko 'Cro Cop' Filipovic in an MMA match.
Kurt Angle: Olympic Gold Medal winning wrestler, also trained BJJ.
Ken Shamrock and Dan Severn, both better known for their MMA fighting than their WWE careers.
There are moves on display in the game that students from many styles will recognize, with some characters showing more than others due to the background and training of the wrestlers, but a front kick, is a kick, is a kick, and this is WWE 2K17, not Aikido 2K17! Judo and BJJ style moves are more evident than some of the more striking arts such as Boxing and Muay Thai for example but that's to be expected in a wrestling game. Although weapons are used in the ring from time to time, they tend to be those rather fun items such as ladders, dustbins and tables, instead of swords and staffs, etc, although Kendo sticks do make it into the ring on occasion!
Summary
WWE 2K17 is awesomely good fun for all fighting game fans and well worth checking out when you're not training! There are enough differences here to ensure it stands out from the other fighting games out there and the visuals are simply stunning.
If you're not familiar with the game and fancy getting stuck in, this is definitely worth checking out.
Even if you have WWE 2K15 or 2K16, since WWE 2K17 has refreshed the series (for this reviewer) it's certainly worth considering!
Game Rating: 8/10