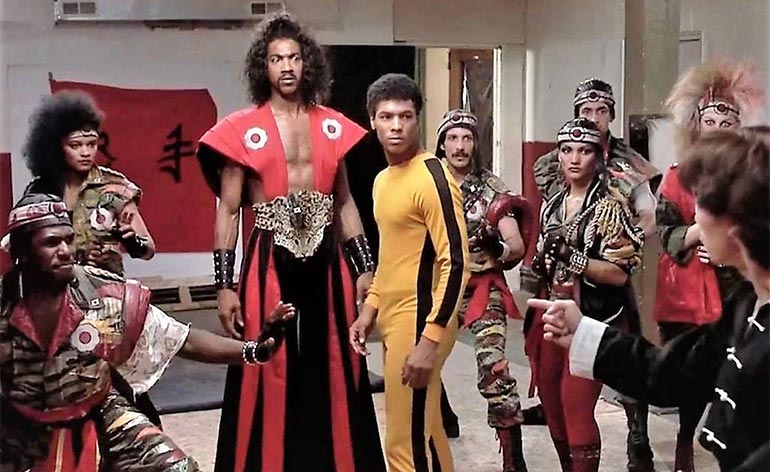 Martial Arts and eighties disco Motown music are fused together in an entertaining fantasy action, musical love story, that after thirty years still stands out as one of the more colourful additions to the martial arts genre.
Trailer
CAST
Taimak is cast as "Bruce" Leroy Green, a martial arts student on a spiritual quest for enlightenment but also looking to avoid his nemesis Sho 'Nuff, played by the late Julius Carry III.
Vanity as Laura Charles is the quintessential damsel in distress and unlikely guide to Leroy's journey, who is being harassed by video game magnet Eddie Arkadian, a menacing turn from Chris Murney.
Other colourful and supporting players include Glen Eaton as Leroy's student Johnny, and Leo O'Brien as Leroy's more worldly, younger brother Ritchie.
PLOT
Martial arts student and Bruce Lee devotee Leroy searches New York City for the master who will help him reach the final level to attain a spiritual glow. However Leroy finds himself distracted by Laura Charles a disco queen whom he rescues from thugs sent by Eddie Arkadian. Leroy is also being hunted by the evil Sho'Nuff, the Shogun of Harlem who wants to fight Leroy to prove once and for all who the true master is. Leroy finds that the non-violent path is not an easy one to walk and sooner or later he must face his destiny.
The Shogun of Harlem with entourage
Sho and Leroy duke it out
Ritchie body pops himself free
Playtimes over
Leroy the ninja
Laura knows the way to Leroys heart
Laura and Leroy share a moment
Johnny impresses with nunchakus
ACTION
Nineteen year old Taimak impresses in his debut and much of the film centres on him as Leroy in action. From knocking the stuffing out of Arkadian's goons to battling a bevy of hitmen in the discothèque finale, Taimak is very light-footed with crescent kicks, open hand strikes and very fast back kicks executed in fluid succession -it all convinces!
Julius J Carry III as Leroy's nemesis Sho 'Nuff manages to play the ridiculousness of his character effectively straight so as to actually be menacing and aggressive. Carry's fighting style is a tad unorthodox but he is swift and nimble, roaring as he punches, leaps and kicks his foes to the ground. Carry only gets two brief scenes to strut his martial stuff but it all comes together in the exciting finale.
The film's finale remains one of the most exciting climactic martial arts battles – evoking the final battle from "Enter the Dragon". Setting it in a discothèque however with funky music playing as Leroy and his students' battle Arkadians assassins adds bass to the exhilarating all out fights. The scene features a mixture of martial arts action and some comedy, and gives the floor to the other talented cast members including Glen Eaton as Johnny who proves more than capable with a pair of nunchakus, and 12 year old Ernie Reyes Jr displaying some remarkable, acrobatic Taekwondo skills. This leads to the inevitable clash between Leroy and Sho 'Nuff which does not disappoint in combat content or conclusion.
Johnny explains his fighting technique
I would not do that if I were you
Ernie Reyes Jr
Dont make Leroy angry
Bruce Leroy to the rescue
Bruce Leroy is on a quest
Arkadian sets the stage
A little kick with a lot of power
SUMMARY
The Last Dragon is at its heart a martial arts film with a familiar spiritual message echoed in Dwight David's theme song, wrapped in a comedic musical package with Motown paying its own tribute to Bruce Lee. Fans will laugh as Johnny gives his own take on the art of fighting without fighting, and be wowed by the video montage of some of Bruce's finest moments. It is a film that revels in both its silliness without sacrificing the core story of Leroy's journey or skimping on the crowd pleasing martial action.
TRIVIA
"The Last Dragon" has been referenced by various music artists including Busta Rhymes, who in his video to "Dangerous" dresses as Sho 'Nuff and replicates his opening speech. Dance group LMFAO utter the line "And like Bruce Leroy I got the glow" in their infamous track "I'm Sexy and I know It".
Taimak is the student of legendary martial arts fighter and actor, Ron Van Clief who devised his own mixed fighting system, Chinese Goju.
Talks were abound of a "Last Dragon" remake with Samuel L. Jackson rumoured to play Sho 'Nuff.
Film Rating: 8/10