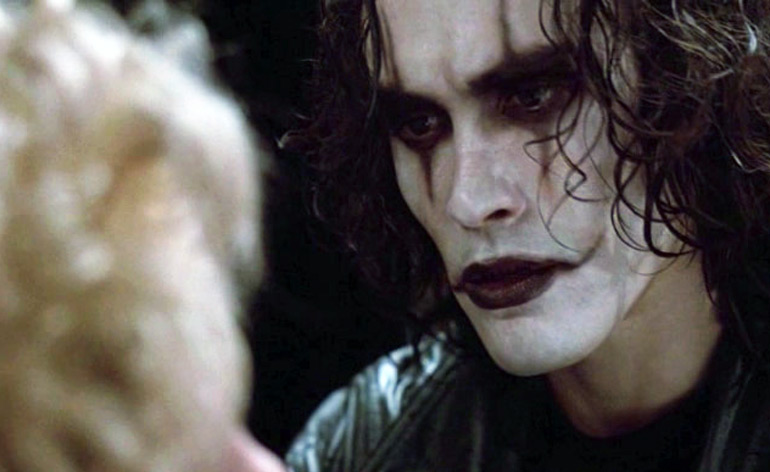 When watching "The Crow", Brandon Lee's final film during which he was accidentally shot and killed, one becomes aware of the sombre irony embodied in the film's tale. Just as the hero of the story returns from the dead, so too does it seem that Brandon Lee is resurrected in a similar fashion, to put some unfinished business to rest. James O' Barr created "The Crow" comic series as a vehicle for grieving following a tragic loss, and somehow the film acts as a conduit to express the grief felt over the loss of one of cinema's brightest young stars.
Trailer
Cast
Brandon Lee is captivating as rock star Eric Draven brought back to life to seek vengeance. It marked something a departure for Brandon moving away from conventional martial arts action and revealing more of the sort of acting evident in his penultimate film "Rapid Fire". Brandon conveyed Eric Draven's torment with a thoughtful passion lending a multifaceted, emotionally charged performance effortlessly accentuating at times his painted on death mask.
Providing him with amiable support is one of Hollywood's busiest actors Ernie Hudson as Sergeant Albrecht. Despite making over 200 appearances in film and television Hudson is better known as Winston Zeddmore from the "Ghostbusters" films. In a more serious role of a street cop haunted by Draven and his fiancé Shelly Webster's (Sofia Shinas) death Hudson is excellent, especially in the scenes he shares with Brandon with two actors displaying some stirring rapport.
In Draven's vengeful sights are the thuggish gang of four; Lawrence Mason is the knife wielding TinTin, Angel David as speed freak Shank, Michael Masse as drug addict Funboy, and David Patrick Kelly ("48 Hours" and "Dreamscape") is their leader T-Bird. All four revel in their villainy, and the script takes great pains in emphasising their depravity from swallowing bullets to committing rape and murder.
You have put a smile on my face
Victims huh arent we all
Top Dollar makes his point
Times up for T Bird
The crow leaves his mark
Reigning over that quartet of corruption is Michael Wincott as crime Kingpin Top Dollar with his trademark gravelly voice, and cold demeanour. Wincott brings to life a remorseless and fearsome crime boss who basks in the chaos he inflicts on a frightened society with a witty, chillingly delivered quip.
Plot
As the fires of devil's night rage across the night sky, rock star Eric Draven and fiancé Shelley Webster are brutally killed. One year later Draven returns from the grave, with a crow acting as his link between the land of the living and the realm of the dead, to seek bloody retribution on those who killed him and the one he loved.
Action
This is more of a thriller than an action film in comparison to Brandon's previous work, with the story taking centre stage. Director Alex Proyas and cinematographer Dariusz Wolski created a dark and decaying world reminiscent of the dystopian world of "Bladerunner" with some of the gothic indulgences of Tim Burton's "Batman." The almost constant rain and darkness engulfing the decrepit buildings symbolise the residents' sense of despair with the only glimmer of hope echoed in Eric Draven's song lyric "Can't Rain All The Time."
Someone meets an explosive end
Sergeant Albrecht makes an arrest
Nothing is trivial
Michael Wincott as Top Dollar
Draven is back from the dead with a vengeance
With a combination of Graeme Revell's haunting score and some choice, hard rock songs providing the soundtrack, Draven and the crow glide from roof to roof of the drab buildings taking down the men who killed him and his fiancé. From knife fights in darkened alleys, and getting creative with drug filled hypodermics, the violence is implicit yet brutal, made all the more disturbing by the crow emblem left at each scene. Draven tears through the city leaving a wake of destruction, stopping to recall the pain of his memories, experiences leading to his death which only adds the gravitas of anger to the ensuing action.
The film's climactic boardroom standoff, expertly co-ordinated by stunt legend Jeff Imada, sees Draven battle Top Dollar's platoon of deranged thugs. There are some John Woo-esque balletic gun fights as well as snippets of Brandon Lee's martial arts skills, and whilst this was included to draw action fans, it actually acts as an extension of Draven's supernatural ability providing him the gauntlet through which he fights on through to his showdown with Top Dollar.
Summary
"The Crow" is a supernatural thriller with some action in which Brandon Lee not only cemented his role as an action star but revealed a lot more of his dramatic and sensitively attuned acting ability. His death during the film's production provides a melancholy subtext which only amplifies the film's dark and tragic story. Putting all the sadness aside "The Crow" is still an entertaining and viscerally absorbing film, with great performances and stunning visuals. It remains a memorable legacy to the talent of the late Brandon Lee.
Draven has a message to deliver
Draven and Top Dollar battle it out
Cant rain all the time
Albrecht in less formal attire
Addressing the board
Trivia
"The Crow" was turned into a television series starring Mark Dacascos as Eric Draven.
Brandon Lee ad-libbed the line "Believe me nothing is trivial".
Michael Wincott is the younger brother of martial arts star Jeff Wincott.
Here's a "Crow" music video featuring the atmospheric song "Why" by Stabbing Westward:

Film Rating: 8/10