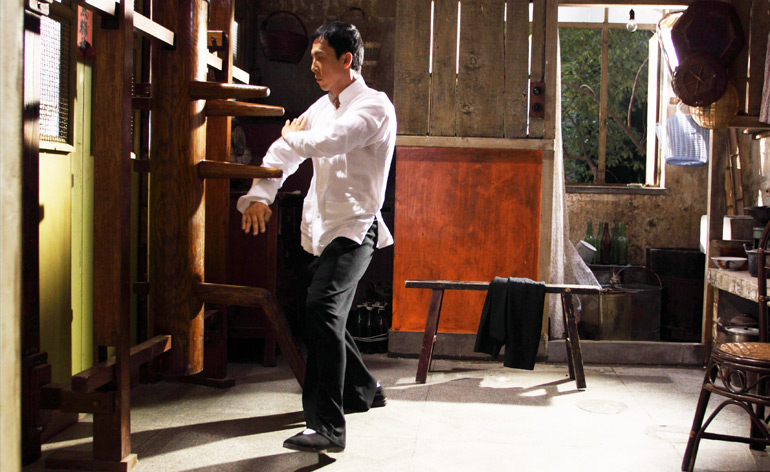 The long-anticipated third installment of Donnie Yen's "Ip Man" series has officially begun production, with Wilson Yip returning to the director's chair and former world heavyweight boxing champion Mike Tyson joining the cast. Additionally, the series will finally depict the famed Wing Chun master's mentorship of his most renown disciple, the legendary Bruce Lee, who had previously made a brief cameo in the last film scene of "Ip Man 2", and who will reportedly be portrayed with some CGI-assistance.
Though Donnie had always been a well-known action star in Hong Kong, his portrayal of the revered Wing Chun master shot him to global superstardom, as well as popularizing the art of Wing Chun across the world. Since then, he's made some of the most acclaimed martial arts films of the 21st century, and even found time to stop in London for the premiere of "Kung Fu Jungle", where he was interviewed by a certain martial arts themed website called Kung Fu Kingdom!
Donnie has also put out the following message via his social media accounts: "I'm setting the goal for Ipman 3 to be the best movie of my career ! Lets bring it on!!" Obviously, Donnie's  always put everything he's got and then some into everything he's done, but these words have a particular potency to them following Donnie's recent comment that "Ip Man 3" could very well be his final martial arts film. Time will tell if that ends up being the case (it would certainly call "Noodle Man" and "Dragon City" into question), but retiring on his most iconic role would be a high note if ever there was one!
Stay tuned for more information on "Ip Man 3" at it arrives!