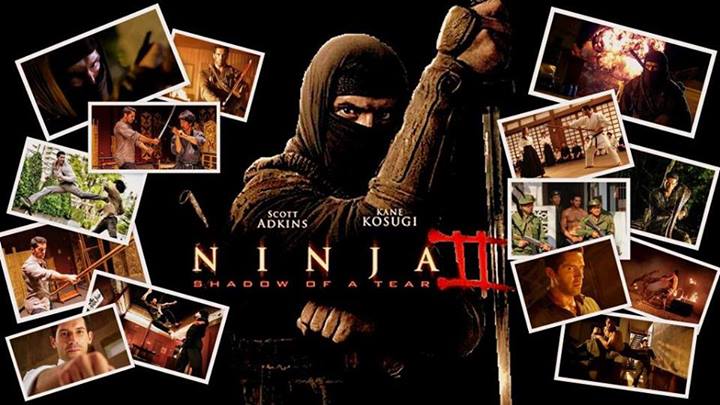 Isaac Florentine and Scott Adkins' seventh collaboration, "Ninja: Shadow of a Tear" will arrive just in time for the coming New Year! The sequel to the duo earlier film "Ninja" will see Adkins returning to the role of American Ninjutsu master Casey Bowman, an expecting father with his late masters daughter, Namiko, and soke of his teachers Ninjutsu school. Casey finds his world turned upside down when Namiko and his unborn child, after which he tracks the killer to Burma and vow to avenge his murdered family.
The first "Ninja", which marked Scott Adkins first leading role, had the unfortunate luck to be released in the shadow of "Ninja Assassin", and both Adkins and Florentine would later express some dissatisfaction with the finished film. The sequel was filmed in Thailand in early 2013, and Adkins described it as possibly the most difficult film he's made, to date. However, the duo's efforts to one-up the original film seem to have paid off in spades, if the reviews the sequel has received are any indication. The film was featured at Fantastic Fest in Austin, Texas, earlier this year, and you'd be hard-pressed to find a less than glowing review of the film since it's premiere.
Fight choreography duties were handled by Tim Man of "Kill 'Em All", who will also appear in the film itself. Additionally, Kane Kosugi, son of the king of Ninja films (and the villain of "Ninja Assassin") Sho Kosugi, will been seen in the film, as well as up-and-comer Jawed El-Berni and Dutch superkicker Ron Smoorenburg of Jackie Chan's "Who Am I?" Adkins has also revealed, via his Facebook page, that the long awaited "Undisputed 4" is all but greenlit, and the success of "Ninja: Shadow of a Tear" will allow latest outing of Yuri Boyka to proceed. Heed Adkins' words, lovers of martial arts cinema! The acclaim that the film has received is a strong indicator that Adkins and Florentine are finally receiving the respect they've long deserved after years of running circles around Hollywood's mainstream action films, and with a fraction of their resources, no less! What better way for martial arts lovers to bid farewell to 2013 than with "Ninja: Shadow of a Tear"?