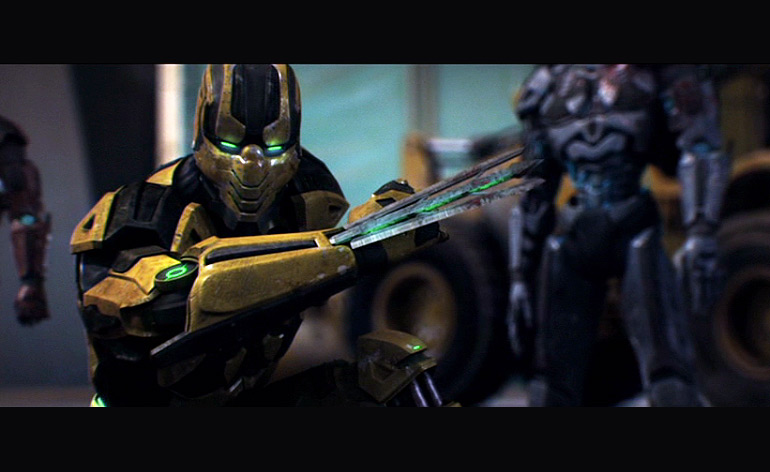 Video game adaptations don't exactly have what one would call a "good" track record whenever they've made it onto the big screen, but YouTube is another story. Like the acclaimed web-series "Street Fighter: Assassin's Fist", Kevin Tancheron's "Mortal Kombat: Legacy" began life as a fan film, aptly titled "Mortal Kombat: Rebirth" that exploded the moment it hit the Internet, eventually transitioning into the unapologetically dark and gruesome reboot that fans had been wanting to see for years.
Cast
Several cast members from "Rebirth" reprise their roles in "Legacy". Michael Jai White and Jeri Ryan return to the roles of Detectives Jackson "Jax" Briggs and Sonya Blade. Matt Mullins again assumes the persona of headstrong action star Johnny Cage and Ian Anthony Dale reprises the role of the harpoon-wielding ninja Hanzo Hasashi aka Scorpion.
Kevan Ohtsji steps into the shoes of Scorpion's arch-rival Bi-Han aka Sub-Zero, while Samantha Jo and Jolene Tran portray sibling assassins Kitana and Mileena, with Aleks Paunovic appearing as their warlord father, Shao Kahn. Johnson Phan portrays Shao Kahn's closest lieutenant Shang Tsung, while Shane Warren Jones and Peter Shinkoda adopt the roles of the cybernetic warriors Cyrax and Sektor. Rounding out the cast is Ryan Robbins as the immortal God of Lightning, Lord Raiden, and the late Darren Shahlavi in the role of ruthless crime boss Kano.
Sub Zero never retreats
Shan Warren Jones as Cyrax intensifies his assault
Ryan Robbins as Raiden readies himself for Mortal Kombat
Mileena catches Kitana off guard
Plot
The story of "Legacy" takes the form of an anthology, with each episode devoted to one or more characters and their respective origins prior to their involvement in the Mortal Kombat tournament.
Episodes one and two follow Jax's raid on Kano's criminal operation, and his efforts to rescue Sonya Blade from his clutches. Episode three focuses on Johnny Cage's struggle to return to his action movie glory days and the slimy producers who steal his idea for a television show. Episodes four and five depict the brutal training of adoptive siblings Kitana and Mileena under their father Shao Kahn, the merciless ruler of Outworld who plots to conquer Earthrealm after winning the next Mortal Kombat tournament.
Episode six introduces the viewer to the God of Lightning and Earthrealm's protector, Raiden, who finds himself imprisoned in a mental institution. Episodes seven and eight cover the history of Hanzo Hasashi during his life in feudal Japan, his vendetta with Lin Kuei assassin Bi-Han, and his transformation into the immortal warrior Scorpion. The ninth and final episode zeroes in on Bi-Han's fellow Lin Kuei assassins, Cyrax and Sektor, and their cybernetic metamorphosis, partially at the hands of Kano before the events of episode one.
Matt Mullins as Johnny Cage doesnt take kindly to having his ideas stolen
Kevan Ohtsji as Scorpion is determined to finish Sub Zero
Johnny Cage is ready to settle the score
Jeri Ryan as Sonya Blade prepares to infiltrate Kanos HQ
Action
The original "Mortal Kombat" film holds a place in the hearts of many gamers for being the first video game-to-film adaptation to successfully make the transition.
While it kept the gloves on in terms of the games' graphic violence and still pulled off a solid adaption of the series, director Kevin Tancheron throws the gloves off and replaces them with a set of brass knuckles. Every episode is rife with all the blood and guts that made "Mortal Kombat" the subject of Congressional hearings in the mid-90's.
Larnell Stovall, who also served as fight choreographer on "Rebirth", returns to handle the action in "Legacy" (and also makes a cameo as an orderly in episode six). Every fight sequence in the series packs a very memorable punch, seen perhaps most vividly at the conclusion of episode two following Jax and Kano's first smackdown. Reviewing the series in light of Darren Shahlavi's tragic death earlier this year, the first two episodes carry a lot of emotional weight. Darren was simply marvelous at playing villains, and the final shot of episode two is now almost heartbreaking with the knowledge that we'll never get to see him as Kano fully realized.
Ian Anthony Dale GET OVER HERE
Hanzo is proud of what his son has accomplished
Fraser Aitcheson as Baraka emerges from the shadows
The two introductory episodes are also somewhat marred by going the same route as the 1995 film and turning Sonya Blade into a hostage, which anyone who's ever spent five seconds playing the games will roll their eyes and groan at. Nevertheless, the first two episodes set the series up well with a perfect blend of dark atmosphere and brutal action with Jax and Kano's match-up, which ends in such a way that you wish they'd worked in that deep voice from the games to say "Finish Him!" Episode three moves the focus to Johnny Cage, an action star on the verge of hitting rock bottom, and Matt Mullins does the wisecracking pretty boy from the games proud with lots of flashy XMA maneuvers and even Johnny's trademark split-punch from the games.
Episodes four and five aren't quite as sharp as the first three. Half of each episode is told in the form of an anime flashback, which is an intriguing gimmick, but the series' take on Baraka looks like something you'd find in Middle Earth rather than Outworld, and it ultimately takes the episodes down a notch. Still, Kitana and Mileena's sparring match in episode five is one of the most dynamic of the series and sets up their rivalry from the games well. Episode six is arguably the weakest of the series because of how removed it feels from the story, but seven and eight more than compensate with their focus on the other great rivalry of "Mortal Kombat", Scorpion and Sub-Zero.
The feudal Japanese setting works well for the kind of origin story "Legacy" is establishing for the series. The episode cleverly finds a way to give Hanzo his signature harpoon before he makes the transition to Scorpion, giving him a reason to proclaim his trademark line that's been recited by millions of gamers all over the planet for decades, "Get Over Here!" Episode nine serves up just about the best action in season one, with Cyrax and Sektor first taking on a pair of enemies in human form, before being transmuted into cyborgs and doing battle with another mechanized enemy. All three fighters are rendered in CGI here, but it's as impactful and impressive as anything in the series or the games. It's not often you see robotic martial arts masters twirling through the air with somersaults and tornado kicks, or for them to be accompanied by a blunt "clang" noise on landing.
Flawless victory
Darren Shahlavi Terminators are also allowed to compete in Mortal Kombat
A swift tornado kick from Jax Michael Jai White
Summary
"Mortal Kombat: Legacy" successfully reboots the series with an anthology of well-conceived origin stories, an impeccably chosen cast (especially Michael Jai White and Matt Mullins) and delivers all the blood-soaked action you can ask for. Some episodes do work better than others, but it's still undeniably what a 21st Century "Mortal Kombat" should be.
Trivia
Jean-Claude Van Damme's daughter, Bianca Bree, auditioned for the role of Mileena. You can see her training for the audition in the television series, "Jean-Claude Van Damme: Behind Closed Doors".
Michael Jai White had been offered the role of Jax in "Mortal Kombat: Annihilation" in 1997, but ultimately chose to do "Spawn" instead.
The original pitch for the series, "Mortal Kombat: Rebirth" was released on YouTube on June 8th, 2010. Coincidentally, "Street Fighter: Legacy", the fan film that ultimately led to "Street Fighter: Assassin's Fist", was released on May 6th the very same year.
Film rating: 7.5/10
Watch the series here!