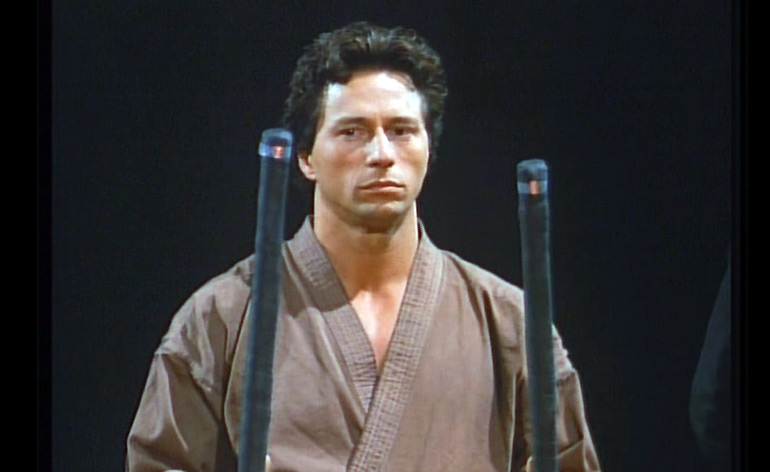 Canadian martial arts actor Jeff Wincott gained momentum on the rise to action stardom in his third film. Cast alongside some big names in Hollywood action and martial arts cinema, this intriguing tale of murder and double dealing in the backdrop of a cult-like organisation raises eyebrows for both quality of story and kick-ass martial arts action.
Trailer
Cast
Jeff Wincott is embittered cop Kurt Harris, looking to avenge the death of his friend, retired boxer Cedric Williams played by Tony Burton. Brigitte Nielsen is Dr Rachel Larkin, a cold and calculating personality whose cult like 'Mission of Justice' acts as a front for her corrupt property deals and power plays. Nielsen is amiably supported by Matthias Hues as her brother Titus and James Lew as henchman Akiro.
Black Belt Hall of Fame recipient Karen Sheperd is Kurt's partner Lynn Steele, a cop as honour bound and formidable as her partner. Billy Sly Williams plays Jimmy, a former gang member turned Peacemaker who witnesses Cedric's murder. Stunt and fight coordinator Jeff Pruitt makes an appearance as Sal a peacemaker from the mission who is genuinely unaware of his leader's real activities.
Plot
Ex-cop Kurt Harris goes undercover, joining the ranks of the Mission of Justice "Peacemakers" after his friend Cedric is killed by their leader Rachel Larkin and her henchman. Whilst there, he uncovers the Mission's nefarious intentions behind Larkin's mayoral campaign and that she would stop at nothing, even murder, to protect and further her interests.
Using Escrima like drum sticks
Titus the champ
Peacemaker Kurt springs into action
Officer Steele kicks out
Matthias Hues as Titus
Action
The film features some superb 90's action with fights that are fast and flowing to a high standard and Jeff Wincott brings his A-game to the show, back on familiar terrain of a tough talking, hard hitting cop with vengeance on his mind. There is very little gun fire in the movie because the peacemakers 'save the day' (or guard the compound) armed with only radios and martial arts skills providing the perfect excuse for our heroes Harris and Steele to holster those side arms to wield martial law enforcement instead.
"Karate Cop" choreographer Jeff Pruitt brings into play his kinetically packed Kenpo and Tang Soo Do blend. From the mini-mart robbery to the finale, Wincott, Sheperd and Pruitt (in his brief cameo) employ vicious looking, yet crowd-pleasing left hook, right cross and spinning back fist combinations fired at tremendous speed. There is some kicking involved too and plenty of action but the highlights are pinned down to three pinnacle moments.
The first sees Kurt Harris in an Escrima stick battle proving his worth against a gauntlet made up of dozens of Peacemakers. It proves to be both expertly choreographed and visually striking with the red matted runway contrasting nicely with the line-up of black-clad fighters. Pruitt includes many Escrima trademarks from the constant circular motions of the sticks to the varied angles of strike and parry combinations. These are done with a frenetic speed and very close contact with Pruitt making sure the techniques have room to breathe with dramatic effect.
Kurts is ready for the next step
Kurt gets stuck into deadly bit of DIY
Karen Sheperd hits as hard as Steele
Jeff Wincott as Kurt ready to spring into action
Jeff Pruitt gives knew meaning to citizens arrest
The chop shop fight scene accentuates the film's vigorous, kinetic energy fighting style with the multi-level workshop providing the perfect setting; heroes and baddies throw everything but the kitchen sink at each other! Wincott and Pruitt really give it their all with lightning fast punches and kicks that are pretty stunning.
Then there's the showdown, a formulaic storming of the compound with Harris and Steele taking down inept guards with relative ease. Wincott gets to trade body blows with both James Lew and Matthias Hues, predictable but entertaining nonetheless. It is refreshing to see Hues finally get to show off his more agile Taekwondo skills that have previously gone underused. This testosterone 'clash of the chiselled physiques' is good ole alpha-male fun but credit must go to Karen Sheperd who also gets to dazzle taking down some hard-nosed peacemakers and battling it out with Erin (Cyndi Pass) yet another Larkin lackey. Sheperd really puts everything into these scenes and her expressions and body language are as convincingly impressive as her kicks are devastating.
Summary
If the thought of watching yet another rogue cop on the loose hell-bent for vengeance actioner is off-putting do give "Mission of Justice" a go. It is clichéd with a couple of minor inconsistencies and unintentionally funny moments. Yet director Steve Barnett pulls decent performances from his actors, intertwines the action and mystery elements into a tight, well-paced and exciting 90 minutes.
James Lew shows off his new hold
Here comes the aerial spinning heel
Facing the gauntlet
Cedric and Titus square off
Cedric and Kurt talk about the future
Brigette Nielsen as bad girl Larkin
Trivia
Tony Burton's most famous role is that of boxing trainer Duke in the "Rocky" films. In real life Burton was a heavyweight Golden Gloves boxing champion and went on to fight professionally.
Karen Sheperd is a practitioner of the hybrid martial system Kajukenbo, and Wun Hop Kuen Do Kung Fu having studied under Al Dacascos and Malia Bernal.
Originally pitched as the third film in the "Martial Law" series with Cynthia Rothrock. After Rothrock pulled out of the project, the script was altered and her "Righting Wrongs" opponent Karen Shepherd was cast.
Film Rating: 7/10