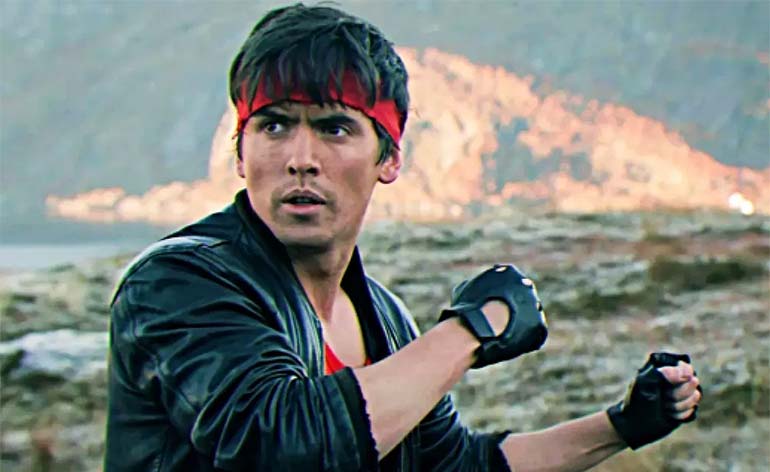 Back in 2015, the crowdfunded, half-hour blast from the 80's past that was "Kung Fury" took the internet by storm, and with good reason. In the same way that "Black Dynamite" was a send-up to the 70's Blaxploitation era, "Kung Fury" was a throwback to 80's buddy-cop movies that managed to incorporate dinosaurs, time-travel, Nazi Germany, and the Norse God of Thunder, Thor, into an off-the-wall action-comedy that was simply unlike anything else on the internet. Now, the short's creator and leading man David Sandberg is prepared to continue the story with the upcoming "Kung Fury II: The Movie", with Michael Fassbender and Arnold Schwarzenegger on board!
Speaking to The Hollywood Reporter, Sandberg described the contrast between the original short and "Kung Fury II" as one involving an increase in duties along within a tight shooting schedule:
"The biggest difference was the amount of work that had to be done in a very short amount of time. The shoot for the short was spread out over a period of two years. If you read a script [for the movie], there's so much stuff happening and so many set pieces, but we had to shoot everything in 40 days. I also had to focus on acting and directing. Sometimes I'd be blocking a scene and was so focused on that and then I'd be like, "Oh, right, I'm in that scene!"
Sandberg also revealed that he avoided collaborating with a major studio, due to the sacrifice in creative control that would have come with it, which also could've involved a complete recasting of the project, saying: "We had a bunch of meetings, but the big thing coming out of them was that it would have to be completely recast." 
The writer-director further commented on Michael Fassbender and Arnold Schwarzenegger boarding the project (with the latter in the role of the American President). Of Fassbender's involvement, Sandberg stated: "He had seen the short film and really loved it. And once he learned that a movie was in development, he asked his agent if he could read the script. Then he wanted to meet me and discuss it, and I was so blown away." Additionally, Sandberg revealed that Schwarzenegger's involvement was born out of his having enjoyed the original short for its outlandish concept and martial arts action.
Michael Fassbender has done plenty of action-heavy roles previously, beginning with Zack Snyder's "300" in 2007, and continuing with his role as Magneto in the latter day "X-Men" movies. He would also tackle martial arts action and parkour stunts with 2016's "Assassin's Creed", so he's a clear natural for "Kung Fury II". Arnold Schwarzenegger, on the other hand, is seemingly prepared to lean into lambasting his own action movie glory days and political career by taking on the role of the American President. He's never been reluctant to poke a little fun at himself, as seen in 1993's underrated "Last Action Hero", and the wacky martial arts theatrics of "Kung Fury II" are sure to be an ideal fit for The Governator!
Stay tuned for more info on "Kung Fury II: The Movie" as it furiously makes its way through! Excited to see Michael Fassbender and Arnold Schwarzenegger join "Kung Fury II"? What did you like best about the original "Kung Fury" short film? Let us know in the comments below; Like, share and join in the conversation on Facebook and follow us on Twitter & Instagram.
Get (Kung) FUrious with us by checking out these movie reviews, exclusive interviews, Top 5's, Top 10's, bring on the Fury in your KFK gear and subscribe for more KUNG FUrious moves on YouTube!)