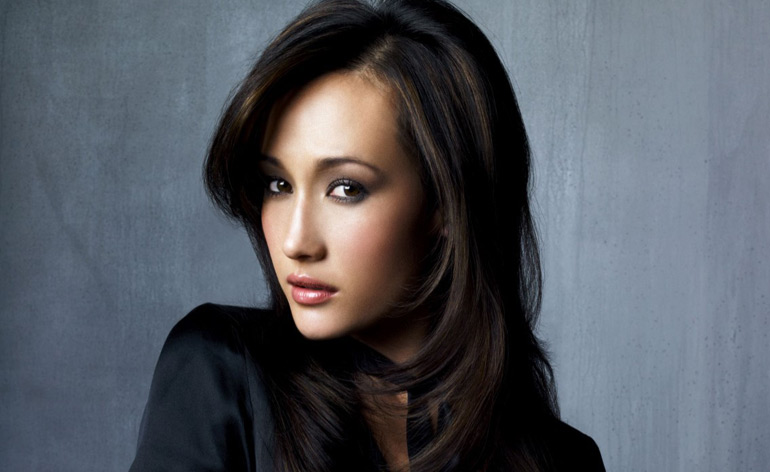 Name: Maggie Q/Margaret Denise Quigley
Date of Birth: 22nd May 1979
Star sign: Gemini, Year of the Goat
Weight: 105 pounds
Height: 5' 6"
Country: Honolulu, Hawaii, United States
PROFILE
Maggie Q is many things: an actress, a stuntwoman, a former fashion model and an animal rights activist. She also has many talents and interests, notably her affinity for Chinese martial arts, including Qi Gong and Wing Chun. When she speaks of Wing Chun, Maggie says she likes "the discipline," and "to be pushed to the limits." She was not born in China however, although she lived in Hong Kong for many years, she was actually raised in Honolulu, Hawaii to an Irish/Polish Father and a Vietnamese mother.
The youngest of five children, Maggie "started off as a university student in Hawaii," but "wasn't making ends meet." She decided to try her luck as a fashion model, but after a lack of interest both in Taiwan and Japan, Maggie moved to Hong Kong to begin a new life there.
Soon after arriving, Maggie began to appear in Asian TV dramas such as House of the Dragon and Gen-Y Cops. Around this time, Maggie met Jackie Chan, who was on the look out for the latest action star generation to train them for his management agency. Maggie had had no martial arts experience prior to training with Jackie, who nevertheless became impressed with her, enough to find her small roles in Manhattan Midnight and Rush Hour 2. Manhattan Midnight was an "interesting experience," according to Maggie, who "got to see the good, the bad and the ugly of different sides of East and West." Taking part in the production was the first time Maggie "really fell in love with acting," due to the expertise of director Alfred Cheung.
It was from 2006 onwards, when Maggie was hired to star alongside Tom Cruise in Mission: Impossible 3, that she became an international action star.
In 2007, Maggie was asked to play cyber terrorist Mai Linh in Live Free or Die Hard alongside Timothy Olyphant and Bruce Willis. Playing such high-profile characters sparked attention from the West, but Maggie remained a favourite in Asian cinema, and was cast in the Chinese movie Three Kingdoms: Resurrection of the Dragon in 2008, as Cao Ying.
From 2010 to 2013, Maggie further raised her profile by becoming the star of the hit TV show Nikita, playing the assassin Nikita herself. The TV show has since come to an end, but you'll still be able to catch Maggie on the big screen in Divergent.
A Day in the life of Maggie Q (circa 2002, taken from the Naked Weapon DVD)

INFLUENCES
Jackie Chan, who managed Maggie when she first came to Hong Kong.
Alfred Cheung, the director of Manhattan Midnight.
Her Qi Gong master and doctor of traditional Chinese medicine, Sifu Wong, who helped Maggie greatly when her eardrum burst during filming in Hong Kong.
TRAINING BACKGROUND
Maggie worked with stuntmen for many years, which gave her a good martial arts background for action scenes. In fact, Maggie goes as far as to say "everything I've learnt is from the stunt men that I've worked with."
She also has training in Chinese Wushu, Qi Gong, and Wing Chun.
Someone's kindly assembled Maggie's fight scenes from Nikita season 1!

FACTS ON MAGGIE
Maggie is very outspoken about her views on animal rights, taking part in PETA Asia's campaigns to promote vegetarianism, and has herself been a vegan for a number of years.
She used to have a total of eight rescued dogs.
Maggie blew out her eardrum on set when she had to jump into the Hong Kong harbour for a particular scene.
Maggie's full name is Margaret Denise Quigley, which she changed to Maggie Q to appease her Asian fan base, who found the name Quigley difficult to pronounce.
Maggie also regularly attends yoga classes to complement her training.
Interview on Chinese television (starts proper @7:10)

SELECTED FILMOGRAPHY
| YEAR | TITLE |
| --- | --- |
| 2000 | Model from Hell |
| 2000 | Gen-Y Cops |
| 2001 | Manhattan Midnight |
| 2001 | Rush Hour 2 |
| 2002 | Naked Weapon |
| 2004 | Around the World in 80 Days |
| 2006 | Mission: Impossible 3 |
| 2007 | Live Free or Die Hard |
| 2007 | Balls of Fury |
| 2008 | Three Kingdoms: Resurrection of the Dragon |
| 2008 | Deception |
| 2010-2013 | Nikita (TV series) |
| 2010 | The King of Fighters |
| 2014 | Divergent |
| 2014 | A Conspiracy on Jekyll Island |
Image Gallery