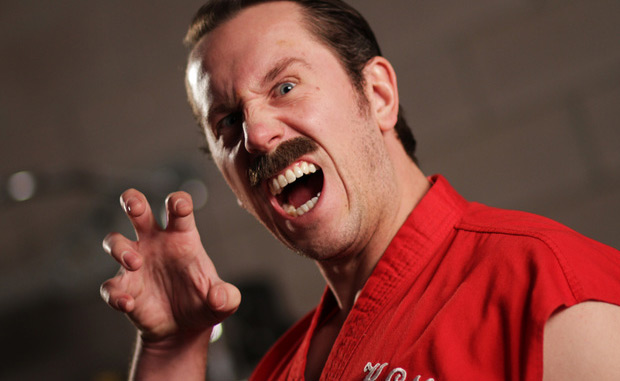 If you're a citizen of the United Kingdom reading this message, you are, tragically, one of only a handful left. In recent days, a virus of an unknown origin has spread from an unknown origin somewhere in the U.K. Experts are still currently debating where the breakout originally began, with theories ranging from Liverpool to London to Glasgow as the point of origin. Unfortunately, the outbreak went undetected during its early stages, with the result being nearly every man, woman, and child throughout the U.K. being transformed into carnivorous zombies. Of the few survivors, most have fled the U.K., while a few isolated groups of survivors remain on the island, most having sought refuge in the Scottish Highlands.
To those survivors receiving this message, you would do well to heed the words Master Ken, founder of the unstoppable martial art of Ameri-Do-Te. Having recently seen the documentary film "28 Days Later", which chronicles the zombie outbreak in the U.K., Master Ken felt it wise to address the reality of zombie combat, should the outbreak spread to the United States or other countries. For Master Ken, zombie slaying, like all forms of combat, is no laughing matter. Through meticulous study of common zombie attacks, Master Ken and his Ameri-Do-Te disciples have devised the perfect means of defending oneself from a zombie assault completely unarmed. As we all know, a single bite is enough to transform a human into a zombie, so engaging zombies unarmed should be avoided unless it is made absolutely necessary.
To those survivors still trapped in the U.K., follow Master Ken's instructions closely! And hang in there – help is on the way!