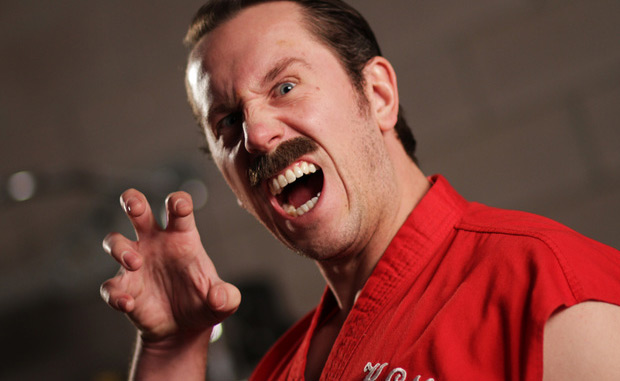 For KFK's Fun Friday column this week, we have decided to shift the focus away from Master Ken himself and onto one of his earliest students. This follower of Master Ken's not only holds the distinction of being the first person to receive a promotion to black belt in Ameri-Do-Te from Master Ken himself – he is also, by Master Ken's own estimation, one of the few martial artists alive with roughly one-tenth the skill level of Master Ken himself.  This street lethal warrior would go on to make a name for himself as one of the funniest comedians of modern times, appearing in countless beloved comedies over the past two decades. He even has a new comedy being released in theaters in the U.S. this weekend and in the U.K. next month. You can see the trailer for the film below, where the identity of the student will become immediately apparent:
[youtube http://www.youtube.com/watch?v=dmNddThxi4c&w=560&h=315]
That's right – the student of Ameri-Do-Te we speak of is none other than Jim Carrey! Then again, it should come as no surprise just from looking at the "Dumb and Dumber To" trailer above. To develop his long, ungroomed hair and beard seen in the beginning of the trailer, Master Carrey spent a full year in a deep Ameri-Do-Te meditation to make the look as authentic as possible. That kind of discipline can only be cultivated under the mentorship of Master Ken himself! To commemorate his return to one of his most famed roles this weekend, KFK takes a look back on the only time that Master Carrey has utilized his Ameri-Do-Te skills in front of a camera, to date!
Master Carrey has, for most of his career, steadfastly refused to display his Ameri-Do-Te skills onscreen, for fear of children or practitioners of other inferior martial arts attempting to mimic his techniques without the proper training. However, the directors of one of his earlier comedies, "Dumb and Dumber", begged him to include a martial arts sequence in the film. Master Carrey subsequently contacted Master Ken, and both men ultimately agreed that, in the interest of spreading the beauty and power of Ameri-Do-Te across the globe, it would be acceptable for Master Carrey to insert an occasional martial arts sequence into a handful of his films. Thus, the Ameri-Do-Te sequence in "Dumb and Dumber" was greenlit, and it continues to stand the test of time as one of the greatest action sequences ever put to film!
[youtube http://www.youtube.com/watch?v=WQBc8yxjdSs&w=560&h=315]
As you can clearly see, Bruce Lee, Jackie Chan, Jean-Claude Van Damme, Tony Jaa, Iko Uwais, and any of action star you can think of does not even come close to matching Master Carrey's physical capabilities onscreen, precisely because of their lack of Ameri-Do-Te training! If you need any more motivation to check out "Dumb and Dumber To" this weekend, the film, like its predecessor, includes an Ameri-Do-Te action sequence, this time pitting Master Carrey against a clan of Ninja assassins! American audiences will get their latest rare glimpse at Jim Carrey's powerful Ameri-Do-Te skills this weekend, but KFK will further delve into his martial arts training and history with Master Ken next month when the film is released in the U.K! Stay Tuned for KFK's rundown of how Jim Carrey became the leading student of the deadliest martial artist to ever live!