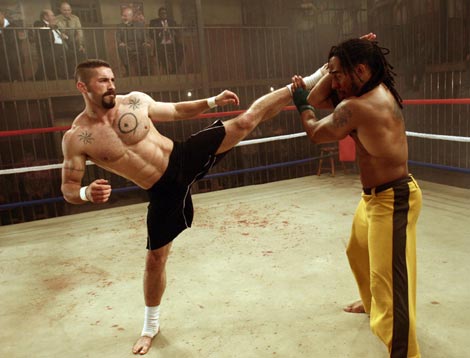 In this frenetic, aggressive, high-energy duel of Brazil vs Russia, we see the Russian Boyka (Scott Adkins) take on Brazilian Santiago Silva (Lateef Crowder) who uses the deceptive dancing-in-disguise fighting-art of capoeira.
An evenly matched fight, we get to see move after move of impressive twists, flips, acrobatics and somersaults in addition to the usual kicks and hooks.
A breakdance ankle trip from the Brazilian puts strain on the Russian's right knee, making it difficult for him to stand but he comes back with solid kicks, hooks and a heavy 360 degree twisting kick. Shortly after, Boyka applies a figure-four leg lock to upper back and head forcing the Brazilian to submit and tap-out.
Great match, worth watching again and again. We even see the nicer side of Boyka when he helps his opponent up to his feet and says: "good fight", Santiago likewise gives respect.
Watch out @1.15 for the great inverted somersault that Boyka does off the top turnbuckle -enjoy!