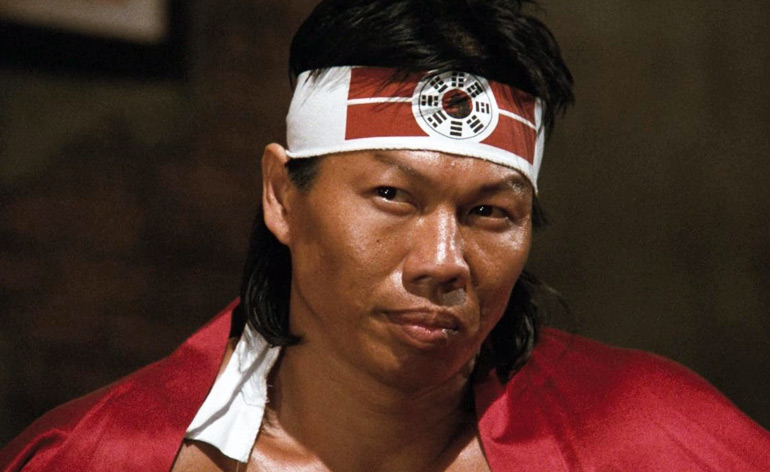 Name: Bolo Yeung (Real name: Yang Sze)
Date of Birth: 3 July 1946
Height: 5'6" (168 m)
Weight: N/A
Birth sign: Cancer
Country: China
Tribute
If you can block the music from this tribute video, you'll enjoy seeing Bolo in action!

Career retrospective
Bolo Yeung began studying martial arts at age 10 and later developed an interest in bodybuilding. He would eventually become the Mr Hong Kong bodybuilding champion and held the title for ten years. Due to his remarkable physique, Yeung was generally cast as villains in such Shaw Brothers classics like The Heroic Ones (1970) and Deadly Duo (1971).
In 1973, Bolo Yeung gained worldwide recognition for his role in Enter the Dragon starring Bruce Lee. Lee specifically invited Yeung to play one of the pivotal villains and the two became extremely good friends. Even to this day, Yeung's admiration towards the kung fu legend remains strong. One of the film's highlights is Yeung's merciless slaughter of Han's guards, cementing his ability as a powerful screen-fighter.
Yeung's association with Bruce Lee would not end there. In 1986, he was cast again as a villainous heavy in Legacy of Rage; Brandon Lee's first and only Hong Kong film. A rather small role, but unlike Enter the Dragon, Yeung gets to trade blows with Brandon Lee in a memorable alley fight. This was a rare chance to see eighties Hong Kong style action mixed with a classic throwback dose of the Bruce Lee films.
A furious counter attack
Point to Kill in Bloodsport
Two legends one screen
The unstoppable force vs the immovable object
Still fighting fit
Menacing the stage in Double Impact
I will crush you
Enter The Bolo
Bolo Yeung in My Lucky Stars
Bolo Yeung as the Master in Shootfighter
Bolo playing a heavy in Heroic Ones
Bolo and Bruce Lee
Throughout the eighties, Bolo Yeung would appear in a number of Hong Kong action films, particularly those starring Sammo Hung. Notable examples include My Lucky Stars (1985), Millionaire's Express (1986) and Where's Officer Tuba? (1986). It was in the Jean-Claude Van Damme vehicle Bloodsport (1988) that Yeung perhaps best immortalized his breakout villain role as Chong Li. His final bout with Van Damme ranks as one of the most memorable fight scenes of the period. Like Lee in Enter the Dragon, Yeung developed a close friendship with the 'Muscles from Brussels' and would later work with Van Damme again in Double Impact (1991).
Bolo Yeung has made appearances in heroic roles too. One notable example is Shootfighter: Fight to the Death (1993) in which Yeung plays a calm but powerful Sensei who must save his students from an underground fight competition. The film is unique in that the master role is given the main focus as opposed to the general character-type of the underdog. With Yeung playing against type, he was able to get more good-guy roles such as Iron Heart (1992), TC 2000 (1993) and even reprised his Sensei role in Shootfighter 2.
Bolo Yeung is currently living in Monterey Park, California. He continues to train regularly and is still in magnificent shape. While he has dabbled in many kung fu styles, his main preference is Tai Chi, which he also still trains in today. Bolo Yeung is one of the few hardcore martial artists that genuinely value the soft and defensive side of the fighting arts. Despite being the total opposite to his popular screen-persona he will always be fondly remembered as one of B-cinema's standout villains.
Trivia
Due to his astounding reputation as a bodybuilder, he is often referred as the "Chinese Hercules".
He has two sons (David and Danny Yeung), and a daughter (Debbra Yeung). David was a bodybuilder champion, like his father. They both regularly train together.
Bolo met Bruce Lee while filming a Winston cigarettes commercial together – Bey Logan, Hong Kong Action Cinema, 1995.
His real name is Yang Sze but adopted 'Bolo' after he played the character in Enter the Dragon (1973) – Bey Logan, Dragon Dynasty – Bey's Blog, 2007.
Has dabbled in directing. His first film was Fists of Justice (1977) and his second was Writing Kung Fu (1979).
SELECTED FILMOGRAPHY
| YEAR | TITLE | ROLE |
| --- | --- | --- |
| 1970 | The Heroic Ones | General Meng Chieh Hai |
| 1971 | The Deadly Duo | The River Dragon of Jin |
| 1972 | Five Fingers of Death AKA King Boxer | Pa Tu-er, Mongolian Fighter |
| 1972 | The 14 Amazons | Hsia Boxing Champion |
| 1972 | Man of Iron | Jin Xi Fu |
| 1973 | Enter the Dragon | Bolo |
| 1978 | Game of Death | Yeung See |
| 1985 | My Lucky Stars | Millionaire Chan |
| 1986 | Where's Officer Tuba? | Henchman |
| 1986 | Millionaire's Express | Cotton Weaver |
| 1988 | Bloodsport | Chong Li |
| 1991 | Double Impact | Moon |
| 1992 | Ironheart | Ice |
| 1993 | Shootfighter: Fight to the Death | Shingo |
| 1993 | TC 2000 | Master Sumai |
| 2002 | Shootfighter 2 | Shingo |
Image Gallery